Skatepark in campaign focus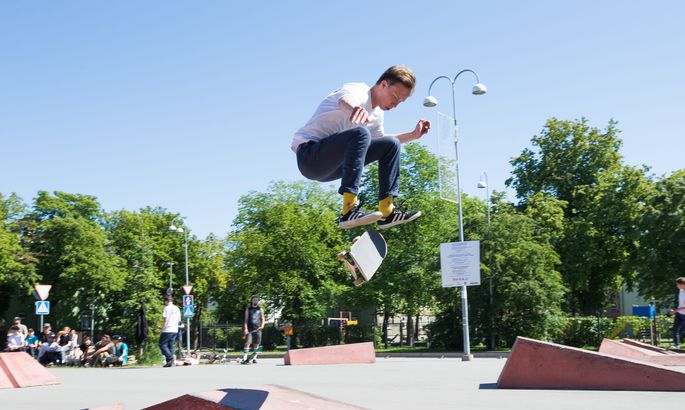 Local government council elections will for the first time be open to 16- and 17-year-olds this October. They number around 24,000. This considerable number of new voters merits social media campaigns and promises of extreme sports parks, while not all politicians urge young people to vote.
"Politicians will have to find a golden mean between going from school to school and generally ignoring the campaign," said head of communication of the "Young elections watchdog" project Joosep Kään, who will turn 16 by the time of the October elections.
"While Rainer Vakra and #socialdemocrats might be more visible for young people, I do not take them too seriously," Kään said. He keeps an eye on the entire election program. Kään said that while Vakra knows how to reach young people, he has become laughable in places.
He said that those living in Tallinn will have a much easier time deciding as the city has a lot of topics to discuss and a lot of young people. "A skatepark here, bicycle road there. Young people are rather ignored in smaller places," he said.
Kään perceives two problems concerning young people of his age. Because political outside display is not permitted 40 days prior to the elections and political agitation is banned in schools, social media will become the point of focus for politicians. "The problem is that young people only read the headlines there," he believes.
On the other hand, Kään is afraid youths will fail to make the distinction between local and national politicians and vote based on attitudes toward progressive income tax or refugees. "This is where 16-18-year-olds do not separate national politics from its local counterpart," the young man said.
Kään said, however, that some young people might be better informed to make decisions than adults. "Young people are more used to abundance of information and are more adept at recognizing and ignoring white noise," he believes.
The student believes it could take years before young people start voting more actively. "Once society has taken some time to get used to the new situation, it will become the norm and 16-year-olds will see the right to vote as their civic duty," he said.
MP, social democrats' mayoral candidate for Tallinn Rainer Vakra is making efforts to bring young people to the voting booths. "While state real estate manager RKAS decided to erect barriers in Freedom Square to ward off skateboarders, I listened to the real experts, the young people who go there. I learned that the barriers are welcome as they make it more interesting to skateboard in the square," Vakra said. He added that a modern skatepark should be built in the Kanuti Garden or near the Kalev Stadium.
Pärnu mayoral candidate and chairman of the Conservative People's Party (EKRE) MP Mart Helme condemns Vakra's behavior. "We are generally of the mind that politics should be kept out of schools. Not to mention Vakra's policy of rushing from school to school attempting to brainwash the students," Helme said.
MP Viktoria Ladõnskaja, who could be named IRL's mayoral candidate for Tallinn, is meeting with young people but is against campaigning in schools. "I tell them that the political table in front of them has an apple, pear, grape, strawberry and many other things. Inside them are different vitamins that have different effects. That they can choose which fruit they want to eat. I tell them they're old enough to participate in deciding their state's health," Ladõnskaja said.
In addition to promising tangible things, like extreme sports parks, matters concerning young people are also addressed in a more indirect manner. First and foremost education. "Young people have a serious problem in choosing schools. We are trying to come up with answers to the question of what to do in the field of education so we wouldn't be producing horse thieves so to speak, how to ensure employment so that educated people would stay in Estonia, Helme said. EKRE has its education committee addressing the problems of younger voters.
Hobby education is also considered. "We want hobby education to be maximally available," said Deputy Mayor of Tartu Jarno Laur. The youth program of Laur's home party, the social democrats (SDE), includes so-called postmodern topics like ending fur farming and banning the use of wild animals in circuses.
Mayor of Pärnu, forerunner of election coalition Pärnu Unites Romek Kosenkranius listed shortage of places of assembly as one concern for youths. The mayor has also heard positive feedback. "People have walked up to me and told me it is great the Weekend festival is held in Pärnu and that we should definitely keep it here," he said.
Mayor of Tartu Urmas Klaas (Reform Party) said that young people are no different than middle-aged or elderly people. "There are those who take an interest in local politics and those who do not keep up with daily politics," he said.