Lithuania is also accusing Italian journalist of asking to give guns to kids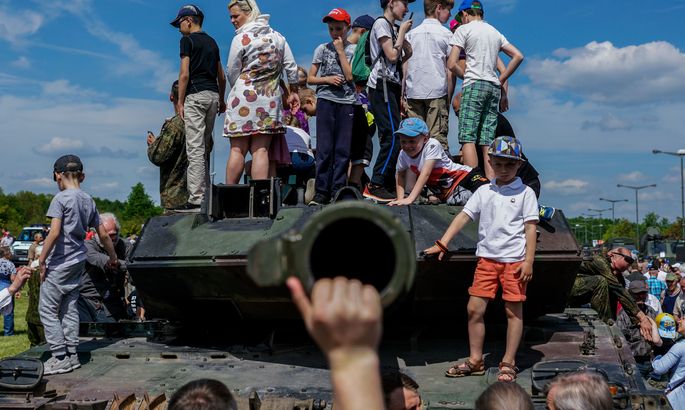 Italian photojournalist Tomaso Clavarino who during his trip to Estonia tried to stage photos of Home Daughters holding weapons, had asked during his stay in Lithuania couple of weeks earlier that the kids who were at the first-aid training course would take on guns for the photo, says Lithuanian Ministry of Defence.
The original title of Clavarino's story published by the Dutch online news site De Correspondent was «On the Europe's edge, child soldiers are ready to go to war against Russia». After journalists from Estonian newspaper Postimees and Dutch media pointed to the inaccurate and biased information presented in the article, the site changed the title to «At Europe's edges children fear Russia, therefore they learn to fight.»
The most sensational photos were depicting Lithuanian kids running around with replica guns. From Estonia there are images of young members of Kaitseliit and the article is referring to people of different age running from the woods during the training drills.
When Postimees asked the Estonian Ministry of Defence to comment, it appeared that during his visit Clavarino was shown the Home Daughters' camp. When he found out that the children in a camp do not train with guns, he was said to have asked if kids could take up guns for the photo. As Estonian laws do not allow children to have military training, Clavarino's request was not accepted.
Postimees sent an inquiry to the Lithuanian Ministry of Defence about the images of Lithuanian children running with replica guns that were used in Clavarino's story. The Ministry's response was as follows: «Lithuanian Riflemen's Union expresses disappointment about photojournalist's deliberate intentions to create story based on staged pictures with young riflemen of Lithuania, when during their practical first aid lectures young riflemen were asked for «in action» pictures and necessarily with pseudo (plastic) rifles, which do not correspond with regular activities of young riflemen.»
Lithuanians explained in their statement that the Riflemen's Association is a state supported voluntary civil defence association, which plays an important role in civil preparedness for national defence. Among their activities is the engagement of youngsters aged 11-18 as members of the Young Riflemen's organisation. While the main focus of the Young Riflemen's training program is on civic education, e.g. Lithuanian history, Lithuanian Freedom fighters, constitutional rights and responsibilities, the organisation also provides basic education about national security and defence. The representative of the Lithuanian Riflemen's Association confirmed that all their activities are in full conformity with practices of similar organisations in the Western countries.
The Director of Military Public Affairs of the Latvian Ministry of Defence Kaspars Galkis said to Postimees that people in Riga are aware of Clavarino's case.
«From our point of view this is a classic provocation and information operation that is aimed to demonizing all three Baltic countries,» he writes. «It would be interesting to know if this so-called journalist has been to Russia familiarizing himself with Soyuz-style youth camps.»
Vineta Žilinska, the spokesperson of Latvian Home Guard's youth organisation Jaunsardzē also refers to Clavarino as «a so-called journalist». She says, «A so-called journalist Tomaso Clavarino together with Latvian journalist Dāvis Landorfs visited Jaunsardzē in the Kurland region. Before going to the camp Dāvis Landorfs asked permission for Clavarino to meet the cadets and ask some questions. We explicitly told them not to brig up political questions and to limit themselves to activities in the summer camp and their motivation to joining Jaunsardzē.»
Jaunsardzē's spokesperson said that the journalists visiting Kurzeme region interviewed Dainis Karols, former leader of Jaunsardzē's regional branch and head of local tourist information center and had general discussion about the youth camp and the organisation.
«I called today to the instructors of this camp and I was told that both so-called journalists had just had a look at the camp and did not ask any questions neither from instructors nor cadets,» added Žilinska. «I think they failed to find what they were looking for because Karols accompanied them at all times and there was no chance to provoke.»
Despite of Postimees' efforts to obtain comments from Clavarino and De Correspondent on the day before the article was published in Estonian, we couldn't get them before the article went to print. By now the comments are available in this ARTICLE.