Dutch portal: Baltics training children for war with Russia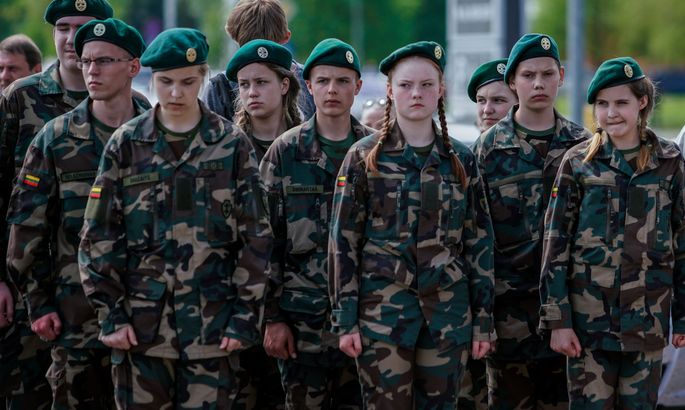 Dutch news portal De Correspondent has published an article where it is claimed Baltic countries use child soldiers and are constantly preparing for war with Russia.
«Photojournalist Tomaso Clavarino spent the past months traveling through Lithuania, Latvia, and Estonia. He saw young people making serious preparations for war with Russia. He put together an intriguing photo-report for us,» the introduction to the article by international news editor Maaike Goslinga reads. The report itself is by Italian journalist Tomaso Clavarino.
«The annexation of Crimea has left Estonia, Latvia, and Lithuania concerned. I traveled through the Baltics and saw how 13-year-old girls, members of biker gangs, and religion teachers meet in paramilitary groups,» the Italian starts, his text full of images of pale-looking children, wearing uniforms, and performing military exercises.
«To be clear: all of it is happening inside the European Union under the very nose of what is a growing NATO presence. In all other European countries this kind of paramilitary activity would be met with suspicion and perhaps even banned,» the Italian continues. «But not in the Baltics. Here people find that these groups have a positive effect on the nation's unity and security.»
The Italian asked research fellow at the Wilson Center Michael Kofman why these kinds of organizations are growing and received the following reply: «Young people are easily influenced by nationalist ideas and programs; I'm sure nationalism will gain ground everywhere in Europe.»
The article claims that around half of the members of Lithuania's voluntary defense organization are minors. «They are boys and girls who meet in training camps, traveling from one village to the next, often hiking for 20-30 kilometers through woods and across fields, wearing backpacks that can weigh more than the person carrying them. They learn military strategies, how to fire an air rifle, and march with plastic Kalashnikovs.»
«In Gargždai instructors tell me it's just a scout camp. While I have not been a boy scout myself, I am not aware of any of my friends having had to wear military uniforms, helmets, heavy backpacks, and air rifles while making their way through a forest,» Clavarino continues. «Or that they patrolled the streets like real soldiers.»
«Growing number of paramilitaries is happening alongside growth of nationalism in the region. However, when you ask soldiers about their political views, they will all tell you: «We're apolitical,» he writes.
The article then tells the story of how the reporter moves further north and is suddenly beseeched by a group of youngsters who jump out of the woods some 50 kilometers outside of Riga in Latvia having just finished an exercise with 30 grown men.
The Italian again experiences this kind of «emergence» in Estonia where 15 people exit a truck - men and women, young and old, holding Kalashnikovs.
The author's website claims he has been published by Newsweek, Washington Post, Der Spiegel, Al Jazeera, Vice, The New Republic, Vanity Fair, Frankfurter Allgemeine Zeitung, The Guardian, Corriere della Sera, La Stampa, and La Repubblica. The website of Russian propaganda portal RT reveals it has also published Clavarino's works.
Italian photojournalist wanted Home Daughters holding weapons
by Evelyn Kaldoja, Martin Kutti
When we ask the Ministry of Defense's Strategic Communication Director Rauno Veri about Tomaso Clavarino's photo-report, he immediately recalls the Italian.
«He has a special interest in children and guns,» Veri says, and adds that Clavarino's portfolio suggests he has, for example, also been to Latin America to photograph child soldiers there. «A useful idiot whose images portals like RT love to publish as it serves their goals.»
Clavarino is fresh in the minds of the ministry's PR officials for his request to visit a Home Daughters camp. The request was granted.
«He was very disappointed,» Veri continues. The cause of this disappointment was the fact the girls did not have weapons. Clavarino suggested the girls could be given guns for his photo-report. The production did not take place.
«One important task of the Defense League is military training of active members,» said Lt. Merle Norit from the league's PR department.
«One has to be at least 18 years of age to become an active member, and the Defense League does not provide military training for minors.»
The result is evident in Clavarino's report. While he has managed to photograph children with weapons in Lithuania and children wearing uniforms in Latvia, images from Estonia depict adult Defense League members in whose case it sometimes seems the photographer has sought out people who could be mistaken for minors.
The Estonian Defense League oversees two children's organizations: Young Eagles for boys and Home Daughters for girls. Both were established in the early 1930s and list cultivating patriotism among their goals.
According to the organization's website, the main form of activity for the Young Eagles is camps and hikes. In the case of Home Daughters meetings, lectures, courses, practical work, exhibitions, excursions, hikes, games, and other cultural and economic activity is pursued.