Mustamäe inventor: I invented the modern smartphone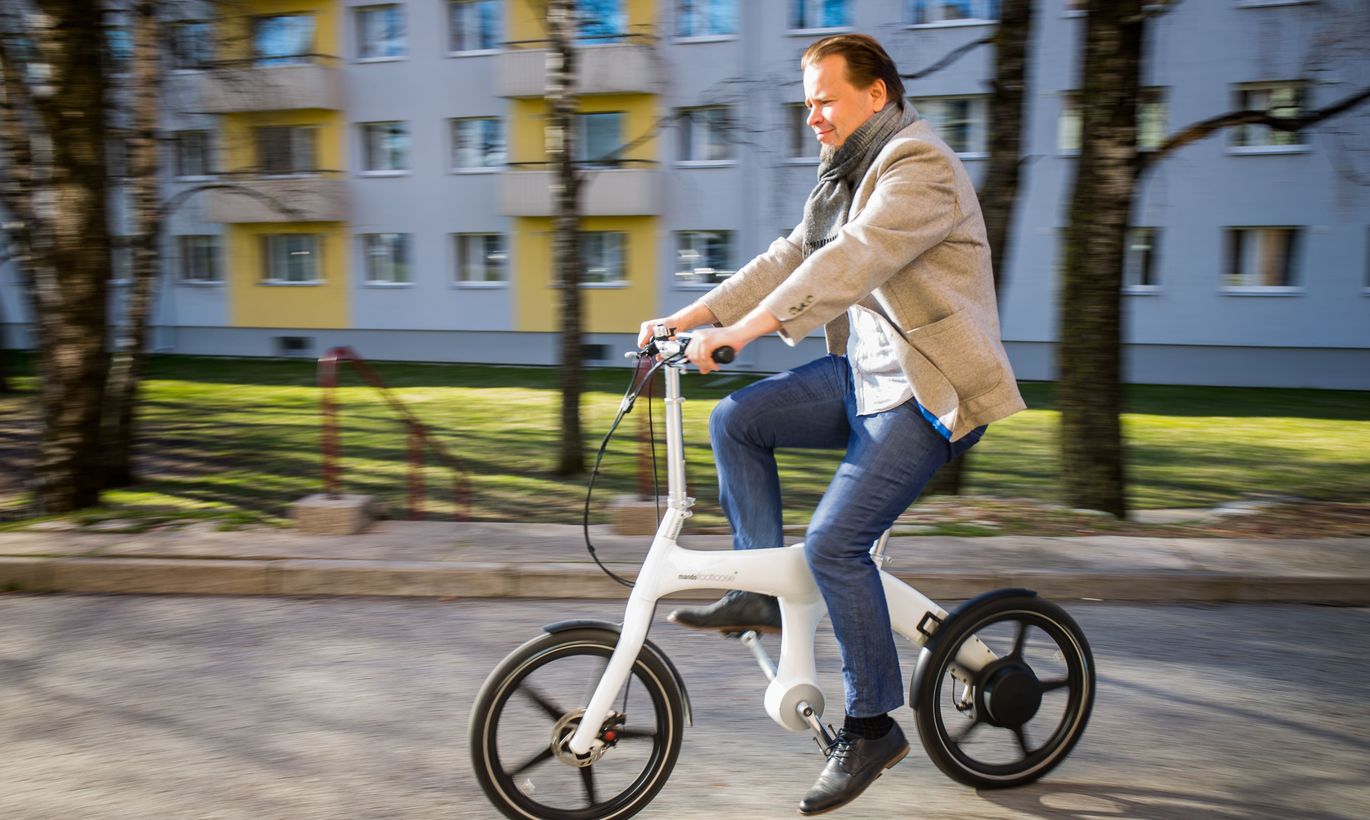 Finnish inventor living in Tallinn's Mustamäe borough, Johannes Väänänen, says he is the inventor of the modern smartphone. He often wonders whether he has done mankind a disservice.
«When Apple's founder Steve Jobs unveiled the first iPhone in 2007, my first reaction was that it is my damn phone,» Väänänen (42) says.
The first iPhone, that recently celebrated its 10 year anniversary, is considered to have been a breakthrough, with its dominating screen and working principle of a portable computer.
«I am to blame for people's smartphone addiction, the fact their ability to concentrate has taken a serious hit,» Väänänen adds with a measure of irony.
While this may sound like megalomania, Väänänen isn't just putting on airs. His wild road toward coming up with the first smartphone began around the turn of the century, when the Finnish cell phone business, and Nokia in particular, was booming.
We meet in the inventor's Mustamäe apartment where he has been living for the past 6 years. Väänänen's fancy 300-square-meter apartment runs through two floors, while his kitchen window offers an uncharacteristically good view of the city center and the sea.
Väänänen moved to Estonia seven years ago, primarily on account of Estonia's small business-friendly tax system. He considers himself half-Estonian. Väänänen is fluent in Estonian, which he speaks with a careless Finnish accent.
«The making of the smartphone began with the realization that it has to be possible to browse the web using phones in the future,» Väänänen recalls. «This meant that the screen had to be big and buttons scarce.»
It was the year 2000, and Nokia had just launched its legendary 3310 cell phone. Screens responding to the swipe of one's finger still belonged in the realm of science fiction. While PDAs did exist and could be controlled by styluses, touch-sensitive technology sporting a functional user interface was not available.
Use of the internet was limited to WAP service that made it possible to display a few lines of text and pictures the size of stamps on one's screen. Väänänen, 25 years of age at the time, wanted to create a mobile phone that would allow the user to surf the web just as one would using a desktop computer. He also had an idea of how moving the phone in one's hand could allow the cursor to move on the screen.
In a nutshell: Väänänen sits behind a dining table in a Mustamä'e kitchen and says how he knew what a modern smartphone would have to be 17 years ago. He did not, however, resign himself to dreaming but set about looking for ways to realize his vision instead. «I wanted my invention to conquer the world, wanted everyone to use one.»
Ugly and thick, but touch-sensitive
Nokia was the most powerful company in Finland and the leading cell phone manufacturer in the world at the turn of the century. As the company grew, sharper minds perceived that a middle management coup had taken place and was standing in the way of truly innovative products.
That is the reason why vice president of Nokia at the time Jyrki Hallikainen decided to leave the company and create a new firm called Microcell that was supposed to manufacture phones for leading technology companies. He took with him 100 of Nokia's brighter software and hardware developers.
Väänänen was working as a developer in an Oulu software company at the time. He had completed a very early prototype of his phone on the side and secured a meeting with Jyrki through acquaintances to demo his product. «He loved it, and we shook hands.» This was the birth of Microcell's subsidiary MyOrigo the bold ventures and experiments of which the former initially financed.
«The idea behind MyOrigo was to create the smartphone of the future without taking on the task of marketing and sales. It would have required hundreds of millions of euros. It was our goal to design and build the device and sell it,» Väänänen says.
Next came the actual development work Väänänen describes down to minute technical details in his book «The Smart Device». My Origo grew into a technology firm with more than 100 employees in a few years time, with Väänänen as one of its leaders. «I knew nothing of business or management.»
That is why there were times when things did not work out. As the company attracted investments and hired new people, Väänänen became removed from social norms, often fell out with his colleagues, consumed copious amounts of alcohol, and burned money in expensive restaurants.
Despite it all, MyOrigo completed its first prototype called MyDevice in early 2002. The first modern smartphone that had a touch-sensitive screen, the ability to browse the mobile web and download apps.
MyDevice also included technology Väänänen referred to as «mirroring». This means that when the user moved the phone up or down, or left to right the website on the screen moved accordingly. If modern smartphones allow browsing using one's fingers, MyDevice needed to be tilted.
Having said that, Väänänen gets up and brings a large box with the phone inside from the other room. MyDevice is nowhere near as smooth or good-looking as the first iPhone. However, despite rather stiff touch-sensitivity, all the functions of a smartphone work brilliantly.
«Everyone says it is so thick and that it looks ugly; however, you must keep in mind we built it in 2002,» the inventor says. A couple of thousand units of the first MyDevice were made. The plan was to manufacture the device also at Elqotec (currently Ericsson's plant) in Estonia; however, things did not get that far.
Once the prototype was ready, it had to be sold to a major manufacturer. The MyOrigo team met with every single major player in the cell phone business: Nokia, Samsung, Siemens, Philips, Ericsson, Motorola, and Sony Ericsson. «The reaction was the same everywhere. Executive managers saw our product and were enraptured. They said they want to launch cooperation and sign contracts.»
From there MyOrigo met with the Not Invented Here problem. Väänänen explains it as follows: "when you have a fellow step out of the woods one fine day and tell, for example, the development team at Siemens that I have a product here you could never make yourselves, will they give you a round of applause and buy your product? Most certainly not. They would find themselves out of work.
That is why it quickly became the norm that once the CEO had approved the demo, an engineer would jump in and start nitpicking on the details. «We went through 8-hour hearings for a week over at Nokia. The engineers produced a phonebook-size ledger from the cellar and started asking us whether the phone supported various standards. Because our phone was revolutionary, it did not support old WAP and MMS standards.» Engineers always managed to convince the board to pull out in the end.
Väänänen says that the «guys» over at Nokia wondered why would anyone want to dirty the screen with their finger. «They said with confidence that they had been looking into touchscreens for a full decade, and that they would never work.»
The inventor is convinced that is the attitude that caused Nokia's eventual demise. The damage manifested much later when Apple and other companies launched the smartphone revolution.
Väänänen agrees, however, that a touchscreen might have come off unfamiliar and dubious in 2002. The push-button cell phone was at an all time high. «Everyone used one and considered it to be the best and most convenient technology.»
The team at MyOrigo also visited Apple at the company's headquarters in Cupertino in the spring of 2002. «We thought we'd briefly visit Cupertino before our flight back home. Our priorities lied elsewhere entirely. Apple was not a cell phone manufacturer at the time, nor did it have its current superstar status.»
After Väänänen had spent 10 minutes presenting MyDevice to Apple's user interface team, Steve Jobs walked in. «He did not say hello to anyone. He just picked up our phone and started tapping away. It seemed he was particularly interested in browsing. He kept swiping. He said that it isn't very accurate. And he was right; it was nowhere near the iPhone 7 in that regard,» Väänänen laughs.
Jobs seemed to have taken an interest in the smartphone. Asked whether Apple was planning on building a phone of its own, Jobs said no. «We went there and didn't think much of it.» MyOrigo's sights were set on top players, like Motorola, Ericsson, and Samsung.
By the end of 2003 it had become more or less clear MyOrigo would not manage to sell the smartphone. That is why the team decided to change strategies. They created a new company called F-Origin in the spring of 2004 that took its predecessor's technology, part of its development team, and patents. If at first the goal had been to offer a finished product, now the team tried to sell the technology: first and foremost the touch-sensitive user interface and mobile web.
Soon an entirely new opportunity appeared. Technology giant Samsung wanted F-Origin to build them a next generation phone based on its technology. Väänänen's team took the news as a triumph and found new momentum.
He recalls one time when the team was paid a visit by Samsung's representatives in Oulu. The Finns took the guests to the best restaurant in town, where, it later turned out, they had downed nearly 200 absinthe cocktails. «I later heard one of the Koreans had been rendered color blind as a result.»
F-Origin received stable injections from Samsung that made it possible to keep the company going. The team finished the first stage of the phone a few months later. Another meeting was looming. The men from Samsung were expected in Oulu again. The second meeting wasn't nearly as jovial, however.
What happened was so harebrained and banal that it still leaves Väänänen perplexed. «Samsung's team was expected in our office; however, our landlord had decided to evict us that very day because we were three months behind on our rent.»
The office doors had been sealed using a chain and padlock. Väänänen and his friends made superhuman efforts to break open the doors. «The guys from Samsung, wearing suits, spent 10 minutes looking on in the freezing Oulu weather, and then they disappeared.»
While Väänänen tried to explain on numerous occasions that a «very peculiar Finnish thing» had happened, Samsung was lost as a client and investor. The money stopped coming, F-Origin rolled to a stop, and the company went bankrupt in 2005.
Because the company had outstanding debts, the trustee in bankruptcy sold everything F-Origin owned, including more important patents and software systems, to a U.S. marketing team for €300,000. Väänänen could not match the sum.
What is more, before the company went under, it had sent its phone with a description of working principles and software platform to Apple. Väänänen said it was part of their U.S. marketing campaign in search of clients. «Apple said it wanted the data because it planned to use touch-sensitive technology in a new potential iPod.»
Väänänen writes in the final chapter of his book how he watched the presentation of the iPhone in 2007. He drank a lot of calvados and threw his MyDevice against the wall by the evening's end. «It did not break. It's still running and is very reliable.»
The inventor says in hindsight that the best option would have been to work with Nokia. The main reason it didn't happen was the fact MyOrigin's investor Jyrki Hallikainen and Nokia's long-time CEO Jorma Ollila had fallen out.
Did Väänänen consider revenge, litigation concerning Apple? «Steve Jobs used my ideas and technology, that much is clear. However, I'm not one to go to court, especially in a situation where the patents and technologies were sold to America in bankruptcy. Courthouses are for those who only have a single invention. I have many inventions, and the really big things are yet to come,» he promises.