Parking software comparable to Uber created in Estonia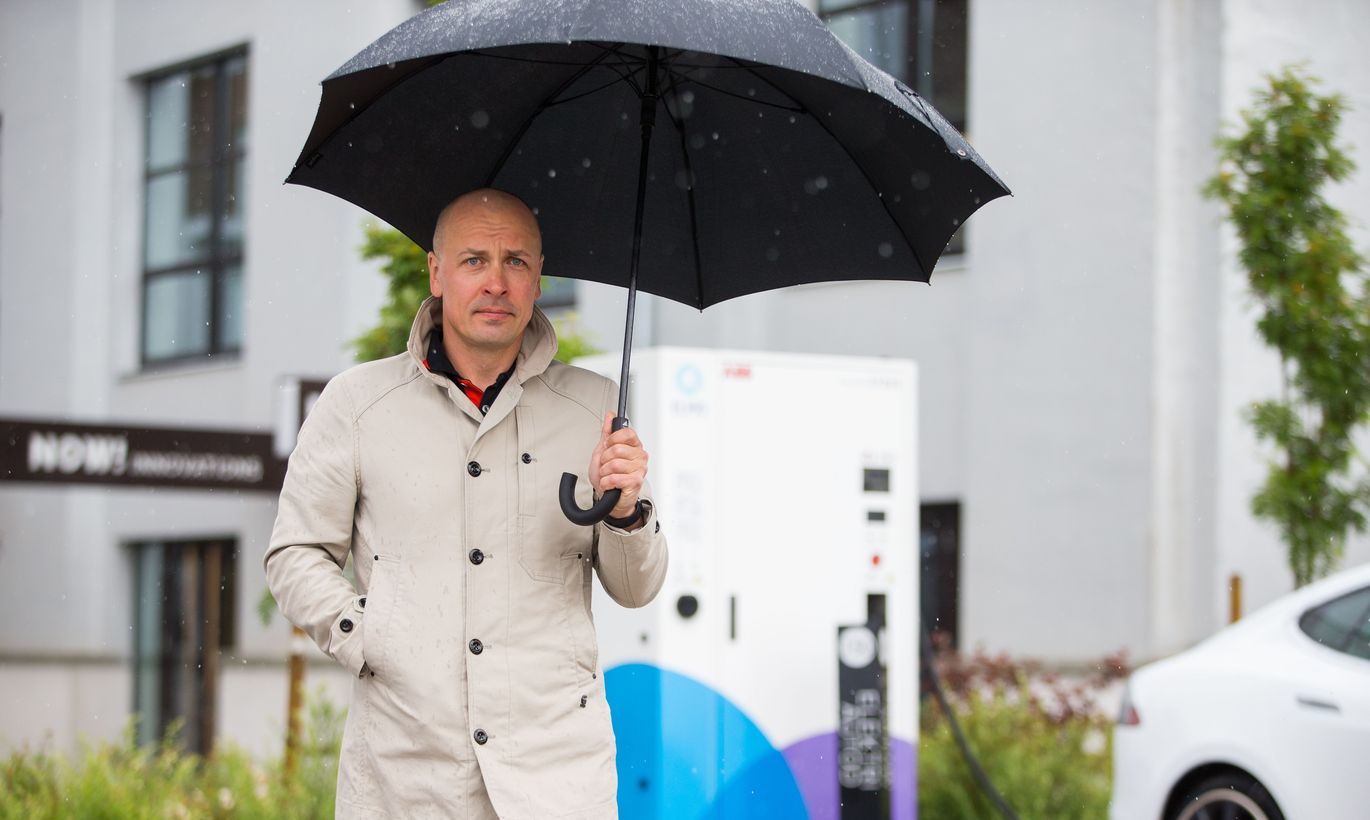 The Estonian software developer NOW! Innovations, which two years ago was bought by the French concern Infra Park, is working hard in the Baltika block in Tallinn to become in the next few years a global leader among parking environment payment operators.
According to the manager Üllar Jaaksoo, the software firm, which doubled its staff within a year, took off precisely thanks to the private firm's successful sale to an ambitious international concern.
Q: Electronic parking services seem an everyday and simple matter to Estonia's residents. How can one leap among the world leaders with such a product?
ÜJ: The main client of our software, the concern's subsidiary OpnGO is very ambitious. It is currently operating in three countries, our parent firm I active in 17 countries. This shows where we want to move. This is a product which could be compared to what Uber is in taxi business.
Only a couple of firms have global extent in this sphere: Pay by Phone, which was bought by Volkswagen Group, and Park Mobile, which belongs to BMW. The goal of OpnGO is to become global number one operator of parking environment payments. And product development of this enterprise is going on here in the Baltika block.
We launched 200 parking garages in France within six months. To compare: if we add up Scandinavia and the Baltic states, we shall have an area with population equaling to less than half of France. We have started with all major French cities and are expanding to Belgium and Spain, from there to the UK, Germany and Brazil.
We shall eventually reach a market of nearly half a billion residents. Our main task is to achieve maximum number of users of our product in that market.
Q: What is the main problem you have to overcome when operating in the world's major cities?
ÜJ: Parking in the European large cities has been delegated to the smallest units of local governments. If I live in a suburb of a large city, take my child to a kindergarten at the other edge of the city and work in the city center, in Europe I would need at least four different payment methods to arrange all the necessary parking. At the same time I can use the Uber application to order a taxi in any city of the world.
Usually cities have turnpikes and gates, which use independent software. If you develop your software for one type of hardware, you cannot use it in another gate.
We are offering a neutral software layer, where you can set your own hardware and clients and use it in the necessary function – to let people in or to accept money.
Q: And how has conquering the world progressed so far?
ÜJ: Our software is used in 30 local governments in the US with the largest and best-known being Montgomery county around Washington, DC. The clients include universities and private operators.
In Paris the concern's subsidiary OpnGO mainly concentrates on payments made in parking garages. They have integrated some 200 parking garages, where payment occurs automatically without the person having to make a single extra move. We decided to identify the vehicles by their license plates, which is convenient, since it does not require sticking any labels on the windscreen nor needs extra energy.
As NOW! Innovations was established, there existed the Belgian experience. One of the founders of the firm, Kalju Rüütli, invited me to join in 2011. The enterprise had won a tender in Antwerp. NOW! Innovations was invited as a third partner besides Siemens and IBM. Our firm won the tender regarding the price and speed of delivery and developed the system within three years in 13 Belgian cities. It was sold to a local cell phone operator three years later. The firm did give up our platform, but we had already taken off.
Then we received an order from Moscow, which is still using our software.
Q: The Moscow deputy mayor Maxim Liksutov, who comes from Estonia, came under fire by local IT developers, who claimed that he had preferred his former compatriots.
ÜJ: Our license is registered in the Netherlands, we are a Dutch enterprise with the development unit NOW! Innovations being located in Estonia. The development firm creates software without nationality for all our clients.
But I have to declare that Estonian background is not useful in Moscow or Paris. If you go to some average French local government and claim to be a fine IT firm from Estonia, you have to consider the reputation of Eastern Europe. We know well that Estonia is a successful IT country, but very few decision-makers in Europe know of that image. This is why we are a Dutch firm.
Q: Is Estonia's image as a successful IT country truthful?
ÜJ: Mathematicians and IT engineers are in every country. Look how many young and educated IT specialists willing to learn more are produced by the Ukrainian education system.
 As I as a project manager of the Development Foundation and was working with the IT Academy, the impression was quite sad. It was very hard to find lecturers in the universities, who would be interested in updating and internationalizing the syllabus.
If you take the universities IT syllabi and read them through, all you can find is just the claim that our financing should be doubled, but the number of graduates and the lecturers will remain the same. We could find no person in any university, who would be dealing with improving the efficiency of the IT sphere.
Q: Aren't Estonia's IT services all right?
ÜJ: The domain eesti.ee is a big problem. If you apply for fishing right or the right to cut a Christmas tree, a child's birth certificate or operating license of a house, you have a different user environment for every service.
Large countries like the USA or Australia can arrange it so that the state's services all have the same user interface with the same design and colors. In Estonia, everybody from the business register to fishing license use different colors on their websites just as if offering some jobs to their relatives.
Unless ministries make their user interfaces more convenient, we shall run out of credit among foreigners in a couple of years.
Q: But what is good in Estonia?
ÜJ: Thanks to Mart Laar and Linnar Viik we have a very good ID card system, which was introduced by force without any idea of how to use it. We have a very good background connections system X-road. But can you name another achievement? We do not have the thing which would make using them convenient, since there is no will to make the whole system operate together. We have no official, who would be responsible for making all the state's IT services work well.
For example, I managed to register the domains eestivabariik.ee and eestipresident.ee, since our government institutions had not done it. Every department is dealing with its own house, but the Republic of Estonia in general has been abandoned.
If the ministries' secretaries general could decide that all the state's environments for private or corporate users are built according to a single user's guide and it would be followed by sufficient flexibility in using and renewing that guide, it would be enough.
 The previous deputy secretary general for IT of Ministry of Economic Affairs and Communications, Taavi Kotka, launched the e-residency project. Now there are 20,000 e-residents. If they reach our environments, they will lose their way there.
If someone wants to set up a firm, then there is access, but the overall level of our environments is the same as that of the Tallinn Airport restrooms in the 1990s before Lennart Meri took the ministers there before cameras to witness it.
Q: Have we made too much effort to present out IT successes?
ÜJ: Not at all, this story should be kept in the limelight, but it is high time to add some content to the story. It all depends on whether we can be the owners who know the peculiarities of international business. I have seen owners of startups who talk about entering the American market.
If I ask whether they have been to America, they say no. If your entire education was received in Estonia, all your friends are in Estonia, your daily Facebook contacts do not include at least ten foreigners and you only fly to Croatia once a year for vacation, then you should not dream about foreign markets. 
Q: What arguments do you have against the owner moving the office to another country with lower heating costs?
ÜJ: I think that we have sufficiently future-oriented learning capability. We have made contracts with BMW in our time and we were always equal partners.
If we develop our service, we have to foresee situations, which will emerge, for example, with self-driving cars. If you go to work in the morning and cannot find a cheaper parking place that for 20 dollars per hour, you shall let the car drive around empty in the city. It will certainly cause traffic congestion. The city will have to build more lanes.
In 15 years there will therefore be an area fee instead of parking fee. If the car's average speed remains below some level, the fee will rise. We are talking about dynamic fee for using space.
Maybe a couple of cities are thinking of it, but we are thin king how to take into account the car's speed and other indicators. This is why we can be a forward-looking technology partner to any car manufacturer. This ability keeps our business here.
When developing our own company we understood that moving on in the European market is so expensive that it cannot be covered with expensive finance capital. Therefore the owners sold the firm in 2015 to the French concern Infra Park, which now operates in 17 countries and manages over two million parking spaces.
The Chinese made an offer for four billion euros, which shows the international reputation. They own one third of the parking market in France, the second or third place in the USA.  They are rapidly growing in Brazil. If they came to us initially asking to license the software and then to buy the firm, we understood that only this way can we reach the new markets.
We have doubled our staff within a year to 40 people and are still looking for specialists to keep growing.