Tallinn TV – two for, one against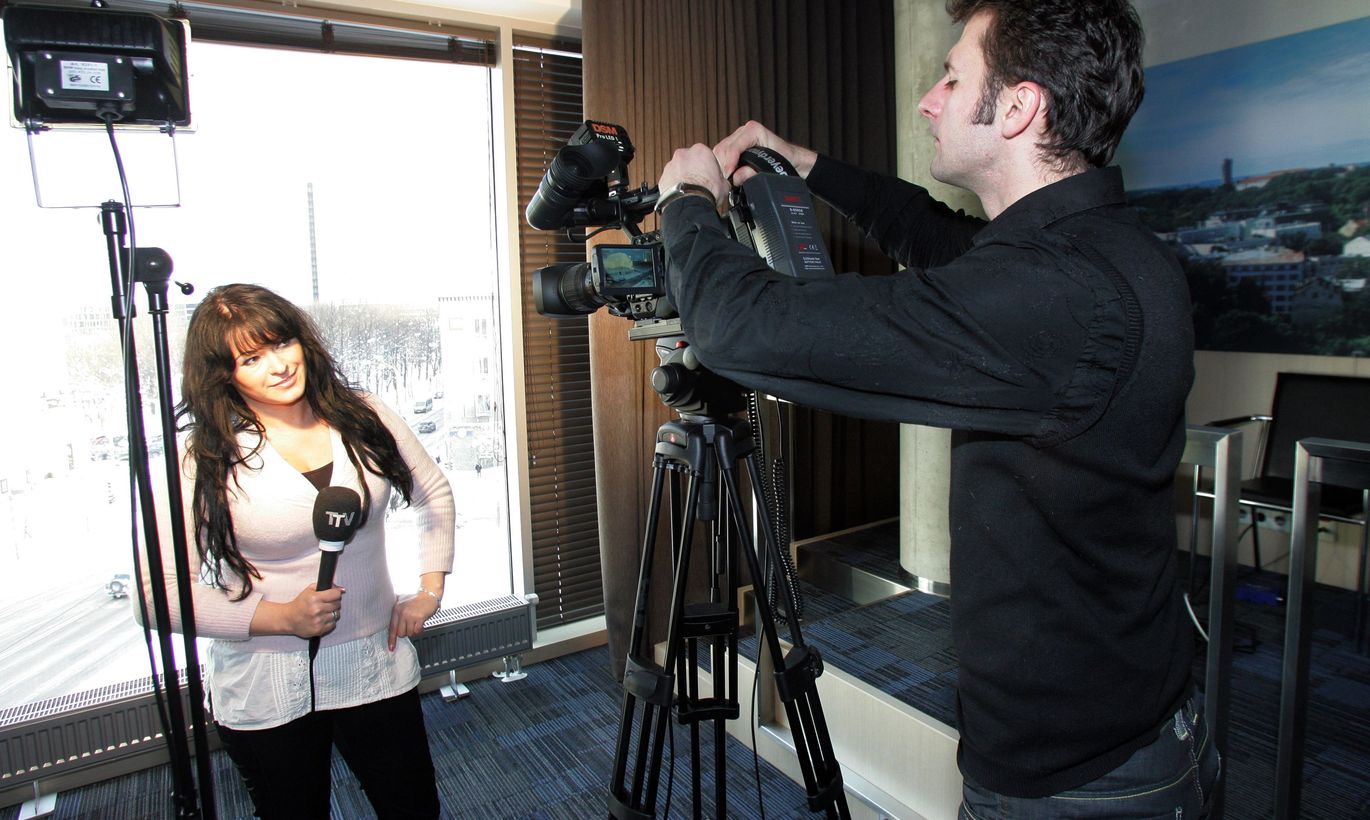 What will become of Tallinn's city bank and city store, will Tallinn TV stay on the air, what is Tallinn's next big idea in giving districts more independence – mayoral candidates for the most important battleground of the upcoming local elections answer fundamental questions.
This week brought news that the Center Party's mayoral candidate is current acting mayor Taavi Aas, the Conservative People's Party (EKRE) will set up Martin Helme, while the Reform Party is likely to opt for head of its Tallinn district Kristen Michal.
While the Pro Patria Res Publica Union announced this week that they could go with MP Viktoria Ladõnskaja – that would cater to the party's brain trust's line of trying to appear as different from Aas-Helme-Michal staples as possible – Ladõnskaja was initially not willing to discuss the topic.
Ladõnskaja replied to Postimees 24 hours later: "IRL will decide its candidate for mayor of Tallinn by the end of June. Right now there are several potential candidates. Yes, it is true that I am among them. However, I do not want to repeat Marina Kaljurand's mistake. Once a decision is made, we will all throw our weight behind a single candidate and partake in debates accordingly."
1. Name three specific objects in need of investment, projects you believe should be accomplished.
Martin Helme: I would refrain from naming specific things. It is clear Tallinn needs to invest public funds in schools and kindergartens, roads and public transport. I do not support burying sums in the Linnahall building, while the city should consider buying the Patarei fortress and moving its entire administration there. It would not be hugely expensive as premises of city departments that are currently scattered all over the city in unpractical and often very expensive locations could be sold or rented out.
Kristen Michal: Education and Estonian-language classes to move toward an all Estonian education system starting in the kindergarten. Estonian proficiency gives people equal chance of success in Estonian society.
Transport and connections. As for something specific: a 200-kilometer network of bycicle roads and a modern tram network to cover the entire city. Experts have corresponding plans.
Care for the elderly and subsistence support. The quality of relevant services is low and queues long today.
Taavi Aas: It is definitely important for us to fix up Tallinn's seaside as a whole and open it to citizens. We will renovate Reidi rd. to ensure smoother traffic from and to the port. The new road will also reduce traffic pollution and noise downtown and give life to what is currently a wasteland where we can offer people far more pleasant city space.
We want to construct a full-size swimming pool in Lasnamäe borough, finish construction of Tallinn Hospital, the small Tallinn ring road, and the city center's pedestrian street that would serve as Tallinn's main street so to speak.
2. Should Tallinn Television be shut down? What will become of the so-called city bank and the municipal shop?
Helme: The city bank did not take off, and I do not believe it would be sensible to try again.
The city shop's usefulness to the city and its clients is questionable at best. People having difficulty coping can be helped in other, much more effective ways.
Tallinn TV shouldn't be shut down – the Estonian media landscape needs competition. However, it should become more comprehensive and politically versatile. The city's newspapers definitely need to be revised as well.
Michal: Yes! Close Tallinn TV the day after the election. Estonia has free media to take care of information. The city bank and shop should be thoroughly audited and paying Center Party members using taxpayer money ended. Both should be shut down and the money allocated for the elderly and families with children.
Aas: Tallinn TV will remain as it is an important free-to-air channel. The channel has a new head and council, and we have emphasized we want to involve media experts in its activities.
Tallinn does not have a city bank. The city is, however, one of nearly 200 stakeholders of the Tallinn Cooperative Bank. Whereas all stakeholders have an equal vote. Estonia needs a bank like that.
The city store is an important social measure to aid people's subsistence.
3. What are the fundamental changes Tallinn needs?
Helme: Tallinn needs a fundamental change in cast of mind in so many areas that the only way to achieve it is to replace its rulers. City planning is positively byzantine today. Waste management is poorly organized and expensive, while the stench of corruption is eye-watering. Public transport development has been stagnant for a decade. Development of bicycle and pedestrian roads exists only in words. New kindergarten places created are located at the other end of the city, the schools network is undergoing a massive campaign of Russification. We can add to that the onslaught of progressive gay and refugee propaganda. Public funds are used wastefully and foolishly.
Michal: New leaders and a fresh outlook. Administration that is transparent and free of the stench of corruption. A thrifty attitude toward the city's future. Bold ideas to make Tallinn a city of the future. Tallinn should be among European locomotives in terms of favorable environment and innovation. The opportunities are there; everything depends on the leaders' ability to look to the future and listen to entrepreneurial citizens.
Aas: Tallinn does not need fundamental change but continued stable development. We have launched a lot of new projects, and we need to see them through. Studies show citizens are happy with the way things are in Tallinn that gives us confidence in that our recent heading is the correct one.
4. What could be Tallinn's one great utopian idea?
Helme: It is too soon to talk about that. We have several ideas!
Michal: A tunnel to Helsinki. The project would contribute to both countries' economy, level of income, and the twin cities' notoriety in the world. We will have the calculations in 2018.
Aas: I'm strongly in favor of the Helsinki tunnel that will hopefully become reality.
5. How dangerous do you regard a situation where a single party would continue to run the country's capital?
Helme: Rather what is dangerous is when the city and the state are run by the same group. The prosecution does not investigate cases involving the ruling party in Estonia. This means that the city's corruption mentality is further fueled by feelings of impunity.
Michal: Tallinn needs fresh air. The Center's party's hegemony has led to a situation where the stench of garbage is not just wafting out of dumpsters, but also the city government. That should not be the situation in our capital. Center's absolute rule has worn out its welcome.
Aas: I do not see it as dangerous, rather it is positive. We can rise above political horse-trading and accomplish actual things that have improved citizens' lives.
6. Should free public transport be retained?
Helme: We will definitely not abolish it; however, public transport needs thorough reorganization if we want people to use it willingly.
Michal: So as not to turn it into the main question of these elections, the current system may be retained; however, public transport quality must improve. The city needs entirely new solutions and lines. The current solution has increased the number of public transport users by just a few percentage points, mainly in the case of pedestrians. The time citizens spend in their cars has grown. Tallinn should construct a modern tram network to cover the entire city. Also a proper network of bicycle roads.
Aas: Free public transport must be retained, and the city's transport provider must not be privatized.
7. Does Tallinn need municipal housing?
Helme: No, it does not. The city should be able to offer people temporary lodging. That does not require it to construct buildings.
Michal: Only for those who really need help – orphans and victims of fires.
Aas: Municipal housing is needed and construction must continue as we support European values.
8. How to boost independence of districts?
Helme: Independence of districts can first and foremost grow through greater powers for administrative councils. However, I'm not sure whether it would be expedient to give districts more freedom. Rather we should ask whether some districts should be separate districts at all.
Michal: Through greater powers for district administrative councils, as well as through involvement of civil society organizations and borough societies. Also more freedom in drawing up budgets.
Aas: Tallinn forms a whole. Districts should primarily concentrate on organizing social affairs and ensuring maintenance and recreational opportunities. District administrative councils could have a greater say in terms of plans, I believe. However, the latter is unfortunately more a question of their own activity.