Number of home electricity producers on the rise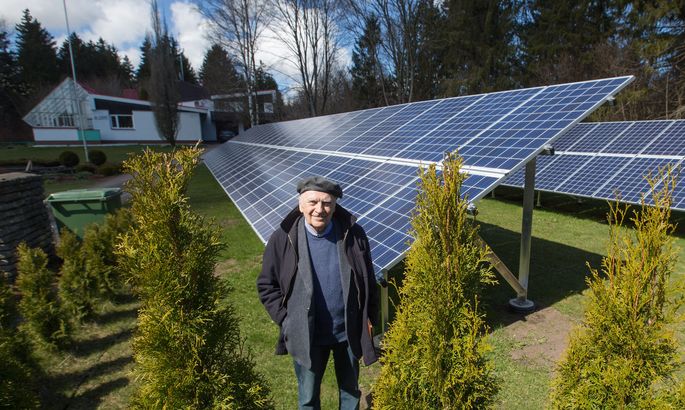 Leading power network operator Elektrilevi's magnanimity in connecting small producers to the grid has resulted in such a fevered campaign of installing solar panels that Estonia could have more solar plants that motorcycles in a decade's time.
The number of households producing electricity at home has grown 40 times over the past five years: if in 2012 Elektrilevi accepted the production of 23 small power stations, that figure had grown to nearly 900 by April this year.
While people getting into the power business seem satisfied, officials, who are in the business of permits and bans, feel helpless in the whirlwind of such rapid developments.
Former director of the Ranna state farm, ESSR agriculture minister Vello Lind (80) has riled up the entire Harku parish.
Lind installed a solar park with a power output of 25.4 kW, or twice what Elektrilevi had designated as the limit for micro production, in his backyard last year. "I'm selling electricity to Alexela and buying back what I need, turning a healthy profit every month," he said.
The around 100 solar panels on two frames in Lind's backyard are pointed south and give his 1970s residence a modern look even today.
Lind used his own money to purchase the solar plant, paying the installer nearly €20,000. He hopes the power plant will pay for itself in 12 years. "I'm an old man, and I will leave it to my children," Lind said.
Hungry for more
The experienced farmer was so motivated by the success of his personal solar park that he now wants to build a bigger solar park on seven hectares next to Rannamõisa road. Because the land is owned by the state, Lind will apply for support for his project in the Harku parish council toward the end of May. It is up for the parish to decide whether they want solar power to be produced there.
"It is barren land perfect for solar power: the ground is inclined facing south. Without fertile soil, there is no need to cut the grass on the property," Lind said. "Because our farmland does not make it possible for us to successfully compete with foreign producers, energy is just what we need to be producing."
While Lind's solar park does not offend the eye of people who find themselves in that quiet side street for the first time, Harku parish elder Kaupo Rätsepp said that Lind's neighbors are far from happy with the situation.
"I'm Mr. Lind's neighbor, and, like other neighbors, I'm quite disturbed by the fact his entire back yard is full of solar panels installed without authorization from the parish," Rätsepp said. "Others are asking me how is it possible one has to apply for a permit to extent one's terrace, while Lind can  install solar panels just like that. What will happen if these panels sprout up in every yard – I do not support such freedom."
Rätsepp described traditional solar panels as an aging technical solution as roof tiles that act as solar panels are already being produced.
"Because the law does not specify these parameters, there is no clarity whether solar panels are a device, construction, or something else. Parish officials have yet to determine this," Rätsepp said.
Architect Siim Talts, who installed solar panels on his house also in Harku parish, said the advantage of the technology is the fact one does not need a permit. "The only regulation is that panels cannot be put in the way of views and buildings of cultural and environmental value," Talts explained.
He installed a 3 kW solar energy system on his house – he chose the power output based on the seller's recommendation. A more powerful system would have a longer cost-effectiveness period and would call for an excessive initial investments from a household only producing electricity for its own needs. Talts paid nearly €5,500 for his system and expects it to pay for itself in 12 years.
"I use more than half of the electricity I produce myself and sell 45 percent of it to the grid," the architect said. "Because I'm hooked up to the grid, I have not had to change my consumption habits; for example, I use an air to air heat pump to heat a 100 square meter dwelling." Despite swinging statistics from Elektrilevi, importers of solar power devices believe their margins will dry up as people can just order a Chinese solar plant online.
"It is possible to buy a Chinese solar plant online; however, it will not be as good as the systems we import from Germany," said head of BGE Dmitri Lee. "For example, people living within two kilometers of the sea should only install ammonia and salt-proof panels, which are more expensive to buy."
Big stations take a long time to pay off
Lee recommends clients opt for up to 11 kW systems with a main fuse of 16 amps that offer the most reasonable level of expenses. Bigger systems are more expensive to connect to the grid and take longer to pay for themselves.
Most of Lee's clients use the grid to store the energy they produce. An autonomous system relying on batteries costs 30-40 percent more as it is necessary to also buy a backup generator. A micro producer's output can easily cover the need of a 130-square meter house almost all year round even if the house is heated using electricity. Owners of systems not connected to the grid are forced to alter their consumption habits.
"Our need for energy tends to grow during hours when the sun doesn't shine – in winter, at night," Lee explained. "For example, it is sensible to turn on the washing machine during the day as the sun shines most intensively between 1 p.m. and 3 p.m.
Setting up a micro solar plant is easy. It usually takes a month to go from a request for price to installation during which time Elektrilevi will spend a week reviewing the application, the system takes a week and a half to arrive, with another five days spent on installation.
"Local governments have adopted different positions regarding solar plants. In some it is enough to notify the local government, others want to coordinate matters. There are no regulations to limit the installation of these devices," Lee added.
The government is wholly in favor of local electricity production, and the coalition does not deem it necessary to regulate the activities of micro producers. "Micro production is growing because alternative energy sources are eligible for support," said chairman of the Riigikogu Economic Affairs Committee Aivar Kokk (IRL). "That is why it is sensible to consider the possibilities of micro production already when building a house."
Kokk said that solar panels are technical systems installation of which residents must notify local governments of.
"In cases where neighbors are opposed to these structures, they must provide explanation. I can give an approximate example in that it is inadmissible to put a fuel tank opposite your neighbor's barbeque area," Kokk explained.
"Solar panels cannot be compared to a terrace as the latter constitutes a building extension that is subject to entirely different regulations."
Elektrilevi is looking into offering its clients autonomous solar power systems as it perceives a business opportunity in the level of interest.