What happened to Estonia's number one boy band?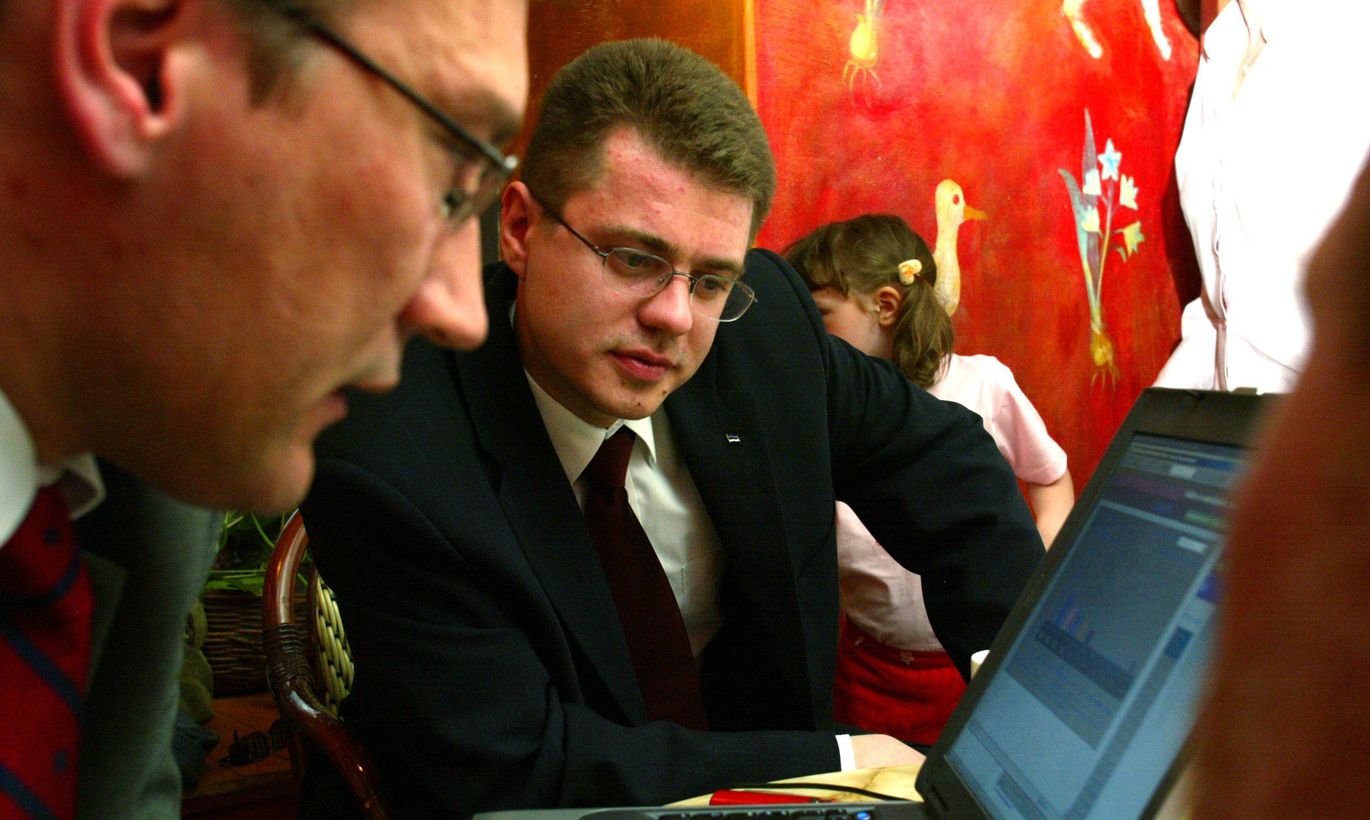 Once upon a time there were four power-hungry young men, who, without really knowing each other, created the Incorruptibles and used their cavalier attitude of "one for all, all for one" to rocket the newly formed Res Publica to the Riigikogu. By today, the boy band has fallen apart.
One of the Incorruptibles' front men, former interior and justice minister, Pro Patria Res Publica Union (IRL) MP Ken-Marti Vaher's probable upcoming employment as the office chief of European Court of Auditors member Juhan Parts will separate the group for good.
While the "boy band" is a convenient journalistic figure of speech, the think tank of Res Publica went far beyond Ken-Marti Vaher, Urmas Reinsalu, Taavi Veskimägi, and Indrek Raudne. There were a number of well-known people; however, the said four needed to stand out to break through. They weren't recognizable. That is why the men pursued a personal campaign alongside that of the party. They engaged in modern venture capitalism in 2003 – they created a startup.
One of the founders of Res Publica, Tõnis Kons, says that calling the group a boy band is a clear journalistic exaggeration.
The natural order of things
Asked about the future steps of Ken-Marti Vaher, Kons says that the fact the party had a team members of which have now gone their separate ways – some have moved into different walks of life, others are making tomorrow's decisions today – is only natural. "It is a good thing in a small country that people can enter politics from other walks of life and then leave it again," he said. "Another good thing is that we've had our people in the parliament for the past three or four compositions. However, having too many would result in stagnation. Change is good."
How did the boy band take its first steps?
Young (mainly) conservative men and women created a political club called Res Publica in 1989. Members included Jüri Luik, Andres Herkel, Vootele Hansen, Indrek Kannik, Ivo Rull, Indrek Teder, Mart Nutt, Toomas Hendrik Ilves. Res Publica functioned as a club activity until the end of the 1990s, with its members having joined different political parties by then.
By the end of the 90s, the energy of the club's founders had migrated to parties. Young members like Urmas Reinsalu, Toomas Tauts, Tõnis Kons saw the opportunity to turn Res Publica into a new party. The Pro Patria Union and Reform Party of the day were run by politicians who had just reached middle age and had no inclination to hand over the reins any time soon.
Timing was perfect: the people were tired of politicians, reforms, and scandals after the first decade of re-independent Estonia.
Res Publica started with a bang. By the time the party was officially announced in December of 2001, several grand opening events had already been held. The young men no one really knew managed to find dignified figureheads to represent them: they convinced Rein Taagepera to become chairman and borrowed economic credibility from respected banker Olari Taal. The men were even publicly endorsed by President Lennart Meri whose office chief Reinsalu was at the time.
In truth, Taagepera served more as an honorary chairman and quietly resigned less than a year later in August of 2002. The young cardinals had found another person critical of the government and sporting the reputation of an honest man – auditor general Juhan Parts.
A never-before-seen campaign was pursued in the seven months left until elections. Prodigious sums were spent as Taal and other businessmen saw the young ambitious men as a sound investment. Election campaigns in Estonia had not seen posters the size of those of Juhan Parts at the Tallinn Bus Station and the former Tallinn services building. "Vote for order!" and "Let us break through!" were the slogans than brought the party victory.
And the people who joined Res Publica and ran for the Riigikogu back then! From esteemed actress Elle Kull to entertainers Hannes Võrno and Tarmo Leinatamm, from guru scientist Ülo Vooglaid to academician, fresh back from Moscow, Ene Ergma.
Res Publica's triumph on March 2, 2003 was absolute. The established Center Party just managed to win the election (125,709 votes) in front of Res Publica (121,856 votes), with both parties given 28 mandates in the Riigikogu. The young leaders of Res Publica once again showed their skills by securing the prime minister's seat during coalition talks. The People's Union, that had taken Kadriorg in the person of Arnold Rüütel, and Villu Reiljan were offered suitable ministerial positions, and together with the Reform Party Juhan Parts' government had the votes it needed.
Attempts at puppet mastery
The Reinsalu-Vaher-Raudne-Veskimägi four attempted to turn inexperienced PM Juhan Parts into their puppet and succeeded at first. Taavi Veskimägi, who has been outside politics for some time by today, has written in his blog that Res Publica tried to turn its chairman and the country's prime minister into something he was not in 2003. "This came off improbable, fake even. It failed. The results were painful both for the party and Juhan Parts," Veskimägi wrote.
By June of 2003, Res Publica had over 4,100 members – back when the Center Party and the People's Union had around 5,000 members and the Reform Party and Pro Patria Union 2,000-3,000 people, that was an impressive figure.
However, just one year later, during the 2004 European Parliament elections, Res Publica failed miserably in failing to secure a single seat. Urmas Reinsalu's ploy to seek the help of supermodel Carmen Kass whom he took to the president's anniversary of the republic reception was not enough to secure him a seat in Brussels.
A reporter asked Reinsalu in an interview he gave to Õhtuleht in early summer of 2004 why more people were glad to learn of Res Publica's failure than the success of Toomas Hendrik Ilves (more than 76,000 votes) after the election. Reinsalu avoided giving a straight answer.
Journalist Rainer Kerge asked in the same interview about the boy band's relationship; whether they attend each other's birthday parties, when was the last time the group relaxed together. And to everyone's surprise, Reinsalu was forced to admit that while the men are friends, they do not attend birthday parties or go out together.
"Res Publica has been accused of in-house dictatorship, that the boy band is running the prime minister, maintaining censorship," Kerge continued. Those are things held against Res Publica's wing in IRL to this day.