Security starts with family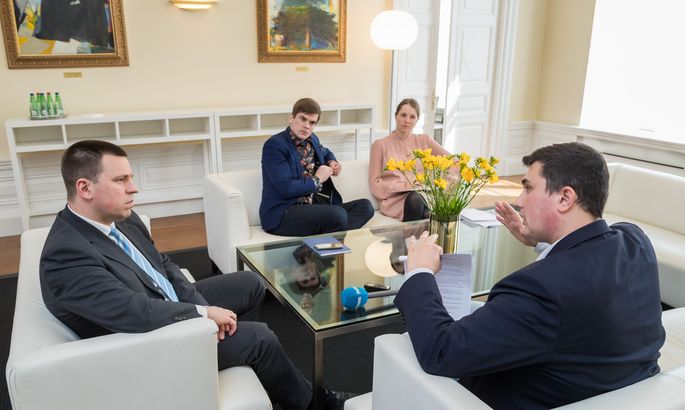 Head of the Center Party and the government Jüri Ratas believes that population concerns need to be addressed to ensure security. "Security is needed for a people and country; however, what is a country with no people?" he asks.
When it comes to Estonian security there is a lot of talk about NATO, allies, and military equipment. However, would you agree that ensuring security concerns almost all parts of society: the education system, social system, medicine, environmental protection?
That is just what the basis for security policy draft legislation treats with. For the first time it belongs with the Office of the Government and under the prime minister's tasks in the Riigikogu. It treats with an integral solution for society, also in the government sector. Security does not begin in the Riigikogu or Stenbock House; it begins with families. It starts with our upbringing, kindergarten, school and goes from there.
On the other hand, the new security policy base document does not concentrate on specific ministries in the government sector either, but perceives broad-based involvement and treatment. Our security lies in culture, sports, language, of course our defensive capacity, the Defense League, voluntary firefighters, and NATO.
We can see public debate becoming increasingly polarized abroad; radical messages are breaking through. In your opinion, is there a radicalization problem in Estonia?
I do not perceive extreme elements in the Riigikogu or radical tendencies in society today. I see that we are all out for an independent Estonia. Looking at the coalition, it is very broad-based. We have the social democrats, on the right we have IRL, and in the middle there's the Center Party. The current government has a balancing effect on society. As concerns the opposition, I do not see completely radicalized people among my former colleagues in one faction or another.
I'm definitely opposed to opinions according to which we should leave the European Union. I believe these are half-finished thoughts, and we can see that nearly 70 percent of people in Estonia believe staying in the EU is the right thing to do.
There is a parliament party talking about a referendum. Could such talk, or the referendum itself, constitute a security concern for Estonia?
I believe a referendum is not in order in a situation where the matter is not really relevant in society today. Studies show that people support Estonia's EU membership. We all fought in the name of rejoining the European cultural area throughout those 50 years of occupation. To be in that family and union created for a single purpose – that of peace.
A month ago I was afforded the chance to sign the Rome Declaration in the very same place on the Capitoline Hill the Treaty of Rome was signed 60 years ago. It has worked as no European Union member has been attacked since its signing. To somehow artificially lead society to a referendum, out of balance – I do not believe it would be right.
One phenomenon that clandestinely erodes people's confidence in their country is corruption. Have the major corruption cases of previous years boosted or hurt people's trust in the state?
The fact they've come to light shows state agencies and institutions are functional. Saying we don't have cases of corruption would raise the question of whether that's really the case. Or whether we're talking about some kind of iron curtain. Luckily we have nothing of the sort, and agencies can act freely and fight corruption. I believe it rather works to cleanse society.
What is the effect on the credibility of the government and the state of the fact the prime minister's party is involved in one such case?
However...
The Center Party elected a new chairman and board on November 5 last year. I have said on several occasions that the Center Party does not always have to be mixed up in corruption. Yes, we have certain court cases involving the party and some of its members. And they are definitely not beneficial.
It is my desire to change this party. We need to get rid of our debt, and we have taken a very concrete step on that road in selling our property at Toom-Rüütli 3/5. I have said that the Center Party should not always find itself on trial. I condemn it wholeheartedly.
We have a deputy mayor in Tallinn running the city with one hand and a waste management business with the other. Him remaining at the head of the city will continue to erode citizens' trust in local governments and the state.
I believe you are referring to Arvo Sarapuu. I have asked him whether he is involved in the capital's waste business, whether he harbors financial interests, and whether he is somehow covertly connected to it. He has assured me he is not. I trust our investigative organs and agencies fully. Should an investigation lead to his conviction in court, that is how it will be.
You have mentioned the indirect effect on security of the fact the Estonian population is aging and shrinking. Would you elaborate?
I believe it is the number one question in terms of Estonia's longevity – whether we settle for a shrinking population, or whether we can turn it around. What does that mean? We need births to outnumber deaths, not to reminisce on how that was the case 20 or 25 years ago. We need Estonians, and especially our young people, to not just go out into the world but also come back. We also need to reduce the number of tragic accidental deaths, including those caused by alcohol.
So having children is a security contribution?
Security is needed for a people and country; however, what is a country with no people?
Estonian politics has a lot of young men whose age would suggest they have completed military service. Are some people more equal than others?
We do have a generational exception. That generation is largely made up of people who went to the university in the middle of the 1990s. Regulation at the time exempted young men who attended university from compulsory military service. I attended that interview myself, where I was told I would be assigned to the reserve after graduation. It was a vacuum in our regulation.
Can we say that every young man who shirks military service is hurting his own security and that of his family?
I believe there is no reason to shirk our military service. It is a positive experience. It works to boost patriotism, love for the fatherland, as well as people's ability to cope in difficult situations. Including as a father. I believe that military service gives one a lot of mental and physical fortitude for the future.
The Information Board's yearbook points out that Estonia's EU presidency will coincide with the Russia-Belarus joint military exercise Zapad 2017. Has an ordinary person reading about it reason to be anxious?
There is no reason to be anxious or afraid. The government is aware of the Zapad drills in late summer, early fall. We will monitor the situation and have done quite a lot of preparation work both domestically and with our allies.