Flocks of birds raiding fields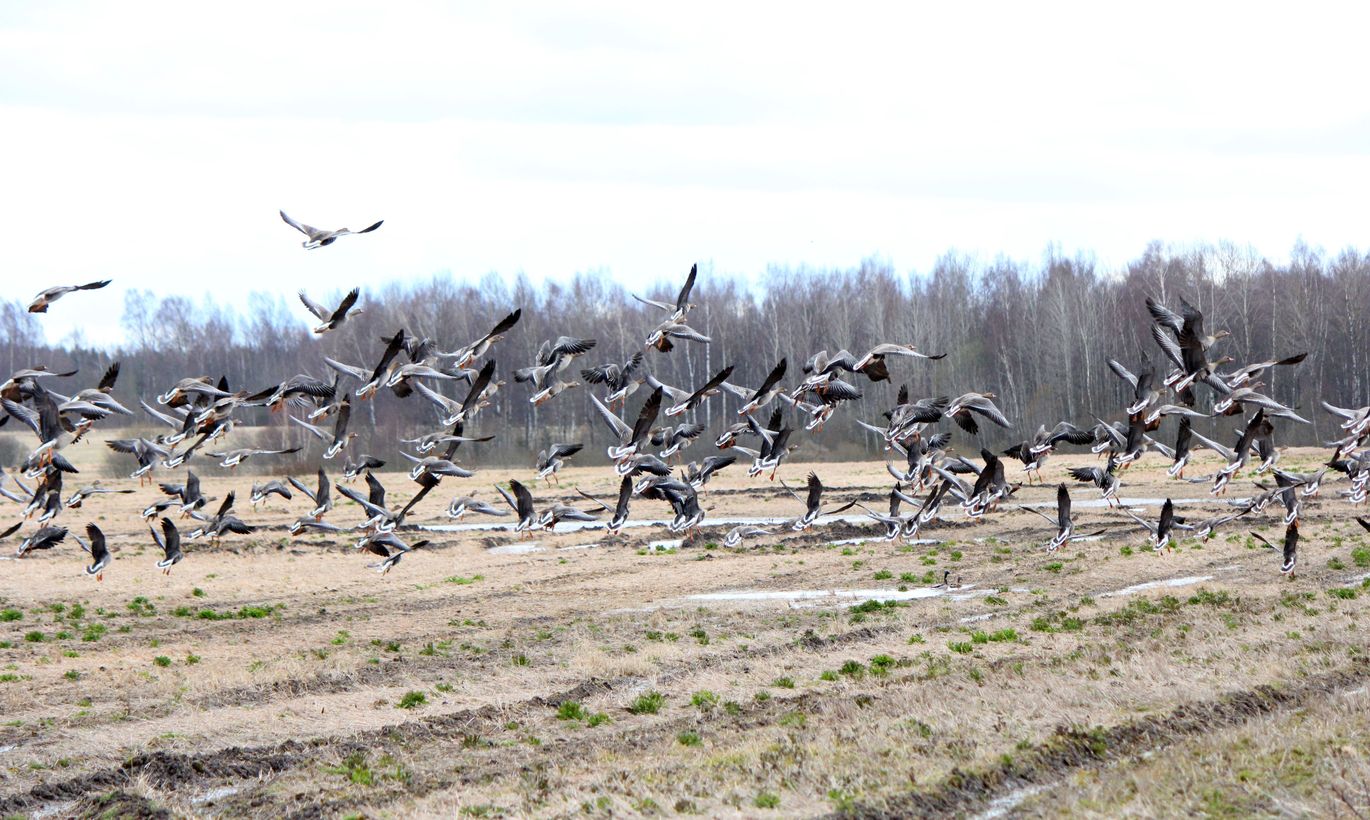 Farmers do not find themselves in a favorable situation. Soft fields make it impossible to start farm work, while this year's cold spring is forcing migratory birds to stay in Estonia for longer.
"The birds have been here for a while, and there is a lot of them – the fields are thick with them. Some flocks have a thousand birds or more," chairman of Valga County farmers Kalle Kits summarized.
"Farmers have been feeding winter crops, while this year's next to nonexistent winter has the grain fooled so it has already risen. Birds go where there is something to eat," he added.
Head of Kesa-Agro Venda Vihmann from Sangaste parish agreed. "We have great flocks on grain fields. And they won't leave for their nesting grounds before it gets warmer," he said.
Ain Juurikas from Helme parish has been spared visits by hungry birds so far. The thousand-strong gaggle of geese stopping near Kalme village has so far preferred his neighbor's pastures.
The farmer said bitterly he supposed the neighbor has something better to offer –  clover probably. "The situation is poor: work is not being done. Rains have rendered the fields soft and therefore inaccessible," he said.
Both Kits and chief specialist at the environment board's species protection bureau Tõnu Talvi said that while the situation is not rosy for farmers in the south of the country, the situation is even worse up north. This was echoed by head of the Virumaa Farmers Association Einar Jakobi.
"Virumaa is on the birds' migration path. I have no fields on the coast myself; however, I know birds will stop for weeks and even months on coastal fields this year. They are also becoming used to all manner of scarers," he pointed out.
If head of the Estonian Ornithological Society Andres Kalamees believed on Wednesday that spring migration has reached its peak, at least in the vicinity of Võrtsjärv, Talvi believes it could get worse.
"Migration is happening in stages because of the changeable weather. The critical period might fall to the first half of May when geese will be accompanied by barnacle geese," he said
"Because weather conditions are unfavorable and the nesting period is drawing nearer, it is possible barnacle geese will mostly fly over Estonia without stopping," he added however.
Chief research fellow and head of the geese monitoring program at the Estonian University of Life Sciences Aivar Leito emphasized that barnacle geese have never posed a serious threat to Valga County fields – rather they tend to stop in western and northern Estonia.
"A prolonged migration could mean a more modest effect of barnacle geese everywhere in Estonia. The migration period always ends around the same time. Geese are staying longer this year. The first wedges appeared in the middle of March. That is why damage done to fields will probably be greater," he explained.
Kits said it is too early to talk more specifically about damage done in different counties. The head of Valga farmers said that while it is too early to tally up the damage, great flocks of birds can be seen almost everywhere in the county.
While farmers and scientists agree that geese and barnacle geese will leave Estonia by the end of May, the exact time of their departure depends on weather conditions. "Especially what the weather will be on their migration path," Tarmo Evestus from the Otepää Nature Center said.
No one can say for sure what the weather will be in the coming weeks. If Elmar Kuus from the town of Põlva told Valgamaalane the weather would quickly start to get warmed and the trees would put forth leaves between May 1-5, Arvi Lepisk from Räpina said that recent developments suggest trees will hold off for a while longer.
"I have not had time to get into it in recent weeks; however, birch and other forest trees do not bear leaf buds yet. Chokecherry and berry bushes are showing the first signs. However, to have the trees put forth leaves by May 5 we would need several days of temperatures of 10-15 degrees. Also at night," he said.
Lepisk said that it will be possible to start spring farm work in the south of the country only after May 10.