Trucks to pay up to €1,300 in road usage charge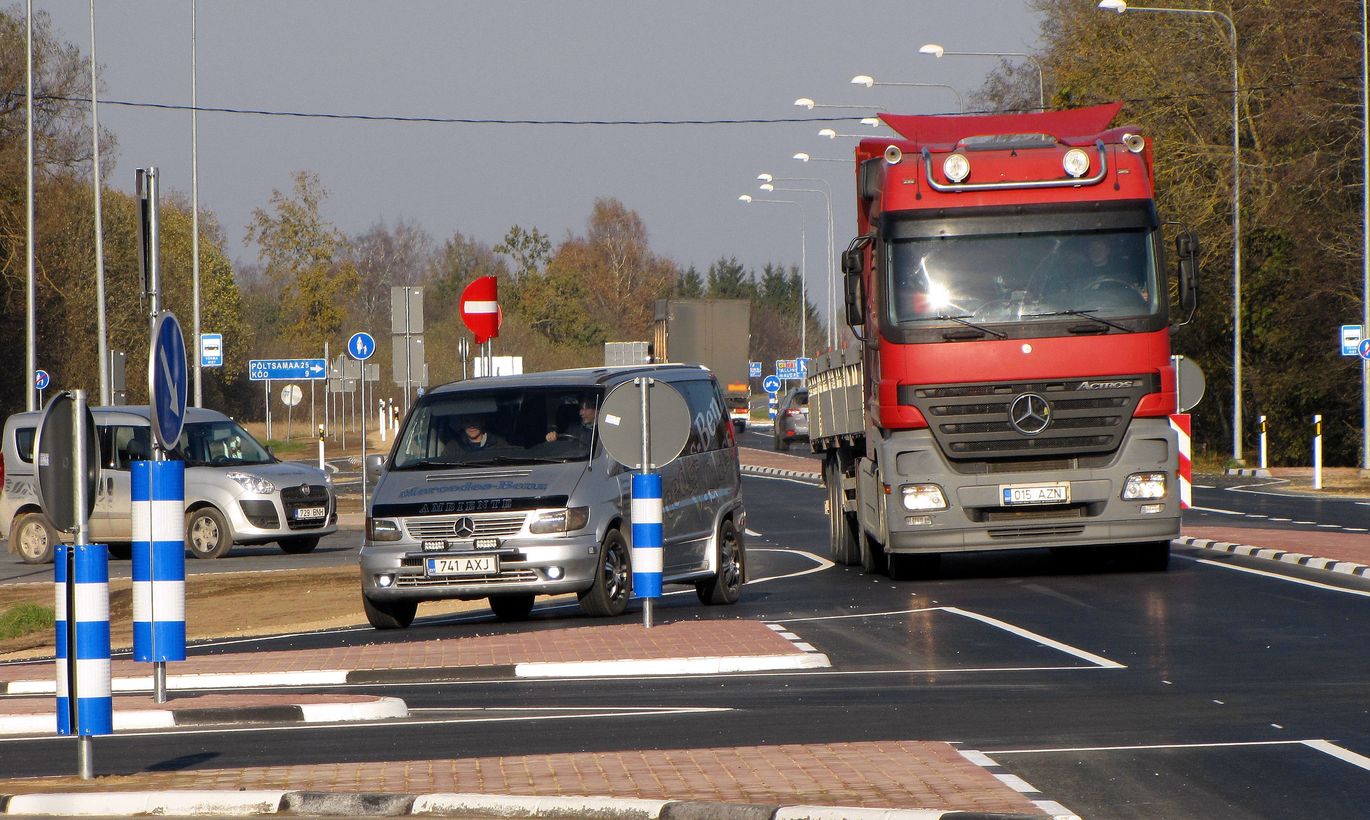 The government approved on Thursday a road usage fee for trucks that could cost operators of heavier and more polluting vehicles up to €1,300 annually.
Similarly to other taxes laid down by the new government, the charge will be complicated and sport several rates, based for example on effective mass, number of axles, and emissions. The road usage charge will be time-based, with users being able to choose whether to pay for a day, week, month, or the entire year, draft legislation by the economy ministry reveals.
The daily tax rate for light trucks, with a maximum permissible mass of between 3.5 and 12 tons, will be set at €9 and the annual rate at €500. This means that a light truck registered in Latvia will have to pay €9 to use Estonian public roads for a day. The annual rate applies to vehicles that operate on Estonian roads all year round.
For heavy trucks with a maximum mass of over 12 tons the rate will depend on emissions and number of axles: owners will have to pay €1,300 annually for vehicles that emit heavy emissions and have four or more axles.
The rate gets smaller from there, dropping to €600 for trucks that emit less emissions and have up to three axles. The corresponding daily rates are €12 and €10.
Based on Road Administration's statistics from late February, the new tax concerns around 37,000 vehicles in Estonia two-thirds of which are heavy trucks weighing more than 12 tons when laden. The tax is forecast to treat the state budget to around €17 million.
The government says tax receipt will be used to construct and maintain infrastructure. The charge is meant to follow the principle of "user pays" without hurting competitiveness of companies and subsistence of residents to an unreasonable extent.
One goal of the tax instrument is to steer companies toward more environmentally friendly trucks as the charge rate will depend on CO2 and other emissions of vehicles. The government hopes to boost trucks' energy efficiency and reduce environmental impact.
The government says that the new tax will not hit less fortunate people or the competitive ability of rural areas as it is likely the same trucks are used to service cities and rural regions. The government also notes that light trucks will only contribute around €3 million. "Considering the number of vehicles subject to the road usage fee and logistics operators' other expenses, the charge plays a modest part," the bill reads.
Even though business organizations are not against a road usage charge as such, they point out several problems and point to possible bottlenecks. "We have been talking about the need for a road charge for some time. Estonia is one of only few countries that doesn't have one," said president of the Association of Estonian International Road Carriers, transport businessman Einar Vallbaum.
He added that the road usage fee should be more dependent on emissions.
"The current bill is clearly too rough-cut and based rather on maximum mass than emissions. It should be the other way around. Looking at the old rickety trucks on our roads, we cannot talk about a green state," Vallbaum said.
Vallbaum also said that the charge will result in a transport services price advance that will reflect in the prices of a lot of other goods and services. That said, he does not believe the rates to be excessive for most carriers.
Vallbaum is less optimistic about the future of road transport in Estonia. "Estonia is everyone's favorite country as it is; especially as concerns road transport. Latvia has a competitive edge: cheaper fuel and insurance, lower salaries. So we can speculate we will not have international road transport in Estonia in three years," he said.
Head of the Estonian Chamber of Commerce and Industry Mait Palts said that it is important money collected from the tax would really be used to maintain roads. The bill reads that tax receipt will be used toward maintaining transport infrastructure. "We feel this phrasing could be even more specific. That way it would be possible to make sure the state will not use the money to maintain the railroad or ports and airports," Palts added.
The chamber holds monitoring, or how to collect the tax from truckers to be the weakest point of the new law.
"The state is not planning to introduce an automatic license plate identification system at this time. Provided monitoring is lax, it is possible trucks with foreign license plates that only spend a few days in Estonia will find it easy to avoid paying the charge," Palts said.
This could in turn lead to a situation where local carriers diligently pay the tax while foreigners avoid it. That would hurt the competitive ability of the Estonian logistics sector.
Palts also said that tax rates are too high and agrees with Vallbaum in that rates should be tied to trucks' eco-friendliness to a greater degree.