Estonia's open migration policy surprising even in Europe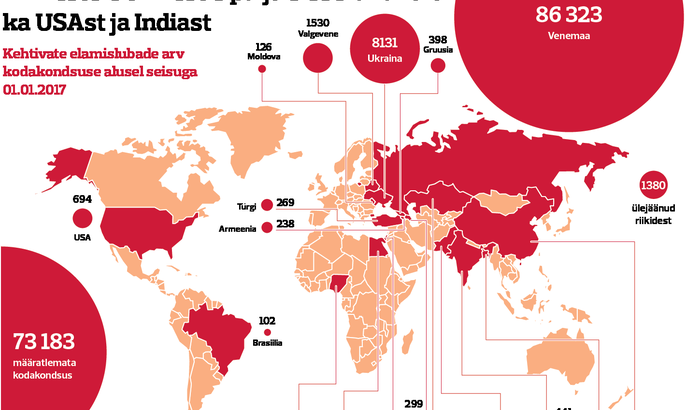 Estonia's migration policy has become so flexible it is hard to believe even for European customs officials who at times stop people heading to the country without reason.
For example, if a person from Vietnam wants to become a cook in Estonia, they can first arrive in the country with an ordinary tourist visa. Provided a local restaurant is willing to hire them for at least the average salary and register the fact with the Police and Border Guard Board, everything's done. A foreigner can use this procedure to work in Estonia nine months out of the year.
Estonia has visa freedom with more than 60 countries residents of which can stay here three months our of six without needing a visa. While Estonia is probably not a very tempting place to work for people from Singapore or Monaco, the country could constitute an exciting opportunity for those from Malaysia or Albania.
«We are working toward increased migration,» said head of the citizenship and migration policy department of the Ministry of Internal Affairs Ruth Annus.
More than 6,000 foreigners came to live in Estonia in 2016. Immigration hit the ceiling for people from outside the European Union last December, which caused a number of residence permits for work and business to be refused in the final weeks of the year. Annus said this has not happened since the years when the ceiling applied to all immigration.
Merkel forced to intervene
Sometimes rules in Estonia are so relaxed that diligent officials elsewhere in Europe just cannot believe it. For example when Bigbank found a suitable employee from Brazil whose journey to Estonia was almost cut short.
«Unfortunately they couldn't get past the airport in Frankfurt as they were deemed to be a threat for us for some reason,» head of HR Agne Sokolov recalled.
«We learned of the incident six hours later, when they were about to send our employee back to Brazil. We went as far as the prime minister who, luckily, was meeting with Chancellor Angela Merkel at the time and managed to solve the problem for us.» German officials found it very doubtful one could work without a permit for a time in Estonia.
«Because Estonia has made it easier to find and hire foreign labor over the years, we are now in a relatively good situation compared to other countries,» HR specialist at Transferwise Triin Sau said.
She added that Estonia would do well not to rest on laurels and look to the future instead. «Estonia has developed quickly; however, if we want to compete for top talents, we need to realize specialists from foreign countries are no longer the exception, but the new normality,» she said.
Manager and shareholder of MoveMyTalent OÜ Laura Salu, whose company counsels and helps employees from other countries, agrees: «Applying for a residence permit has definitely become simpler. It is also positive that qualified workers find it easier to come to Estonia than some other EU countries; however, there is still quite a bit of bureaucracy and running around involved.»
Sokolov said that applying for residence permits can take a long time. «It could take up to two months to process residence permit applications. When it turns out a document is missing, the entire process starts anew, even though it could continue,» she said.
She added that drawing up paperwork can also take too long as Estonian embassies are few and recommendatory notes from universities can take a long time to process. «All manner of delays could lead to the employee giving up because they don't want to waste their time,» she said.
Bigbank has hired a total of 13 people, mainly for its IT department, from third countries in the past few years.
Economist at SEB Mihkel Nestor said that entrepreneurs also require more permanent employees with specialist education. «A steep drop in the popularity of technical subjects the country experienced some time ago has robbed Estonia of a generation of engineers and technical specialists. At the same time, it is possible to find them in a number of countries east of us; however, hiring them is subject to both the migration ceiling and other relevant restrictions,» he said.
New hiring incentives for IT firms and startups are unjust toward other companies, Nestor said. «Simply being either of the two is no guarantee of value added or having a successful business model,» he emphasized.
«Companies able to pay high salaries and dividends are definitely not so limited. We have companies in the processing industry the value added per employee of which is higher than that of software developers. Even so, the legislator seems to have decided that foreign labor is not important for these companies and sectors,» Nestor said.
Companies are looking for experienced and highly qualified employees. These criteria usually apply to people in their 30s and 40s with families and children.
Laura Salu said that there is a number of unresolved issues as concerns public services. «How to find a family doctor willing to communicate in English? How to get children into kindergartens or schools? We market ourselves as a welcoming country. However, we need to work on keeping those who come from being disappointed and making them feel comfortable here,» head of MoveMyTalent OÜ believes.
Use of public services is especially difficult for people who come to work for a short time; for example the aforementioned Vietnamese cook.
«Right now it is possible to do short-term work in Estonia for nine months during which time the employer must pay all applicable labor taxes. That said, the employee cannot enter themselves into the population register. That means they cannot put their kids in kindergarten or stay home with them when they're ill,» Salu said. «Everyone has the right to be able to handle their affairs.»