AIDS diagnoses double year-over-year
27. February 2017, 5:31 PM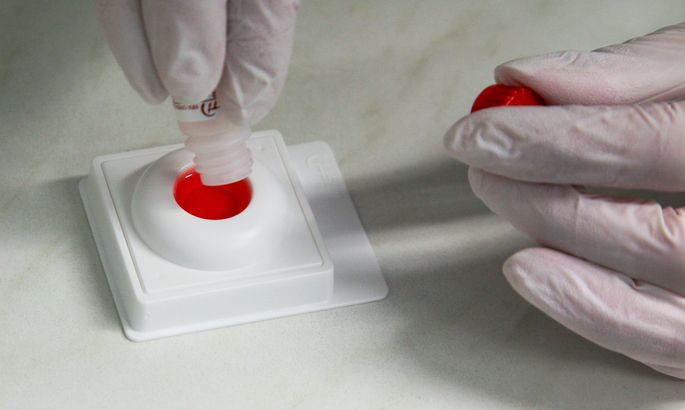 The HIV epidemic that started in Estonia around the turn of the century has entered a new phase: because a lot of people infected with the virus are still not aware of the fact, lack of treatment has led to the development of AIDS.
"It is now 16 years from the beginning of the HIV epidemic in Estonia, which is why it is inevitable the number of patients to reach the stage of AIDS will start to grow," said infectious disease specialist at the Ida-Viru Central Hospital Dr. Jelena Šmidt. New diagnoses of AIDS grew from 15 in 2015 to 41 last year.
Šmidt said there are two kinds of AIDS patients. "The first group is people who were infected years ago but had no idea or way of knowing they have the virus." These are usually ordinary people who have jobs and do not use drugs. "Once they come to us, we often find HIV has developed into AIDS in their case," the physician said.
Some patients who have knowledge of infection have not turned to the doctor in fear of stigmatization. "Stigma is still a problem today – people are afraid their disease will become a matter of public knowledge," Šmidt said.
She urges people to definitely take the test as the earlier the diagnosis, the easier it will be to manage future health problems.
The second typical group of patients is made up of drug addicts who find it very difficult to handle regular treatment. "They discontinue their treatment and start using drugs again. This is why it is very difficult to get good treatment results with them, which allows HIV to develop into AIDS faster," Šmidt said.
Two cases of AIDS and 40 cases of HIV were diagnosed in January of 2017.
Free treatment for everyone
Head of the infectious diseases clinic of the West Tallinn Central Hospital Kai Zilmer said that treatment is free for everyone diagnosed with HIV. By regularly taking HIV medication, people can avoid AIDS.
"Unfortunately we have patients who do not take their medication regularly or discontinue treatment, which is why the number of AIDS cases is not falling as quickly as we would like," Zilmer said. She added that active testing for HIV helps contain the number of AIDS cases. "Only when a person is aware of their disease can they seek treatment in a time," Zilmer stressed.
Senior specialist at the Estonian Institute for Health Development Kristi Rüütel said that there is no grounds to say AIDS is somehow a bigger problem in Estonia than the rest of the world. "Including wealthy countries, where treatment options are even better than they are here," Rüütel added. She said cases of AIDS are relatively few in Estonia. "Around 5 percent of all HIV cases, whereas it is possible to develop AIDS several times in a person's lifetime," she added.
Rüütel said that AIDS is an outdated topic these days. "Back when we didn't have proper HIV treatment, people often reached the AIDS stage and never got better again," she explained. While people are still diagnosed with AIDS, the disease that caused the diagnosis is treated, and the person gets well again.
"It is worth remembering that AIDS is not a disease in itself; it is a number of diseases a person gets because HIV has left their immune system in weakened state," Rüütel said. One of the most frequent diseases caused by HIV in Estonia is tuberculosis.
Rüütel also said that some HIV carriers might develop AIDS despite treatment, depending on response to treatment and other medical conditions, also lifestyle. "Additionally, HIV is often diagnosed quite late in Estonia – people have been carrying the virus for years and their immune system has been weakened," Rüütel said. In 2010-2014, 4 percent of new HIV cases were simultaneously diagnosed with AIDS.
Average age of people infected on the rise
Press representative of the Health Board Iiris Saluri said there have been cases where a person who is not aware they are carrying the virus first learns of it when they are diagnosed with diseases caused by AIDS.
"Even in a situation where the state pays for HIV treatment, not all carriers show up for treatment or maintain it regularly, which might result in developing AIDS," Saluri said. "People are different; everyone with HIV has a realistic chance of it turning into AIDS."
The HIV epidemic in Estonia started in 2000 when the number of new cases spiked. Most new cases were registered in Ida-Viru County (92 percent), whereas the number of new infections also grew notably in Tallinn. The number of new cases of HIV has been dropping both among men and women since 2002.
If at the beginning of the epidemic HIV spread mainly among drug addicts, an analysis of new diagnoses from last year shows that cases of the virus spreading heterosexually are on the rise, while the average age of persons diagnosed has grown both among men and women. While the spread of the virus has stabilized in Estonia, rates remain high.