Speed and maturity not enough to secure victory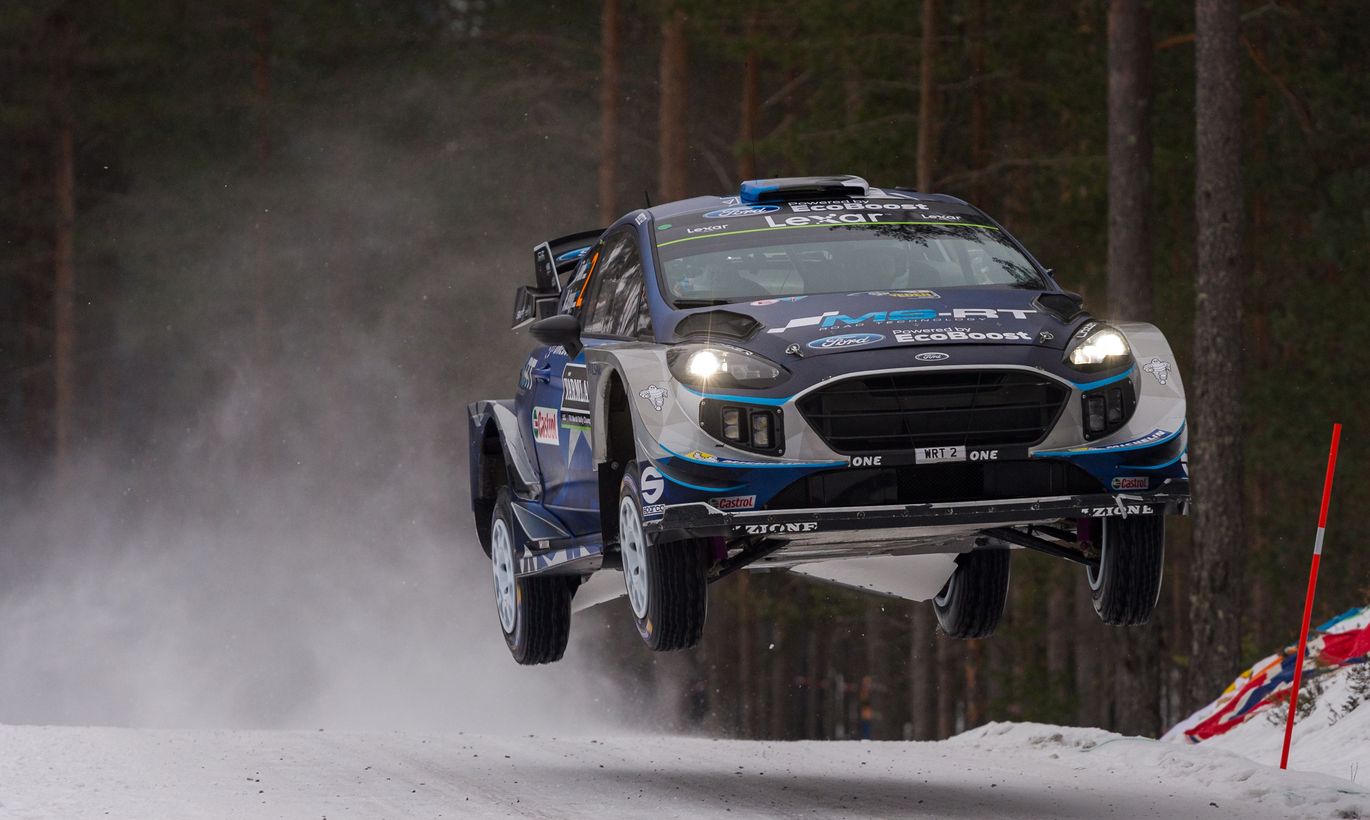 The rally gods must have something special in store for Ott Tänak in the future as the Estonian has been allowed to come within touching distance of one too many rally victories. Tänak and his co-driver Martin Järveoja were just 3.8 seconds behind the leaders going into the final day of the Swedish rally but had to settle for second place overall after being forced to admit the superiority of Jari-Matti Latvala and Miikka Anttila on three stages on Sunday.
Tänak could nevertheless count several successes in Sweden: four stage wins, Friday's experience as the "trailblazer" as well as being the fastest on the faster stages of the rally. "We had a good weekend. We were among the first cars to go out on Friday, and clearing the road was a new experience for me. We were faster on Saturday, and it delivered a boost to our confidence. We know where we must improve. I left Sweden with a good feeling, and it will be a new race in Mexico. The season is off to a good start," Tänak said in summary of his days spent on Swedish roads.
Former top rally driver Urmo Aava said that Tänak demonstrated very mature driving once again. "He tried to beat Jari-Matti on the first stage on Sunday but quickly realized he would not catch the Finn. After that he played it safe," Aava said.
Secretary general of the Estonian Autosport Union, rally enthusiast Margus Kiiver agreed: "Our guys looked good from the spectator's point of view – they attacked where they could and avoided unnecessary risks when it was clear things weren't going their way, or where Latvala was quicker," Kiiver said. "The speed was there; we saw that on Saturday when Ott won the fastest stage of the rally."
Tänak's performance behind the wheel was close to perfection, while the team lost time to transmission problems Friday morning. "Sweden is an insanely fast rally, and this means everyone is giving it the beans, which in turn means it is very hard to make up for lost time," Kiiver explained. "As a rally fan, I'm satisfied. It was a cool competition! The win was in Tänak's grasp again, but I'm sure he will get there eventually."
Tänak and Latvala were initially meant to battle for second and third place on Sunday as both were more than 40 second behind rally leader Thierry Neuville's Hyundai on Saturday. However, the Belgian made a childish error during the spectator stage and crashed into a concrete barrier, which caused his car to lose one of its front wheels and dashed Neuville's hopes for the rally victory.
"You just have to make the best of the situation. To be honest, I've had worse things happen to me, even if we did lose a victory that was already within reach," Neuville said after taking three points for third place from the spectator stage. "I know we will come back strong, and with a bit of luck, we can produce great results this season. We couldn't believe something like that could happen again after Monte Carlo, but my co-driver Nicolas Gilsoul and I have no regrets, Neuville said. Neuville and Gilsoul also had to retire after a crash in Monte Carlo while in the lead.
Neuville's error made Latvala's day who seized it by jamming the bone down his competitors' throats – to borrow an expression from our Finnish colleagues – and winning his 17th rally. "I'm lost for words to describe what I'm feeling! New car, new team, our second rally, and it's a victory," Latvala said after the rally.
The driver had managed to put the secret of his success into words by the time of the press conference. "I think too much! Once I stop thinking, I can drive," Latvala said, thanking his team boss. "Tommi Mäkinen told me this morning that I shouldn't slow down; that I should keep going at the pace and with the feeling I have. I feel just like I did in 2008 when I won my first WRC rally – it was a big surprise."
Even though both Monte Carlo and Sweden are special rallies the results of which should not be used to draw far-reaching conclusions, Toyota's success is unexpected, Aava said. "I was very skeptical of them before the season started. I had little faith," the driver said.
Aava added that Hyundai has managed to build the fastest car this time. "Neuville has just been so unlucky. At the same time, Hyundai has had the biggest budget for years, bigger even that that of Volkswagen to my knowledge," he said. "Ford definitely does not have that kind of money."
Tänak unfortunately scored no points from the power stage as he stalled the car going into an exit that cost him the necessary five or six seconds. The Estonian is in third place overall with 33 points after the Swedish rally, behind Latvala in first place on 48 points and Sebastien Ogier, who took third place in Sweden, on 44 points. The WRC circus will now move on to Mexico for the March 10-12 rally there.