Sumberg to bring Marriott International to Tallinn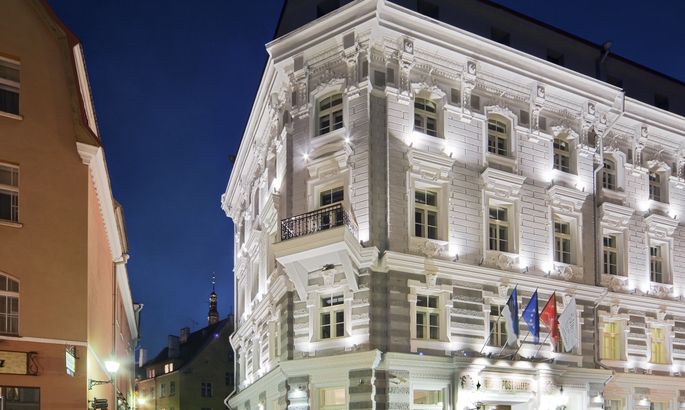 The world's largest chain of luxury hotels – Marriott – will add Tallinn's Telegraaf hotel to its recent Autograph Collection in June. The event marks the first time a Baltic company has signed a license agreement with Marriott.
Legend Hotels, active in Estonia, Latvia, and Poland, has signed a contract with Marriott International to become a part of a sales network that offers more than 85 million regular customers services in 110 countries. "I expect the license agreement with Marriott to result in up to a 20 percent growth in the number of clients inside a few years, as well as saving in terms of booking fees," said one of the owners of the Telegraaf Tarmo Sumberg.
It is probable the hotel will see clients from a wider range of countries of origin among which Finland, Sweden, Germany, Russia, and Norway are currently dominating. "We could see more Americans," Sumberg said.
The 84-suite hotel will keep its name and design but will add the Autograph Collection plaque to its door. Because the US-based chain observes rigorous security and safety procedures, employees will have to undergo additional training. The Telegraaf's IT systems will be synchronized with those of the international group.
The Autograph Collection that merged with Marriott a few years ago does not use the name of its parent but is represented next to a few dozen trademarks that are part of the network on the latter's website.
"Marriott are looking for special yet luxurious accommodation for their wealthy and individualistic clients, and the Telegraaf fits that concept perfectly," Sumberg said.
Telegraaf will also keep its five-star status and continue to market its suites through popular booking systems. While Booking.com charges a 15-25 percent fee for its services, a person can use the Marriott marketing system to cut booking costs by a third.
The turnover of the Telegraaf hotel was €4.8 million in 2015 and profit €0.3 million. Poor political climate hit the hotel hard in terms of fewer wealthy Russian tourists visiting Estonia.
Tourism companies and competing hotels welcomed the news of a Marriott-owned trademark coming to Estonia with a measure of skepticism, pointing out that it will hardly have a profound effect on the market.
"Having an Estonian hotel join an international chain is definitely positive as it benefits all local tourism companies indirectly," said head of Tallink Hotels Peter Roose. "That said, little will change as we are not talking about a new hotel and the Telegraaf's 84 suites are not enough to constitute a significant impact on the market."
Head of marketing at Go Travel Anu Vane said that a quick glance at the Autograph Collection's website reveals that it is does not have a single hotel not only in the Baltic countries but the whole of Northern Europe. "Tallinn is the first, and it is a major compliment for the city and especially the Telegraaf hotel. We have reason to be proud," she said. Vane added that the news holds little significance for Go Travel. "We mainly deal with tourism groups that generally seek more modest accommodation."
If so far Marriott has regarded the Baltic countries as sporting modest perspective, the group's interest has grown in recent years. It is probable that the first Marriott hotel – Courtyard by Marriott currently under construction – will be opened in Vilnius in just a few years' time. The company is also actively searching for a license partner in Riga.
Estonians came to a contract with Marriott in Poland where they operate the Mera SPA Hotel in Sopot that will soon move under Marriott's trademark.
The Telegraaf is owned by OÜ Veglio the main field of activity of which is real estate investments and rental services. The latter is the sole owner of Vene Posti Operaator that organizes the work of the hotel.
Marriott owns more than 1.2 million suites and 6,000 real estate units in 120 countries. The company's headquarters is located in Maryland, USA.