USA will remain in NATO under Trump presidency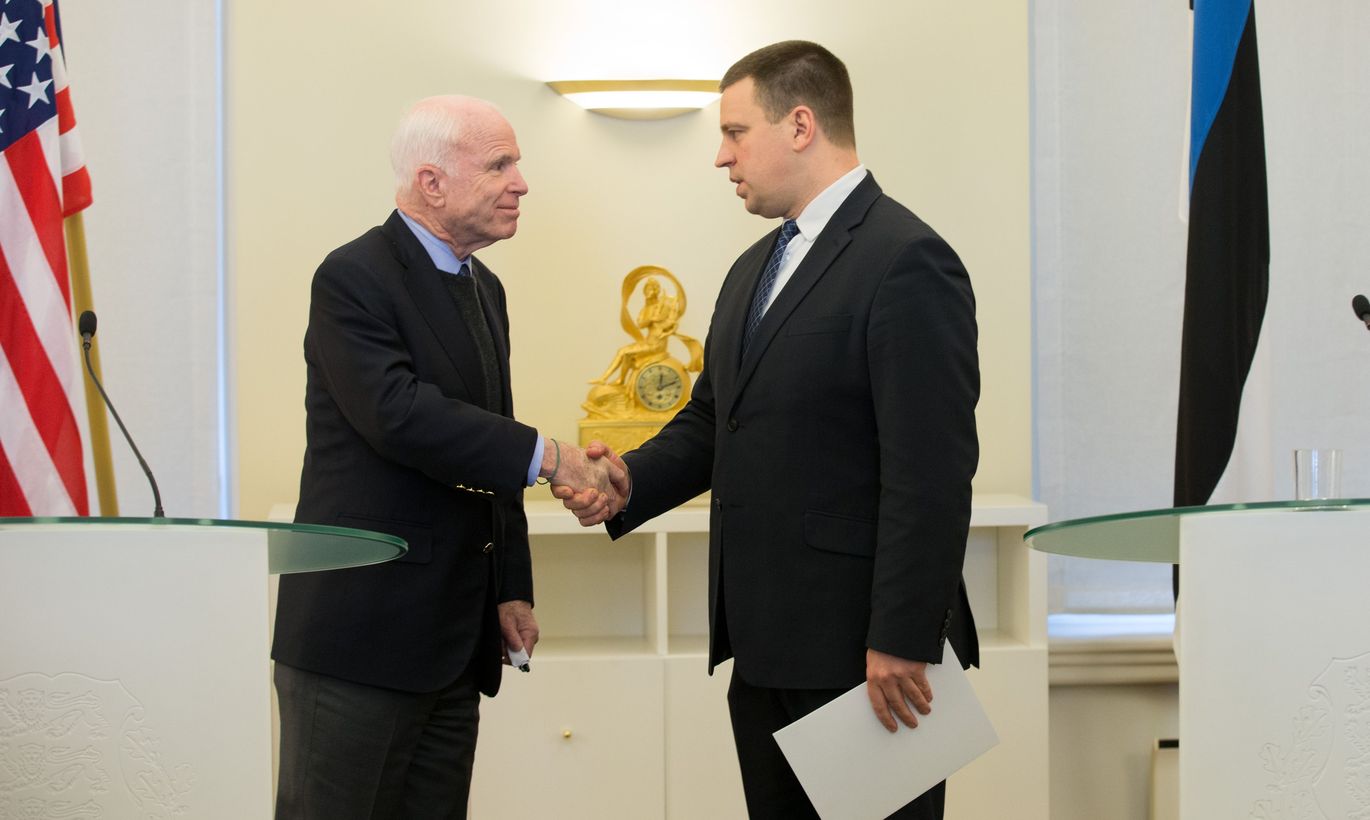 Arizona Senator John McCain assured at his meeting with Estonia's Prime Minister Jüri Ratas yesterday that the USA will retain its position in NATO. Ratas emphasized at the news conference after the meeting the importance of NATO for Estonia and the Estonians. He added that the EU and NATO should develop closer cooperation. McCain congratulated Ratas on becoming the premier and expressed hope that cooperation between the two countries will continue.
McCain did not deny that the outcome of the US presidential election was a surprise for many, including himself. The taking over by the future president Donald Trump and the possible accompanying changes were discussed at the meeting preceding the press conference. "I am convinced and certain that our relations with NATO will not change and the USA will never leave the alliance," the Senator said. "Of course, we shall emphasize the importance of equal contribution to the NATO budget so that all members achieve the two-percent level of defense spending."
The discussion also concerned cyber-security. Another issue was Russia's alleged interfering with the US presidential election.
"There is no doubt that the Russians interfered with the election. It is being investigated, whether it had any influence on either side's results," McCain said. "There is presently no evidence that Russian cyber-activities influenced the outcome of the US presidential election."
As for Trump's alleged desire to improve relations with Russia, McCain said that, as far as he knows, the claims about the president-elect intending to relieve the sanctions are groundless. "As long as Russia continues the occupation of Crimea and posing a threat to the countries of the region, the US will remain resolute, regardless who is the president."
"I believe that we should work towards having a permanent US military representation in Estonia, which would work and train together with Estonian soldiers," McCain added. Both McCain and Ratas emphasized the importance and success of Estonia's contribution to the NATO budget.
Together with McCain, Senator Lindsey Graham from South Carolina and Senator Amy Klobuchar (Minnesota) are visiting Estonia. The delegation yesterday met, besides the prime minister, with President Kersti Kaljulaid, Minister of Foreign Affairs Sven Mikser and commander of the Defense Forces Riho Terras, among others. Terras awarded the army medal for services to McCain for the promotion of Estonia's defense and security.
Lieutenant General Terras said that Senator McCain has supported the Baltic states' independence and freedom for decades and has backed us during our NATO accession. He also outlined the Senator's services to the approval of US aid projects for the Baltic region in the US Senate.
"And now, as the situation has become more complicated, his support to US presence in Europe is loud and clear;" Lt. Gen. Terras said after awarding the medal to Senator McCain. The Senate delegation will also visit Latvia, Lithuania, Ukraine, Georgia and Montenegro.