Logging lobby eating into forests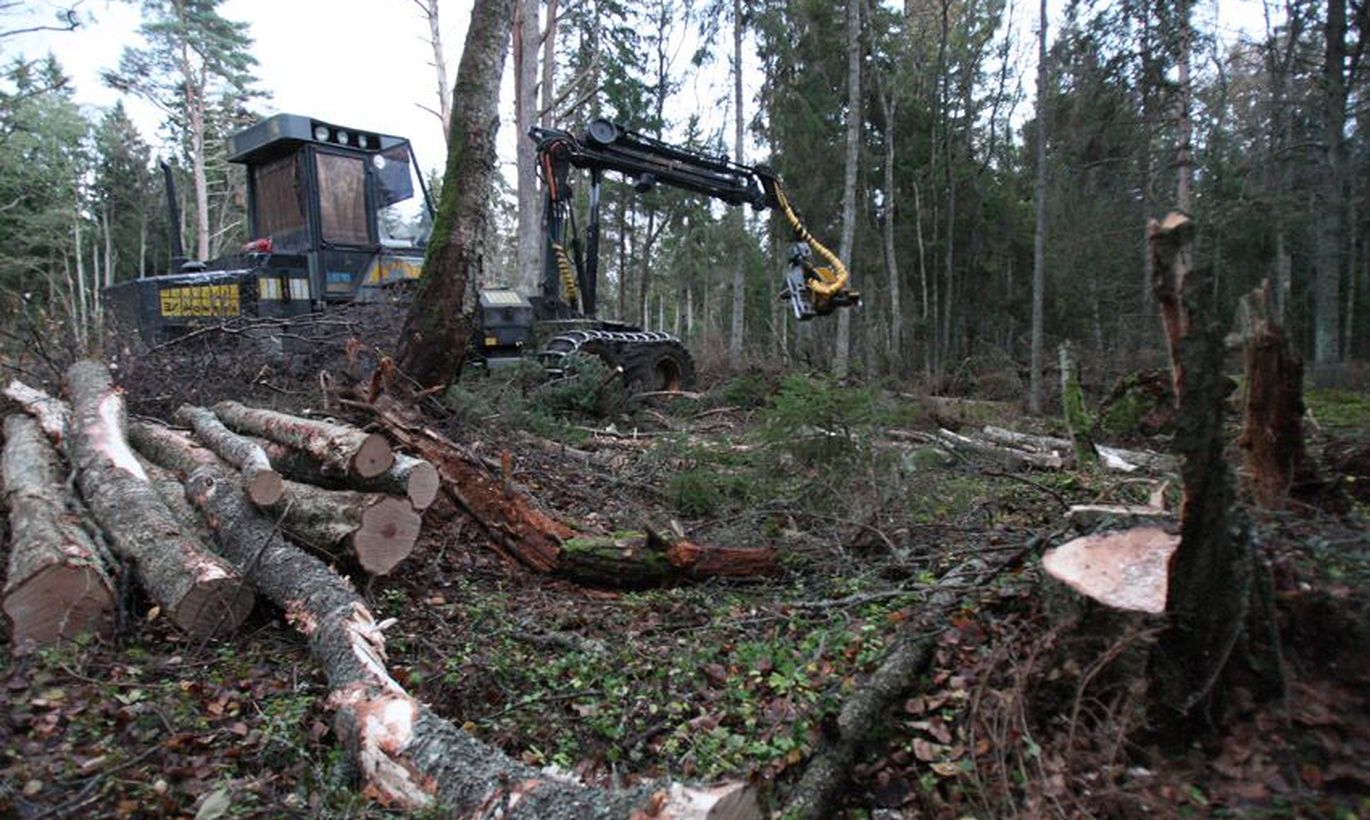 The past nearly ten years have been triumphant for the timber industry – donations to political parties and acquaintances in the Ministry of the Environment have helped render the forest act gradually more ax friendly. New relief is already in the pipeline.
Cutting of forests first got out of hand in the 1990s and recently at the end of the previous decade as a result of which public outrage helped environmentalists achieve a tougher law. The industry recuperated, however, and its lobbying efforts were shifted into overdrive. Some old school environmentalists – who understandably wished to remain anonymous – told Postimees that environmental organizations have largely become EU project bureaus. It is much more comfortable to make use of European subsidies to develop conservation units and restore marshlands than it is to fruitlessly fight the powerful lobby of the logging industry.
The lion's share of logging is done by state forest manager RMK as the price of timber has been too low for private owners to be interested. RMK, however, is expected to pay the state a dividend. That said, signs of price advance have appeared on the horizon, with legislation set to make it possible to increase volumes considerably.
The relative importance of especially valuable spruce woods – that are replaced for a long period of time by scrub and broadleaf forests – has dropped from 24 percent in the 1990s to just 17 percent in our forests. Officials try to minimize the consequences of every new amendment in the eyes of the public, despite it adding up to considerable effect, and logging volumes keep on growing.
While the government reports that total forest area is growing, environmentalists characterize it as a half-truth. Forest area was dwindling in Estonia before WWII as forests were cleared to make room for farmland. Deforestation is rare today, clearcut areas are left alone, and the alder brush that grows there is counted as forest just a few years later. However, mature woods in reach of harvesters are visibly growing sparser.
Forestry statistics therefore depends on parties' interests. The state and logging companies paint a picture of growing forest area, while environmentalists find that the relative importance of old forests is dwindling and that clearcut areas and inaccessible swamps are presented as woodland to the people.
Colossal growth
Initially the government turned the forest management plan into a recommended document for landowners in 2008. Next came the abolition of the special status of forests outside of protected areas. In 2013, requirements for clear cutting and forest notification were relaxed – registration of intent became all that is needed to cut down forests.
Now the ministry wants to lower the rotation age in fertile areas from 80 years to 60, along with relaxing other conditions.
Lower rotation age for loggers' favorite spruce – as that is what the amendment is getting at – reflects RMK's interests. "RMK owns a lot of middle-aged spruce woods, while it is slowly running out of old ones," one source told Postimees. "They currently cannot access their middle-aged spruce forests. There are a lot of old pine woods because pine also grows in swamps, while spruce does not."
That is to say gnarled swamp pines help RMK maintain balanced statistics for this species of tree. Because the important thing is the ability to reach timber accessible to harvesters, old spruce woods continue to be cut down.
If as recently as in 2007 clearcutting took place on 20,800 hectares, that figure had grown to 36,700 hectares by the year before last, making for a growth rate of 76 percent! Expert assessments put the cutting volume at 6.2 million cubic meters in 2007 and 10.4 million in 2014. Recent amendments are set to increase these figures by leaps and bounds. Much to the liking of the logging industry, the forestry development plan prescribes a cutting volume of 12-15 million cubic meters.
Forestry scientist Raul Rosenvald said that the recent amendment will lead to colossal cutting areas. If currently the maximum size of a clearcutting area is five or seven hectares, whereas it is not allowed to create a similar-sized cutting area right next to it, that, too, will become possible now.
"If an owner of a plot of forest land decides to cut five hectares, all their neighbors can also cut five hectares the same year. Previously it was required to wait until the forest had grown by 1.3 meters, which is approximately three or four years in the case of broadleaf forests," he said.
Amendments have been so one-sided as to spark protest even from one of Estonia's largest private forest owners Lignator Mets and associated company Multiland. The two companies own 8,000 hectares of forest land between them.
The companies sent a letter to the ministry in which they take the effects of the amendment apart piece by piece: "Since the 2007 Forest Act, it was possible to initially cut 55 percent of total timber volume on plots. The new Forest Act passed in 2014 makes it possible to cut up to 65 percent. Our assessment suggests the planned amendment of 2017 would take that figure to 80-85 percent." This means the law would allow loggers to clear 80-85 percent of forest on a given plot at once.
Travesty over the law
The companies' forester, forest manager Magnus Karukäpp said that owners do not have problems in terms of current legislation limiting management of forests. "The problem is that there is no application for lower quality material, or deciduous wood. "Pressure from the industry is aimed at conifers. Private owners maintain low cutting volumes not because of the law, but because the market is very low."
The amendment would do nothing for cutting of broadleaf forests – they would continue to rot away. It would hit spruce woods the relative importance of which is already falling.
Karukäpp said there is no doubt cutting volumes would grow as a result of higher timber prices. "The current forest act would allow the cutting of 20 million cubic meters – the law makes no restrictions here, and there is no need for an amendment. "These efforts are aimed at cutting more conifers – there is market for it, and they need to extract it in order to bolster the state budget. It is a full offensive on spruce and pine!"
Karukäpp doesn't understand the mess surrounding the forest act. "Why is the ministry pushing this amendment? I believe it is so the state could cut more conifers," he said.
Lignator/Multiland made a proposal to the ministry to allow smaller clearcutting areas to balance the effect of lowering the rotation age.
The amendment first and foremost benefits wood processors as it keeps prices low and sends profits the industry's way. At the same time, the low price of forest material is the main reason private owners are not replanting clearcut areas, Karukäpp said.
"The industry likes it if everyone starts cutting at the same time as oversupply will keep prices down," he explained. "Prices cannot grow like that."
Long-time head of RMK Andres Onemar now runs the Environment Board, while nature reserves have been moved to the administrative area of RMK. The ministry's chancellor is former head of forest and timber industry association Estonian Timber, Andres Talijärv, whose previous utterances concerning forests have been rather telling. Talijärv told Äripäev in 2007 that while RMK's plan of placing more emphasis on growing and stewardship of forests is not bad, it should keep an eye on what it's getting in return. "Forests are grown with a purpose, just as pigs are raised to get something from them in agriculture. Forests are grown with axes," he said.
As paradoxical as it seems, between 2003 and 2006, protection of forests owed the most to former environment minister, convicted criminal Villu Reiljan. The law was made stricter during Reiljan's time in the ministry. Reiljan was succeeded for a short time by a fellow People's Union member after which Estonia's environment ministers started coming from the Reform Party. IRL's Marko Pomerants has been in office since April of last year.
It was under Reform Party management the national forestry policy came to concentrate on cutting. Forestry companies have donated large sums to parties time and again. Head of Lemeks group, Jüri Külvik, gave the Reform Party €5,000 in February of last year, while major forest owner and timber processor Kaido Jõeleht donated €20,000 the same month. These are not trifling sums for parties.
No connection
Jõeleht donated €20,000 to IRL in 2014. Forest businessman Mart Erik gave the Reform Party €1,000 and Külvik €3,500 in 2014. Smaller sums are moved more frequently. The latter is also a member of the board of Estonian Timber.
Chancellor Talijärv says that the fact he used to be a member of the association has nothing to do with decisions today. "The understanding that we have parts of forests that have matured and will mature sooner than the current rotation age allows has nothing to do with me having worked somewhere else," the official said.
Talijärv went on to say that the current amendment concerns a very small part of spruce woods on highly fertile ground.
"Why cut them down earlier? The majority of them will start to rot on the inside before they reach the currently allowed cutting age of 80 years," Talijärv said. "Were we to allow owners to cut them down earlier, they could get more out of their forest."
Why have changes to the forest act been aimed at greater logging volumes for years?
"Why should we keep landowners from managing their forests without good reason," the chancellor asked in turn. "I'm not sure inventing new restrictions for private owners is the most sensible course of action. Looking at the Finns, they've removed restrictions altogether. They have no rotation age limits, and they're doing just fine."
Talijärv said it is a philosophical question what we are really after – why should we stop owners managing their mature forests?
How big is the role of the timber industry's lobby efforts in the gradual relaxation of the law?
"I do not think it is big; I've been present there, and I haven't seen any considerable lobbying efforts," the chancellor added. "They definitely promote their positions, which conclude that ours is a state based on the rule of law where the owner must be able to use their property."