Pevkur would rein in backroom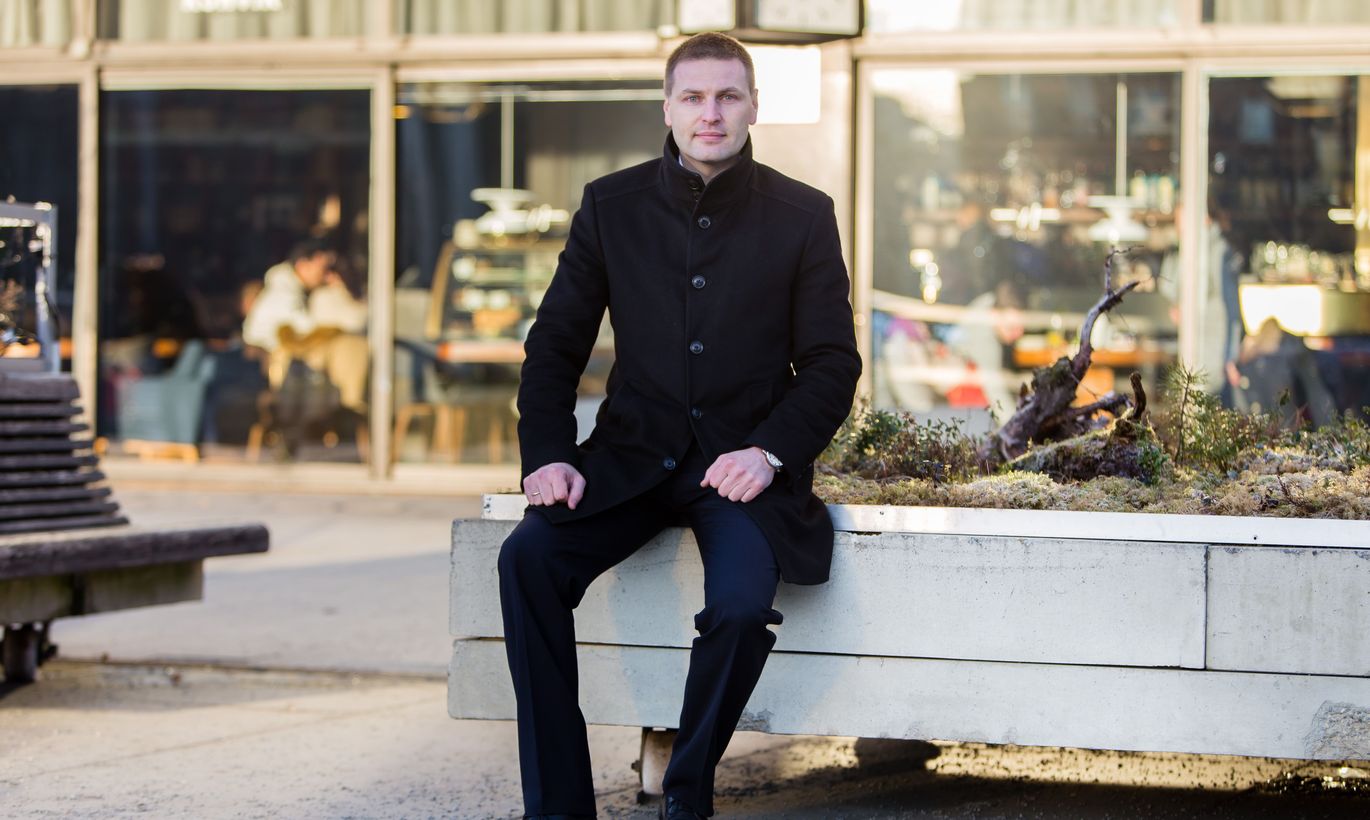 The general assembly of the Reform Party is scheduled to elect a new chairman on the first Saturday of the new year. Chairman candidate Hanno Pevkur believes that his competitor Kristen Michal and some other members have played a more important role in the party than their titles would suggest. This is something that should change, Pevkur demands.
The board of the Reform Party voted to choose between Taavi Rõivas and Hanno Pevkur in March of 2014. Rõivas came out on top. Did the board make the right choice?
The board's decision was the individual responsibility of each member. The fact is we find ourselves in the opposition today. I accepted the decision and have pursued the work entrusted to me as minister wholeheartedly.
It is in the past for me; it doesn't keep me up at night. I am looking forward, and I believe members of the party now have the opportunity to make a more legitimate decision. This decision will not be made by a close circle of the board, but the general assembly of the party.
The result came down to one vote last time. You bear no bitterness?
It was a matter of a few hours. After the board met in the morning, and after Siim Kallas had dropped his bid for prime minister, the president decided to invite me over as both Kallas and Andrus Ansip had uttered my name, and it had reached the media. Political pragmatism decided otherwise. While I was visiting with the president, a close circle of people made a different choice, and that was that.
You characterized it as a backroom decision. Can we interpret this as your desire to break the backroom's hold on the Reform Party?
I am convinced that what members will really be deciding come January 7 is whether to move forward with political combinatorics and close-circle backroom decision-making, or involve more people from regional offices, young people, and be more democratic. My goal is more transparent, more democratic leadership. The members will choose the path that is right for them.
In what can we see democracy lacking today?
I've had members of the party tell me they are afraid to vote for me as the other candidate's victory would cut them off from party election lists or send other repressions their way. It is unbelievable to hear something like that in the Reform Party. It is called authoritarian and totalitarian leadership when people are scared to vote. These fears came as news to me.
Where does that come from?
In recent years, the party has been run using agreements and combinations. That is not the right path. People need to understand how decisions are made, why they are made, and who makes them.
Are you suggesting Kristen Michal has a greater role in decision-making than his title would lead one to believe? Taavi Rõivas is the head of the party, after all.
That is indeed what I'm implying. Absolutely.
How does that work?
It's not just Kristen Michal. There are other people. Decisions are made in a very tight circle but presented as collegial.
If only the mysterious agreement that dispatched Keit Pentus-Rosimannus to ask Marina Kaljurand whether she would be willing to be the part's presidential candidate. While the board had not even discussed potential candidates yet. I'm sure there are other such examples.
That is the biggest difference, what I want to do differently.
Who forms this circle of decision-makers?
The media has written about it at length. It is a fact that the three deputy chairmen of the party (myself, Jürgen Ligi, and Kaja Kallas) have not been present at a host of decisions that have been made.
Are all of these decision-makers among Kristen Michal's supporters?
In your opinion, is the headquarters clearly favoring one candidate right now?
The headquarters definitely affects the course of the election, and it seems to me that it has picked a side. It is trying to create the impression it hasn't. For example, Kalev Lillo has given his signature to support Michal while working for the headquarters and heading one of the party's largest regions in Harju County.
There are other clues and examples of how the headquarters has moved things or the development manager worked for Michal's campaign.
That is why I'm saying elections need to be honest and transparent. These elections need an auditor. In the future, an amendment to the Political Parties Act is needed to curb hesitation and doubt. Elections of party management bodies need to be handled by the national electoral committee.
You are against how things stand?
That is a popular thing to be these days. Your opponent, Kristen Michal, has said that he does not plan to adhere to political correctness. That is another popular position. Is Michal just going with the flow, or is he trying to contrast to you?
I'm clearly stronger in terms of openness and more broad-based management, involving regional offices and younger members. We need to change the way this party is run.
We are in the middle of the administrative reform. The Reform Party's regions follow local governments. Having fewer local governments will mean less regional representation in the party's council. I do not believe it is right.
We need to make sure we don't have a Tallinn-centered management to suit the needs of the headquarters. We have almost 13,000 members, and they all must feel they belong and are heard. Headquarters-centered and combination-heavy leadership is not what the Reform Party should favor going forward.
What is political combinatorics? How does it manifest?
Allow me to give an example from the last board meeting. The chairman called members late on Sunday evening to tell them the board would be meeting at 4 p.m. on Monday. By that time it had been decided that the general assembly would take place on January 7. It was good most members could even attend the meeting at such short notice. To have the party chairman simply state that the assembly would be meeting on January 7.
Members of the board, myself included, said that candidates should be given more time to meet with people in regions. The position of Kaja Kallas, who was in Brussels at the time, was not read out – she also asked for the general assembly to be postponed. There would have been no harm in postponing the assembly until the end of January. However, everything had already been prepared, down to booking the venue and Facebook advertisements. This shows the decision had already been made in some close circle somewhere. The board was assembled to make it official.
That is not right. The board should make the decisions instead of serving as a rubber stamp.
How are you different from Michal in terms of the right-left, liberal-conservative scale?
We are both right wing. Otherwise we would not be in the Reform Party.
Which is more?
It is very difficult to say which of us is the greater liberal. I have more democratic liberalism, more involvement and consideration for members. He has more autocratic liberalism and leader-centered backroom decision-making. That is the main difference. Concerning fundamental liberal values, our views coincide to a great degree.
I can image why Michal talked about political correctness. Don't you think you are too much of a blue-eyed boy?
If someone says I'm too kindhearted of a human being, that is true: yes, I am a good person. Always have. I've always gotten along well with friends, partners; you also need to get along well with opponents in politics as no one party can ever come to power in Estonia. At least not on the state level. That is why I rather count being a good person among my strengths.
It is difficult to associate scandals with me.
Like Prime Minister Jüri Ratas, who gave each partner, irrespective of size, five ministerial positions?
Life has shown that one also needs balls to make decisions. It is simply that the way decisions are reached is different for me and Michal. I listen to more opinions.
I have never allowed a decision to go unmade. The interior minister makes decisions of significance in terms of security every day. While it is true some of them cannot be seen, they are all vital, and they have all been made.
Why do the Estonian public and the Reform Party have such a conflicting view of the Silvergate scandal? While members maintain no shady deals have been pursued, your rating plummeted already at the time of the scandal.
Our rating fell. That is true. The scandal happened. That is also true. It forced Michal to resign as justice minister, and I took over. It is another fact that these kinds of scandals influence parties. The more openly one addresses them, the faster one can shake their effect.
Leaving aside Silvergate for the moment: if you have made a mistake, you have to admit it. The Reform Party cannot say right now that it fell from the government without making a single mistake. Yes, the Reform Party made mistakes.
All the more reason we can now concentrate on our strengths and show the Estonian people that the Reform Party is the force with the best ideas to take Estonia forward, and one who we can trust with restoring economic growth. There are a number of other arguments as to why the Reform Party will win the 2019 elections.
Back to Silvergate. Do you believe that the party was not financed in shadowy ways during Michal's term as secretary general? Perhaps even illegally?
Silver Meikar voiced his opinion that resulted in suspicions brought against Kristen Michal and Kalev Lillo that will unfortunately stay with them for a long time. I believe our opponents will not miss this chance to attack Michal that will hurt the entire Reform Party.
Every party must be able to answer questions concerning expenses and the origin of its income.
So you will not tell me "Yes, I believe so" to answer the previous question?
I had not contact with financing. I really don't know. Former secretary general Kristen Michal knows the answers.
You said the Reform Party has made mistakes. Why did your two coalition partners want to get rid of you?
There were several reasons for the government's collapse. The first was that the Reform Party was too naive, believing that the Pro Patria Res Publica Union (IRL) would not agree to a deal with the Center Party and through it United Russia. Secondly the fact that the social democrats had been in the throes of a little civil war for some time: Urve Palo and Andres Anvelt said they want no part in that coalition. The council of the social democrats voted on whether to remain in that coalition or not in the summer of 2015. The embers were left smoldering under the ashes. Thirdly we have IRL's need to prove and show they can do something about their rating.
Governments fall apart due to personal relationships. I suppose the chemistry of the three chairmen fell to a point where they no longer trusted one another or got along.
You listed other parties' reasons. Governments tend to collapse based following internal, not external reasons. What did the Reform Party do wrong?
I said we were too naive. We did not believe IRL could form an alliance with United Russia.
That is an external reason.
Our internal mistake was not being able to decide on a presidential candidate. The process itself was the problem. The Reform Party's candidate would probably not have been elected president had we picked one. The desire not to have a Reform president was so strong. We made a mistake in failing to pick a single candidate in spring.
My choice would have been to keep Marina Kaljurand on as foreign minister, earning the people's trust. That would have secured her with a very good election result in 2019 that would in turn have opened a path to the presidency. Siim Kallas said he wanted to be president for a single term.
The other thing was that if you already have two candidates, I would have called for an in-house election as party chairman. In a situation where the board cannot decide on a candidate, you need to have an election and let members pick one. We had ideas but we did not use them and didn't make a decision at all. We can say the prime minister failed to decide. That started a snowball that turned into an avalanche by the time it reached the valley.
You would like to be involving like Rõivas, but make decisions sooner?
Involvement does not mean you can choose not to decide. It means listening to people and their opinions. The leader needs to listen to what his people have to say and then make a decision. The leader cannot avoid making decisions.