Coalition agreement progress one day at a time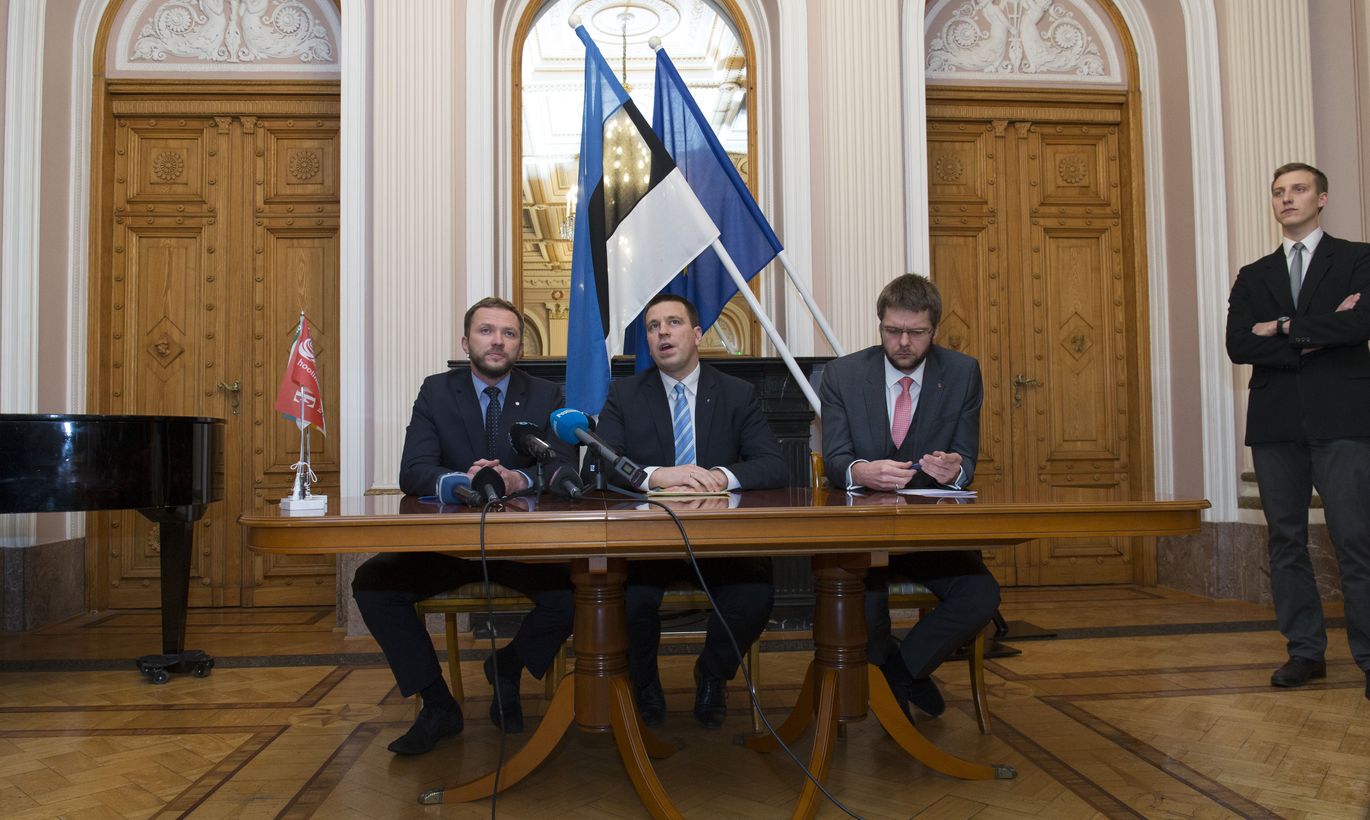 Estonia's possible new triumvirate government hopes to sign the coalition agreement, talks on which kicked off with security topics the day before yesterday, by the end of next week. Yesterday saw the parties move on to tax and economic questions, which are also on the agenda for today. The hopeful coalition will work through Saturday to take a day of rest before the new week on Sunday.
Chairman of the Center Party, that has been the mouthpiece of progressive income tax in Estonia, its prime ministerial hopeful Jüri Ratas is looking to finally make good on the promise that has been around for years. The next week will show how much pain such aspirations will inflict on the right conservative Pro Patria Res Publica Union (IRL).
Architects of the new coalition – the Center Party, IRL, and the Social Democrat Party (SDE) –seem to be keeping to their tactic from the day before yesterday – involvement of experts in coalition talks. The latter include Jüri Luik and Matti Maasikas on security and foreign policy, CEO of LHV Erkki Raasuke and his colleague from Swedbank Robert Kitt on economic policy. There are rumors that participants are also looking to involve at least one expert each in the government, whether as members of parties or not.
Prepared to borrow
Center Party deputy chairman Kadri Simson, who, no doubt, has already booked a position in the government, said on Vikerraadio's "Reporteritund" program yesterday that Estonians have a lot of idle money the harnessing of which should be motivated. She also said entrepreneurs are looking to the state for qualified labor and functional infrastructure, and that it is possible to use loan money to facilitate the latter.
IRL Riigikogu faction chairman Priit Sibul similarly did not rule out borrowing but said that it must be agreed how much can be borrowed, and for what exactly. "If what we need a loan for are long-term investments, I see no problem in it," he said. The social democrats agree.
Topics on the agenda today include corporate income tax. "We have reservations regarding all taxes, from those that have been hiked recently to those Estonia does not collect. Classic corporate income tax is among the latter," Simson said. She added that company income tax should not be automatic and general, but could instead be levied using exceptions.
Simson said the parties should also discuss a banking tax. "Estonia is the home of Nordic banks, and it would probably not take them by surprise to have to follow a similar tax structure here. Sweden has a banking tax, we do not, and heads of banks are rather wondering at our special brand of the Wild West that does not resemble a new Nordic country even remotely," she said on the radio show.
The parties also want to discuss canceling the current government's planned social tax cut. "The first argument is whether we can leave the social tax rate where it is, or alternatively, whether we can give employers much more serious relief through other avenues of covering expenditure," Simson said.
The agenda lists social matters and health care as tomorrow's topics, and prescribes regional policy, agriculture and fisheries for Monday.
Meeting with diplomats
Members of the Riigikogu Center Party faction met with ambassadors and deputy heads of embassies residing in Estonia yesterday to assuage fears that foreign and security policy is changed as a result of the government crisis and confirm that the centrist government will maintain recent policy.
Members of the party told 30 high-ranking diplomats that their ascension to the government does not equal an expansion of Russia's sphere of influence. "Foreign missions and the media have been intimidated with claims that the Center Party plans to alter Estonia's foreign policy course; however, that is not true. Everyone reading the foreign and security policy and national defense principles that were agreed on during talks yesterday (day before yesterday – ed.) can understand that," the deputy chairman stressed.
She said she hopes reliable information will reach Estonia's allies and the foreign media through embassies.
Simson said that all political forces in Estonia must seriously consider the messages they want to send to foreign partners as incorrect claims seriously hurt Estonia's reputation.
"Estonia's interests lie in development of security, stability, and good-neighborly relations in the entire region. The Center Party represents these values. I hold it irresponsible when members of the previous coalition contact the foreign press to say how the Center Party will bring about a negative shift in Estonian foreign policy. It is time to shake off the bitterness and move on," Simson said.