Thorny path towards a new government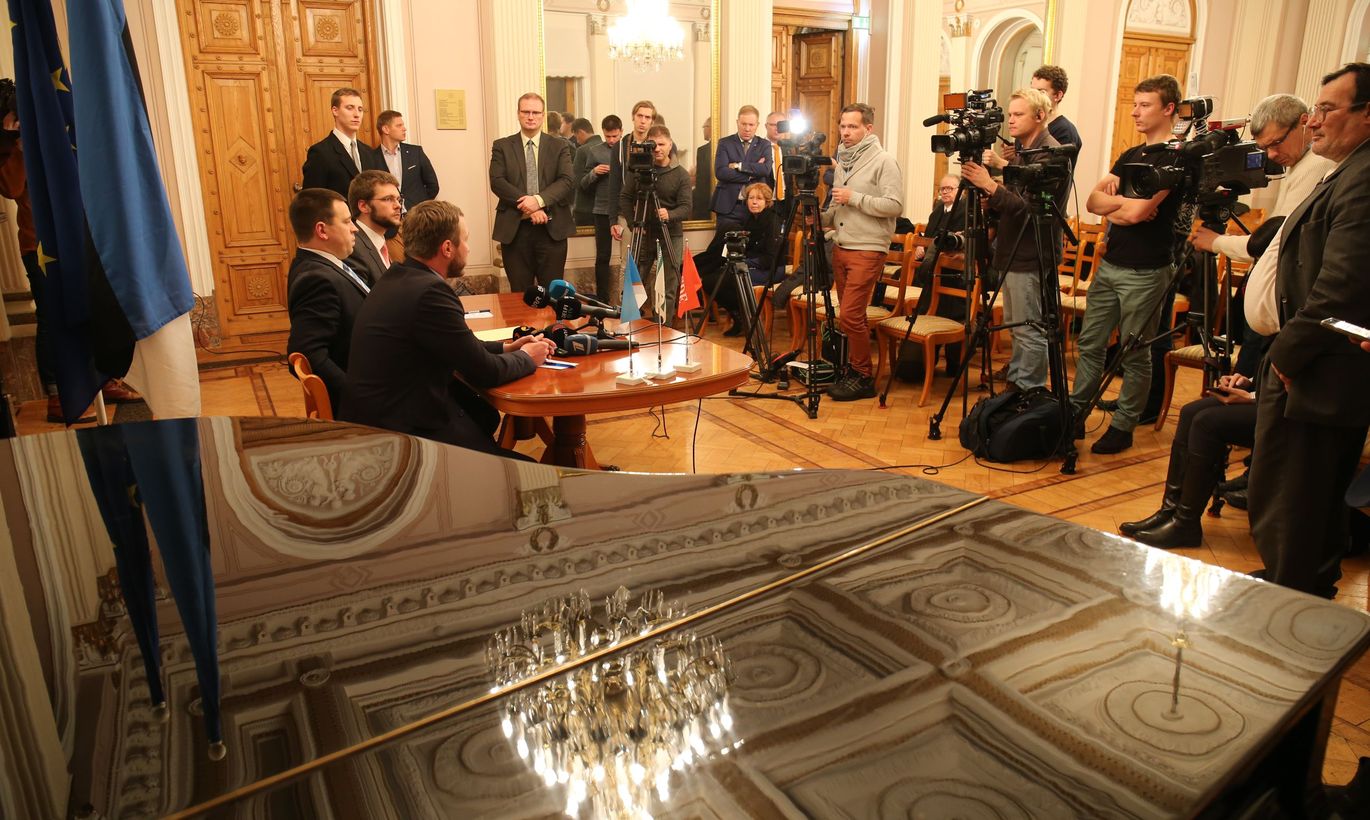 Three quiet claps that followed the successful vote of no confidence against Prime Minister Taavi Rõivas in the parliament yesterday characterize the difficult path ahead of the next potential coalition.
Will the Center Party's 27 members of the Riigikogu fall in line? Will inexperienced future PM Jüri Ratas be able to keep his team together? What does the Reform Party still have up its sleeve? How will Pro Patria (IRL) explain itself? What are the expectations of social democrats' (SDE) chairman Jevgeni Ossinovski, who has spent the past eighteen months publicly cajoling the coup?
Prime Minister Taavi Rõivas, abandoned by both the opposition and his coalition partners on his 691st day in office, stood up straight waiting for the blow in the Riigikogu yesterday. Economy minister Kristen Michal, seen as one potential candidate to replace Rõivas as chairman of the Reform Party, also kept his tie straight and seemed calm. Other potential candidates include interior minister Hanno Pevkur and current honorary chairman Siim Kallas. Tears were also shed in the Riigikogu yesterday as several members of the Center Party as well as IRL did not share the enthusiasm of their fellows.
The board of the Reform Party will convene on November 18 but will not have powers to elect a new chairman then. The party's first chance to express its loss of confidence in Rõivas will come at its congress in spring.
Partners working on the next government must make efforts not to paint the change as an about-turn, and to stay firmly on course in terms of foreign, security, and defense policy.
Following the dramatic talk of a left turn and new direction by the prime minister and his party, the incoming coalition deemed it vital to kick off official talks with security policy. To make the message even clearer, foreign policy experts, ambassadors Jüri Luik and Matti Maasikas were invited.
Luik, who came close to running for president this year, would make an impression as foreign minister. It would be a wise move as a message to foreign partners, and considering Estonia's looming EU presidency.
The process of assembling the government should afford the Center Party and its chairman Jüri Ratas the opportunity to tell its voters the party can finally do the things that have been left undone for a long time. It is probable that Estonia's fiscal policy will be coordinated by Kadri Simson (Center), with Jaanus "worried about ferries" Karilaid (Center) seen as the likely economy minister.
The Center Party must also send an in-house signal that there will be at least one minister from the so-called Savisaar camp – why not Siret Kotka.
It would be good to keep some current ministers on as a sign of stability, while that could prove a tall order. While influential social democrat Indrek Saar could stay on as culture minister, as could IRL's Minister of Justice Urmas Reinsalu, neither ministerial portfolio is of great significance.
Both SDE and IRL find it important to secure a stronger ministry for their leaders, Minister of Health Care and Labor Jevgeni Ossinovski and Minister of Social Protection Margus Tsahkna (politicians describe less important ministries as junior portfolios).
Tsahkna for defense minister and Ossinovski for foreign minister? Ossinovski could perhaps be interested in the economic portfolio and would probably be a capable candidate; however, having the son of Estonia's wealthiest man, Oleg Ossinovski, as economy minister would perhaps not be the prettiest solution.
The new potential government has promised to have its coalition agreement in place in five or six days, after which it will reveal its plan for the allocation of ministerial positions.