Seeing a doctor takes patience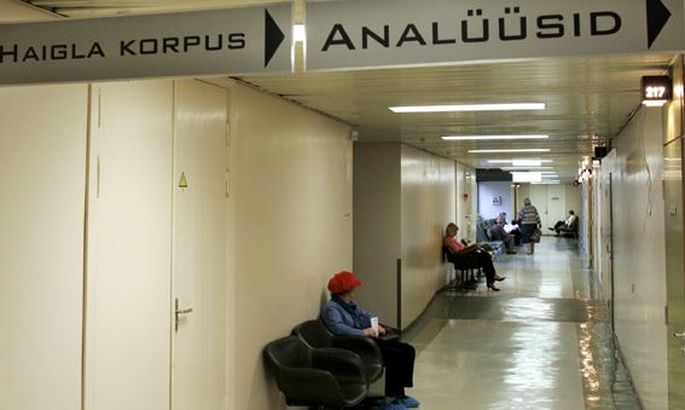 How to see a specialist doctor in Estonia? First of all one has to find out how major Estonian hospitals put together their time sheets. Secondly people have to instruct their family members to work as a team and bombard the hospital's registration desk with calls when it starts work on the morning of the right day.
It is also possible to bet on good luck as people sometimes cancel their precious appointments. There are even serial callers who try to get an appointment in each of the hospitals. They know all the tricks in their sleep. Once you single out the best option, it is just a matter of canceling the other appointments.
Getting to see specialist doctors is a problem a lot of people have experienced. Estonia lacks a common digital registration service, while people make little use of hospitals' own versions. Minister of Health Care and Labor Jevgeni Ossinovski finds that in the future patients could be registered by family physicians
The editorial ran an experiment of how difficult it is to see a specialist doctor. We picked a popular specialty where no referral is necessary – dermatology. While Estonia is among countries sporting highest melanoma mortality rates, having their birthmarks checked for taxpayer money remains a distant dream for most people.
For our second try we chose to book an appointment with an otolaryngologist, where people do need a referral. We picked November 1 to place the call – rumors rampant among patients suggest registration desks get their hands on new work sheets that are put together three-four months in advance on the first of the month.
People believe that by being the first to get through on the morning of the first they should be able to secure an appointment in February. This proves to be not true in the case of several hospitals. For example, the North Estonia Regional Hospital (PERH) consciously avoids it.
"We open appointment schedules for different specialties on fixed dates and times. So that patients wouldn't have to call us every day or even several times a day, and so our front-line staff could tell people when to call," said director of medical support services at the hospital, Ivi Normet.
"Opening appointment schedules on different days of the week is important so as not to overload the hospital's information system, call center, and local registration desks." PERH refused to reveal which specialties are opened on which days of the week.
Everyone answers calls
During our experiment, we were told from PERH to try again on November 15 so we could book an otolaryngologist's appointment in March. To get to see a dermatologist, we were told to call back at 10 a.m. at which time we could secure an appointment in February.
The Tallinn Children's Hospital uses the first of the month tactic, which means its call center is under serious pressure then. Little wonder, then, that we had to try for 30 minutes and dial the number again 20 times before we managed to get through.
"We have additional staff out that day, even I am taking calls," said the hospital's customer service head Mari Aua. "Basically everyone who can stand and talk are taking calls," she said.
Aua also said that it pays to try and call on other days in hopes that people cancel appointments. "Luckily we have patients who let us know in a timely fashion so we can free up those appointments."
Aua recommends people be persistent and keep trying. People should first consult their family doctor. "We also have patients who know what they need better than their family physicians." People like that are referred back to family doctors.
The East Tallinn Central Hospital (ITK) opens new schedules on a weekly basis. Mondays are for ophthalmologists appointments, Wednesdays are for dermatologists, the hospital's registration desk reveals. The latter is opened at 7.15 a.m. When we tried the number on Wednesday afternoon, we were told by a sad female voice to try again in a week. All free appointments for the second week of January were gone by 8 a.m.
"New appointments are opened every week, generally in the first half. Vacant appointment times can be seen in the iPatient portal and registration desks. Customer service representatives have information based on which they can recommend the best time for calling," said head of customer service at ITK, Lea Karik.
Only the University of Tartu Clinic and the West Tallinn Central Hospital (LTK) say they cannot recommend any specific days for making appointments. The clinic's PR chief Kristi Tael said that customer service agents do not know when new schedules are opened for different specialties.
"The clinic generally maintains queues for all specialties for at least three-four months. We offer new appointments as they become available and do not reserve them for the first of the month. We also have schedules that span six months and more," Tael said.
Head of customer service at LTK Pille Tuvik said that appointment schedules are put together as they become available, even though the hospital does have more callers towards the beginning of the month, especially on Mondays when the number of calls can be double of what it is on Fridays.
Monday seems to be the national day of calling hospitals.
One tenth fail to show up
"Having appointments become available continually, instead of on specific dates, makes it possible to avoid a situation where the phones are burning," Tuvik said. She recommends people keep an eye on the digital booking environment and keep calling. Appointments are freed up all the time.
After calling all major hospitals, our experiment managed to book a dermatologist's appointment for a Tallinn resident at LTK for November 25. The hospital even had two appointments to offer in November.
We had no luck in other hospitals of the capital. Our Tartu patient got lucky as someone had just canceled their appointment for November 3. Otherwise our patient would have had to wait until the end of December.
The only hospital where we couldn't secure an otolaryngologist's appointment was PERH. However, failure to secure an appointment at a major hospital is not the end of the world as we managed to get an appointment in just two weeks at another hospital.
The worst aspect is that some people simply fail to show up for their hard-won appointment. Information from the health insurance fund suggests around 10 percent of patients do not show up for appointments.
Waiting time is the longest regarding ophthalmologists, paediatrics, and internal diseases specialties. According to the health insurance fund, one important reason for treatment queues, in addition to insufficient resources, is the fact that specialist doctors have to see people whose problems could be solved by family physicians.