Tänak's best performance leaves driver hungry for more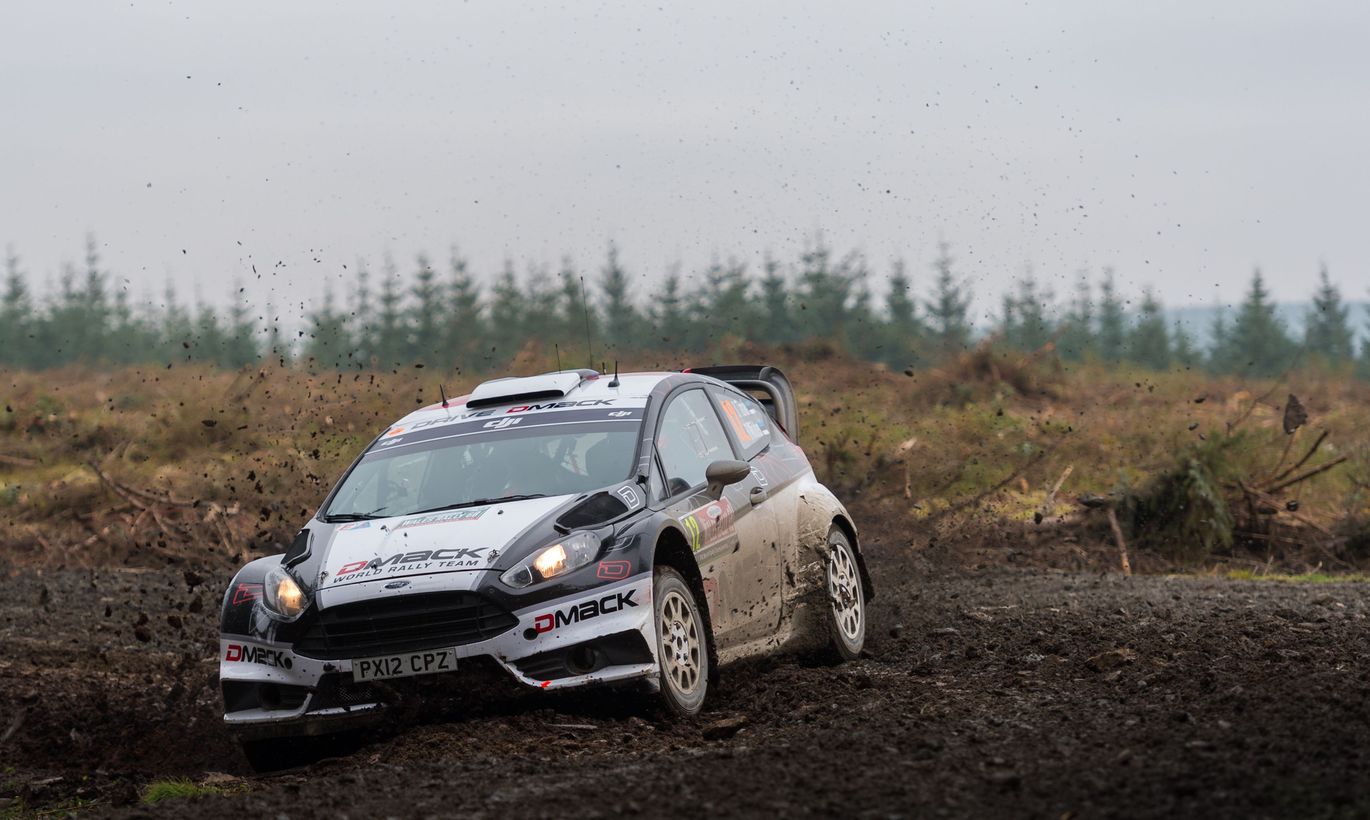 The drive of his life – a suitably simple description of Ott Tänak and Raigo Mõlder's weekend on the muddy Wales rally stages. The Estonians were second only to four-time world champions Sebastien Ogier and Julien Ingrassa, only losing 10.2 seconds after 330 kilometers.
Tänak matched his best result, his second place in Poland this year, and achieved the fourth podium finish in his career. What is even more noteworthy is that the Estonian managed to win 12 stages and take his second power stage victory, repeating his feat from 2012 when he beat Thierry Neuville and Mads Östberg during the French rally. It was the first time Tänak made the top three of the power stage this year.
The man from Saaremaa remained calm after stepping down from the podium, his answers to journalists level-headed with no sign of exuberance over his second place. "It was a good weekend. Some things happened on the first day, but after that we could drive very cleanly. I found a good rhythm and enjoyed the battle for first place – the car and the tires worked very well. Perhaps we didn't have the best starting point; however, we benefited from having the best tires. It was a good combination considering the weather," the Estonian summarized.
Where did the seconds go?
It is not difficult to guess that Tänak's spirit desires more than podium finishes – a rally victory! And it is little wonder, considering he was the fastest man of the weekend in Wales. Only minor mishaps on the first day kept Tänak from beating Ogier. "Ott was flying," the Frenchman said after finishing first. "He was fast, very stable, and he didn't make a single mistake, so it was a very difficult victory for me!"
Where did the ten or so seconds that separated Tänak from his first victory disappear? The answer is Friday, when drivers covered 178.22 kilometers, or more than half of the entire rally. Tänak won two stages in the morning and cut Ogier's lead to just 7.7 seconds before running into minor problems with the rear suspension of his car. Tänak's Ford blew its front left tire six kilometers before the finish of the day's last stage that cost him at least 15 seconds.
Ogier, who started first and enjoyed better road conditions, also wrestled with technical problems – the Frenchman suspected his Volkswagen had a damaged front drive shaft. The same reason cost Ogier's teammates Jari-Matti Latvala and Andreas Mikkelsen a lot of time on the opening day.
Saturday played out in the same key. Tänak won four of the six initial stages, reducing Ogier's lead from 37.3 seconds to 24.8 seconds. The Frenchman gained back a lot of his lead on the penultimate Aberhirnant stage. The quality of Tänak and DMACK tires was reflected in the fact that the Estonian was fast when driving the stages for the second time, once the roads had ruts in them.
Tänak made it no secret that his goal on Sunday was to bring the car safely over the finish line. "The roads are pretty bad, slippery and treacherous. I don't plan to take it to the limit as I want to avoid mistakes," the driver said after the first two stages. Tänak ended up winning all six of Sunday's stages as Ogier said he had also concentrated on securing Volkswagen the manufacturer's cup.
Say what they might, Tänak was the only driver capable of keeping up with the four-time world champion and even dictate the pace on the last day in Wales. Tänak's 12 stage wins is his best result this season and further testament to the fact that he has matured into a world class driver whose first rally victory will come sooner rather than later, provided circumstances align.
The said circumstances should become clear in the near future, after the final rally of the season in Australia in two weeks' time. Tänak remained jovially cryptic when he said during a press conference before the rally that next season he will be driving a car with a steering wheel, four wheels, and pedals.
Experts have known for a while, however, that this mysterious vehicle bears a blue oval badge with four letters in it.
Wilson's praise
Tänak has tested the new season's Fiesta on several occasions and always sung its praises. It is telling that M-Sport team chief Malcolm Wilson dedicated the team's entire press release to praising Tänak and Mõlder, neglecting to even mention his main team drivers Mads Östberg and Eric Camil.
"Ott and Raigo delivered one of this season's most impressive performances. Ott proved once again that we have a car that can win rallies," Wilson said.
The closing season is Tänak's best so far, both in terms of progress and points. Tänak's 18 points for second place overall and three additional points from the power stage give him a world championship total of 82 points. The Estonian earned 63 points last season and 51 points in 2012.
Third place went to Hyundai driver Thierry Neuville, who lost a minute and a half to Ogier. The world championship in the WRC2 class went to Finn Esapekka Lappi for the third year in a row. Lappi is forecast to drive for Toyota next year. Sander Pärn and James Morgan came in seventh in Wales.