Soccer market question: who is prepared to make a move?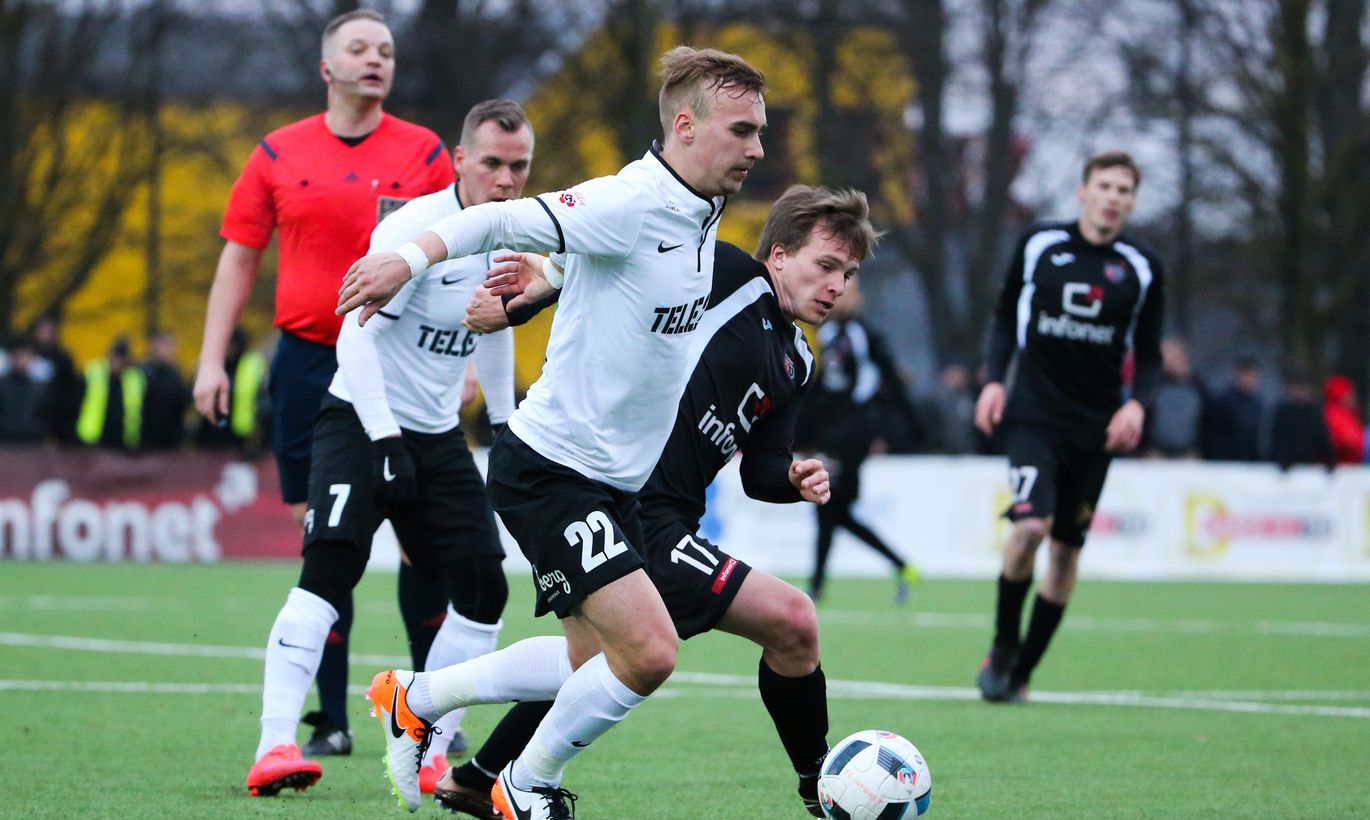 The battle for first place has reached its zenith two rounds before the end of the Estonian soccer season. Even though the winner is yet to be determined, the picture is clear in terms of players who could take the next step – go abroad – this winter.
A player can go play for a foreign club on many levels. Looking for example at Tartu Tammeka frontman Rasmus Tauts who moved to Maryville to play university soccer and study cyber security, it is difficult to forecast moves to rival that feat. Looking at the men playing for Estonian clubs, players who could rise higher than the Premier League can be counted on the fingers of one hand.
Such steps are facilitated by a good season in the Estonian league and strong performance as part of the national team. A single game in the national team's jersey is definitely not enough to find a new employer.
The wait for the first move
Looking at national team members playing in the Estonian league and longing for a foreign contract, FC Flora midfielder Nikita Baranov is perhaps the man with the best chances.
Baranov (24) has been on the starting lineup next to Ragnar Klavan in all three world cup qualifier matches. The man proved he might be ready to take the next step in the two latest games, against Gibraltar and Greece.
Baranov, having taken his game to the next level, will get the next chance to prove himself on the international arena during matches in November in the absence of Enar Jääger due to an injury.
Foreign clubs might also find attractive Flora's forward defensive midfielder Rauno Sappinen (20), who is competing for the title of best scorer in the Estonian league. Sappinen's chances are hurt by the fact that he has not yet made the starting lineup. The young player must also become more stable – brilliant performances are too often replaced with mediocre efforts.
Levadia's center-back Pavel Marina (21), who somewhat surprisingly was in the starting lineup in the previous national game, could also catch the eye of recruiters, following the example of his teammate from last season Artur Pikk.
However, Parin, who completed compulsory military service this year, has only just reached this level of play.
Estonian championship leader FC Infonet's starting goalkeeper Matvei Igonen (20) also has potential. It pays to bear in mind regarding Igonen, who was tested by Italy's Serie B club Vicenza last year, that he went through a serious black hole as recently as last year and lost his solid position at Infonet.
Of players who were added to the starting lineup under previous head coach Magnus Pehrsson, Karol Mets, Artur Pikk, and Ken Kallaste all moved abroad. Whereas the two former were worth transfer money. Levadia wing-back Ilja Antonov (23) was expected to follow.
However, Antonov's performance has been much more modest this year. It is nevertheless rumored he is about to leave Levadia between seasons. History has shown that this manner of swap of clubs quickly brings players back to Estonia.
Another Levadia man, Andres Raudsepp (23) has similarly not managed to take the next step.
Talking about junior players who could use a year or two of practice before going abroad, this category could also include Sappinen. In his case, everything depends on available opportunities in winter.
Flora wing-back Mihkel Ainsalu (20) definitely deserves recognition for his season. However, it would be too soon for him to move abroad, more so as the home league is still big enough for him.
Infonet's defensive midfielder Vladimir Avilov (21) also needs more time. A good man in the Estonian league, Avilov must learn to hide his shortcomings in order to reach the international level.
I have yet to mention Nõmme Kalju, while I should at least once in the case of 20-year-old Henrik Pürg who, despite severe criticism, has become one of the supporting pillar's of Kalju's defense.
Second-rounders
Next to young players aiming for their first foreign contract, the Estonian league includes experienced players who have already tested themselves abroad.
Dmitri Kruglov (32) has perhaps managed to leave the best impression among experienced players this year. Another foray abroad would probably not be possible, however, due to a two-season contract with Infonet.
Igor Morozov and Sergei Mošnikov could also take another look over the border. Both men have been plagued by injuries, however, and have not been able to find their stride again after traumas. Mošnikov has managed to leave a better impression and make it back onto the national team.
Experts say that center-back Morozov (27) is too slow to play on a higher level.
Goalkeeper Marko Meerits, who played four games for Vitesse in the Dutch premier league at 19, also has potential for another tour abroad, while it might be more difficult to break out of Rakvere Tarvas at the age of 24.