To understand or condemn? Kindergarten employee tapes bully's fingers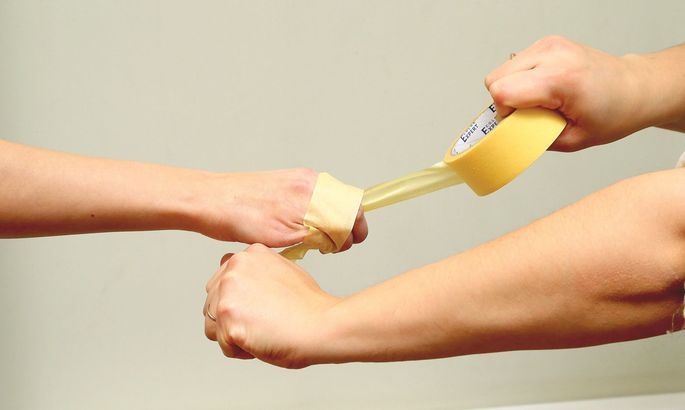 Tartu Postimees received an anonymous tip concerning a Tartu kindergarten where a teacher had taped together the fingers of a boy who exhibited aggressive behavior towards other children. To protect the family and the teacher, the newspaper will not publish the name of the kindergarten in question. The principal admitted the incident, and said they have had a serious conversation with the teacher and that an oral reprimand has been made.
"It came as a surprise that a person could think of something like that and do it," the principal said. "They have apologized; they turned to the parent and expressed sincere regret. The person is emotionally suffering."
The principal said that the taping incident took place some time before the national media picked up the story of a kindergarten teacher in Paide parish who had taped shut the mouth of an autistic child.
The class where the teacher in question has worked since 2009 has switched to a new system where the children are attended by a head teacher, assistant, and teacher's aid.
Where is the line?
Tartu Postimees asked what should the nation's tolerance threshold be in such cases: should employees who resort to violence be fired, or should they be given a second chance, considering the class might have children who exhibit difficult behavior and might be hard to handle.
Head of communication at the Estonian Union for Child Welfare Grete Landson said all manner of violence against children is totally and unconditionally inadmissible, but added that it is more important to find out why the person resorted to such behavior than it is to punish them.
"Does the person need certain trainings or other kind of support; have they been provided conditions for handling situations for which they are responsible?" Landson asked.
She added that because children with special needs are being integrated into ordinary kindergarten classes, employees would benefit from support persons, trainings, and advice from colleagues.
Landson said that the union does not keep statistics on cases of violence against children. "We regret to admit that even 25 years after the ratification of the UN convention on child rights acts of violence against children are still relevant in Estonia," she added.
Never see the light of day
The newspaper asked the southern police prefecture whether the police have received complaints concerning acts of violence in kindergartens. The prefecture's press representative said that no detective could recall such cases from recent years and no separate statistics is kept.
Chief specialist of preschool education at the education department of Tartu city government Kaspar Kreegimäe could only remember a single case where a teacher had used unpedagogical methods. He said that in most cases such incidents are solved in kindergartens, and people only turn to the education department when things are more serious.
The case Kreegimäe recalled came out when other teachers noticed and reacted to unsuitable behavior of a colleague. The teacher had a previous warning.
"I believe that each case needs to be looked at individually, and people need to be given second and third chances," Kreegimäe said. "As concerns physical contact, it is clear all manner of violence is inadmissible. Mental violence is even worse; however, it is very hard to prove."
Kreegimäe said that kindergarten teachers are highly educated pedagogues, whereas kindergartens have very modest means with which to train teacher's aids who need no qualification. "The class does not cease to exist when the teacher takes ill; clearly there could be situations where the aid has to stand in for the teacher and take responsibility," Kreegimäe said.
He added that the Tartu Health Care College is now offering trainings for assistant kindergarten teachers.
Principal of the Tartu Meelespea kindergarten, chairman of the association of preschool principals Heda Kala said that taping together a child's finger constitutes punishment. "We have said in our building that we must not punish children for what they don't yet know. The child is only learning to behave in a group," she said.
Punishment syndrome
Kala emphasized that every employee must constantly remind themselves: an adult's behavior cannot make a child feel they are being punished. "Then there is hope people refrain from it. However, the syndrome of punishing is still very much inside us somewhere," she added.
The principal said that working in a kindergarten is surely not for everyone, and that she has seen a highly educated nursery teacher leave because the job was simply too much.
Even though the task of finding an empathic person suited for working with children seems simple at first glance, the reality is different, Kala said. It is even harder to find suitable people in small local governments that can only afford to pay kindergarten teachers 500 euros a month.
Kala said regarding the position of teacher's aids that even though it does not require pedagogical education, it does come with responsibility. "The person assists the teacher, meaning that they can work with children alone and must know the rules of safe behavior with children," she said.
One important aspect is the coherence of a kindergarten's staff. Kala gave an example of a kindergarten where teachers meet, discuss difficult professional situations, and think about how to solve them together. They also notice and dare point out colleagues' mistakes.