The new idea is scrapping county governments
Estonia to feature four regions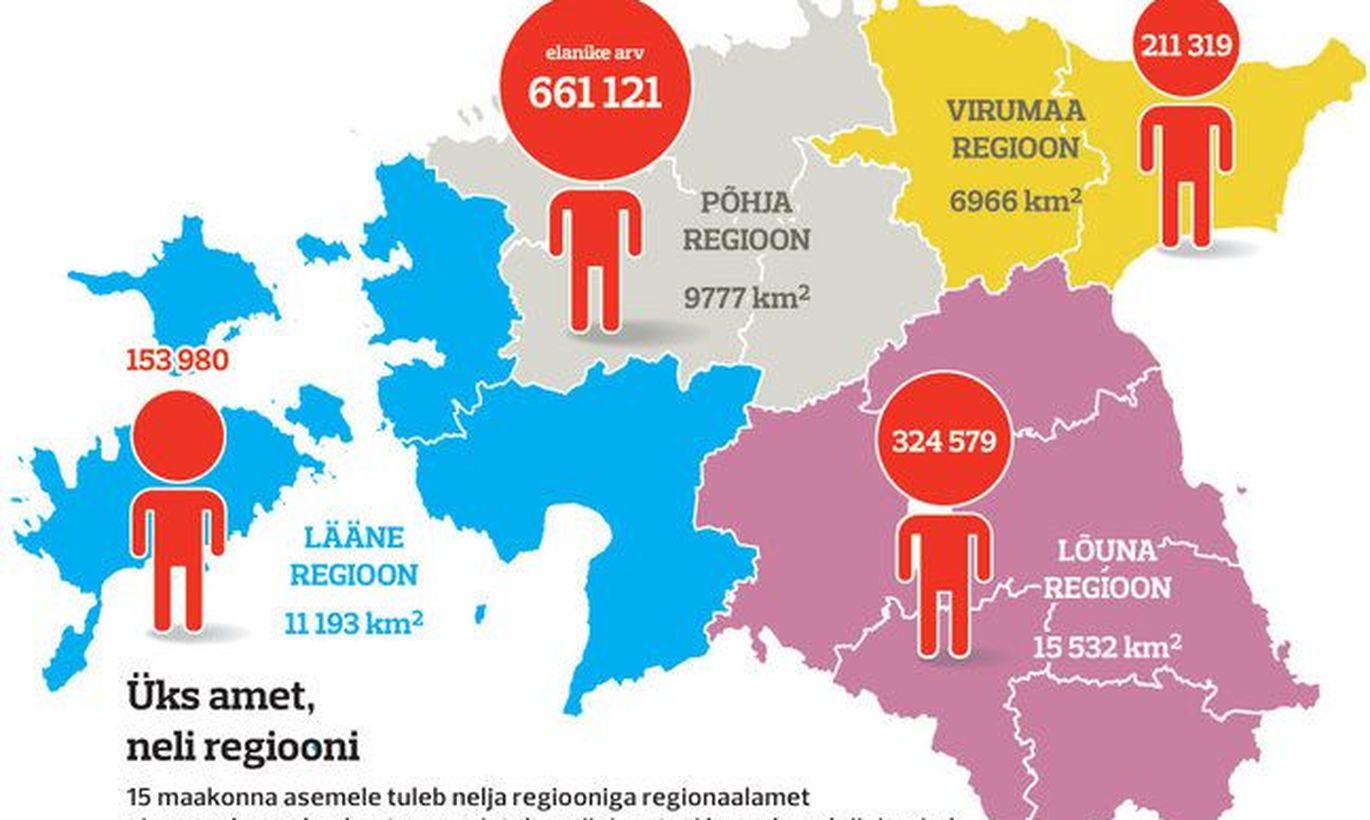 Today, Minister of Public Administration Arto Aas (Reform) presents the government with next stage of administrative reform: instead of its 15 county governments Estonia will be divided into four regional ones. Regional Board to be created will sit in central buildings erected in four hubs. 
The reason county governments are planned to be abolished by March 1th 2018 is finance ministry assessment that their tasks are shrinking, quality of work fluctuating, and the work is being done twice as state shares same responsibilities.
While almost 500 are currently employed by county governments, regional board will have about 100 on payroll.
The currently close to 600 tasks of county governments are intended to be split between ministries, local government associations and the regional board to be created
As an example of that, the new Board would organise space planning and regional development while exercising supervision over local governments.
According to former regional minister Siim Kiisler (IRL) creation of Regional Board is good but the regions are bad.
«This is totally incomprehensible and unnecessary,» noted Mr Kiisler. «Obviously, the governmental delegation is sceptical regarding the creation is additional regions. Estonia being so small, it makes sense to have one region and not four-five-six.»
The idea is headed to coalition parties for discussions and that will take time.
The central buildings in four regions would encapsulate several state agencies. According to experts, that would be expensive as all agencies have already made separate investments. Politicians cite potential benefits of teleworking to the tune of 3,000 distant jobs – the cadre seated in Tallinn.
But what about the local folks and country living?
Politicians say the counties will retain their borders and county specific song and dance celebrations shall remain intact – it's just the governing aspect that gets redistributed...