A €120m deal with just two guys guilty?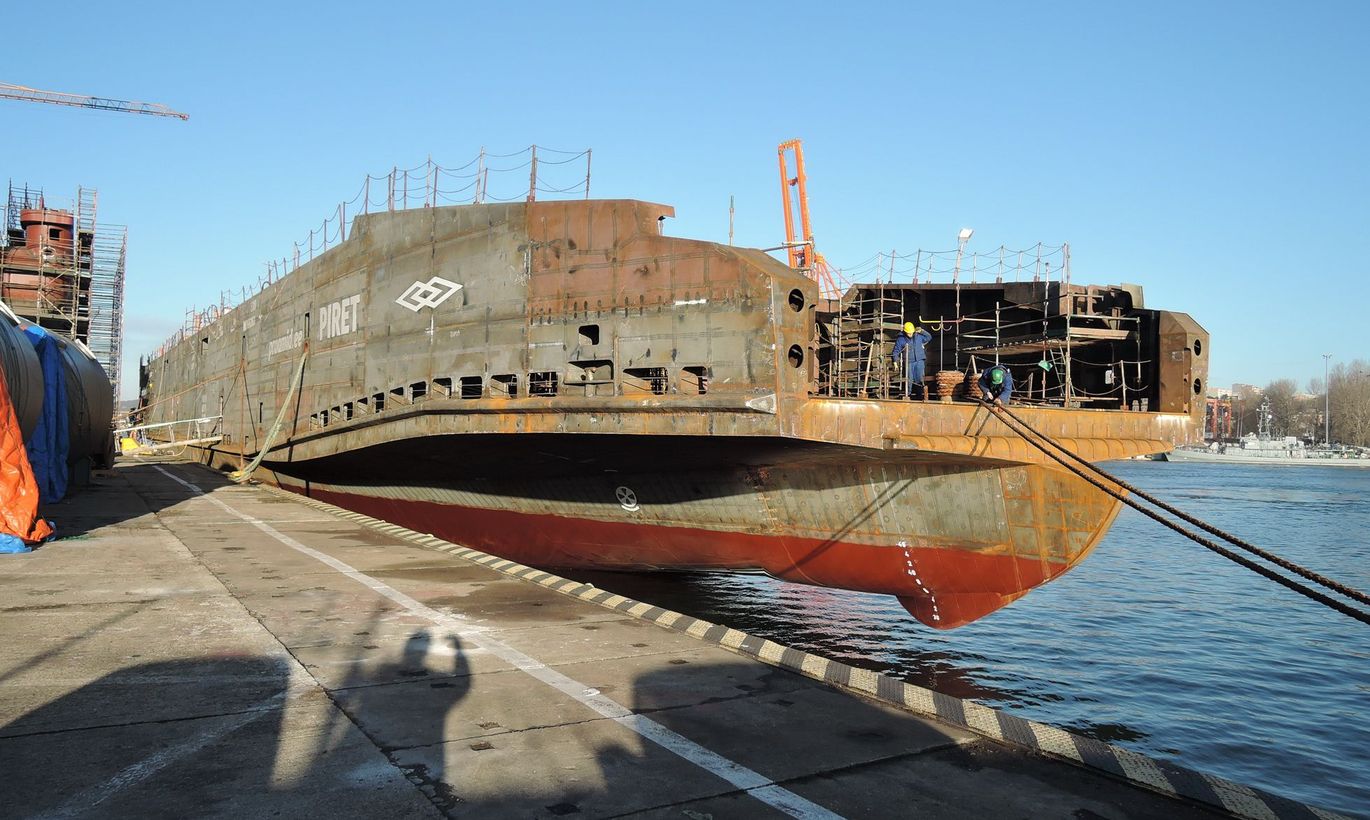 A Polish shipyard will be late with one of the ferries for Saaremaa as the mess of a contract allows ignoring the deadline set by Estonians. Former minister and port council are tossing the responsibility around like a hot potato, making Port of Tallinn ex-managers Allan Kiil and Ain Kaljurand the sole culprits. 
As the 114 metre ferryboat Piret was put into water this January 29th at Remontowa shipyard in Poland, all looked good. Seven months remained to the delivery deadline – much more than with the same type vessels in Turkey.
On February 15 the economy minister Kristen Michal was still able to tell the Riigikogu that all four ships are in schedule and the state will have no need to rent replacement vessels.  
The reality did differ: already then, TS Laevad construction supervisors in Poland had detected how Remontowa's staff was busy with the other vessel Tõll while lagging behind with Piret. On top of that, there were the quality issues.  
The moment of truth dawned in mid-April with Remontowa finally admitting the electrical works were a month or so behind schedule. Simply put, the shipyard was optimising its work as the contract written by then Port of Tallinn managers left the shipyard without much penalty in case of being late.  
«What is written (in the contract – edit) is not in our interests and as the Poles have a very long line of ships being built and lots of work on their hands, they are postponing the work where they are able to,» economy ministry chancellor Merike Saks revealed yesterday, in local Hiimumaa newspaper.
To the knowledge of Postimees, the main issue indeed is the size of contractual penalties, and in the time period after which the customer is entitled to demand payment thereof.  
Ms Saks says Estonia has no leverage to call the shipyard to order, the contract being very bad. «As I see it, the people are to be blame who are currently in court, and need to answer and explain before court,» said Ms Saks, referring to Mr Kaljurand and Mr Kiil.
Among those who have seen the content of the contract is Artur Talvik, in charge n Port of Tallinn investigative committee at Riigikogu. «I am amazed at the fragility of these contracts. Even without knowing the specifics of shipping, the sanctions part was very short,» said Mr Talvik, according to whom the sanctions covered a bit over a page.
Mr Talvik says former Port of Tallinn council and economy minister are not trying to push off political responsibility. «I do think accusing Mr Kiil and Mr Kaljurand is a pretext behind which it is very comfortable to hide,» said Mr Talvik.
Actually, it was ten economy ministers Juhan Parts and Urve Palo who tasked Port of Tallinn with acquiring the new ferries. The contracts for an unbelievable €120m were to be approved by Port of Tallinn council.  
«Clearly, they are also protecting then political council, so God forbid there would be political liability. I would ask, however, where was the council,» said Mr Talvik.
The other key issue will be if the bad contract was linked with the bribes from shipyards, which Mr Kiil and Mr Kaljurand are suspected in.  
«I think a large part here is incompetence, as Port of Tallinn had not been into shipbuilding before and I really suspect this was lack of competence,» suggested Mr Talvik.
Randel Länts, then a Sod Dems member in the port council, recalls the discussions of the contract were not too detailed.   
«I remember we had the building timeline and general prices on the table. We definitely did not talk about any risk management related to the contract, then,» said Mr Länts. «Looking back, I may indeed see that the council had too much good faith and trust towards those who handled it.»
A long-serving port council chairman Neinar Seli says it is unjust to hold council members responsible because council takes decisions based on materials prepared by board.
«If of the council anybody ought to know the issue more thoroughly it is only the chairman (then Remo Holsmer – O. K.),» said Mr Seli. «At the meeting, the rank and file members rather look left and right to see who votes how and take their decisions according to that.»
Having exited the council chairman post in 2014, Mr Seli says he never liked the idea to get ferryboat traffic under state control no matter what. «It was at the very beginning of this process that it rubbed me wrong when all they wanted the council to do was to approve €140m to buy ferryboats,» said Mr Seli.
He said the one who demanded that was then minister Juhan Parts. «I did oppose the idea at the time, desiring to know the calculations and cost-effectiveness, but the ministry didn't have these to give me. This is what I call state capitalism. Regarding the shipbuilding contracts afterwards, I don't know about that.»
Yesterday, Postimees tried to get answers from then council chairman Remo Holsmer, and sworn lawyer Asko Pohla who helped prepare the Port of Tallinn contracts. In vain.