IRL still abstaining from populism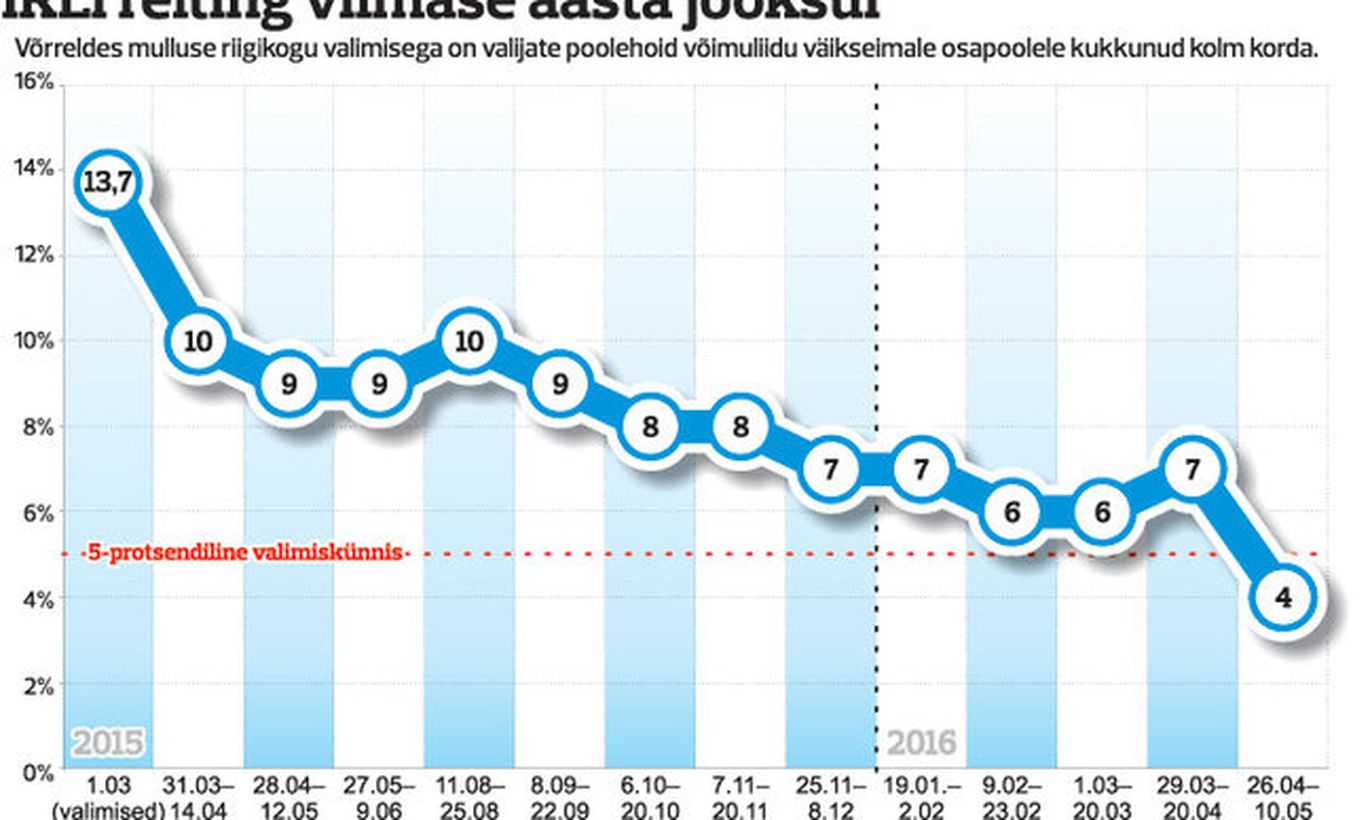 The political party IRL has sunk underwater with no new oxygen available. They've still got some left in the lungs, but how long will that last?  
Some experts think the moment of truth will arrive with Presidential elections. Others say at local election in fall of 2017. One thing is for sure: if at present level of popularity on March 3rd 2019, IRL will no longer appear in next membership of the Riigikogu.
As over the weekend ERR/ Turu-uuringute AS poll revealed IRL to languish at 4 percent popularity, many got weakness of knees at IRL. A party and its predecessors having been part of lots of vital events on Estonian political history is now below the parliamentary threshold.
Some say this is a situation worthy to call back Mart Laar – he it was who sewed together the two parties, Pro Patria and Res Publica, for 2007 elections.
Mr Laar will probably not come and the party will have to pull out on its own. Its leadership convening yesterday, they did talk about it. They concluded the party has kept its main election promises and invested into governmental work while failing to inform the public thereof. That in a situation where the Free Party and EKRE are after same voters.
In the press release issued afterwards, they went as far as to call this present time an era of populism when a party is needed which ensures the development of a nation state. That'd be IRL.
A veteran member and mayor of Viljandi, Ando Kiviberg thinks they need to focus on building up Estonia and talk clearly about it.
«We need to focus on contemporary national conservatism,» he added. «If Estonia leaves Estonia, does not make much sense talking about free higher education etc.»
Mr Kiviberg would not plunge party into populism. «When there was this period when daily they showed on TV the hordes which broke across borders somewhere, obviously the view causes concern and doubts. But I do not think radicalism and fear mongering is right, scoring points on that. Populism will not take us there – might help for a moment, but not long-term,» he noted.
IRL women's assembly head Annely Akkermann says «we must talks convincingly on actual topics. When, at the moment, people are interested in the migration of nations, we need to talk about these things explicitly, principally and strategically, just like [Mart] Helme is doing right now,» she said. «I may not agree with (Helme – edit) when he says Estonia should not accept a single refugee, but that's a clearly strategic stand.»
Ms Akkermann says IRL ought to speak plainer as well. «To have more children born – a very general and nice goal, but totally incredible. All talk, nothing happening,» she said.
According to Ms Akkermann, party leadership should assume responsibility for loss of support among the people and step down as IRL features several bright people who might emerge to the forefront.
Will she be heard? We'll see in the IRL emergency general assembly in the fall – to amend statutes after criminal people were enlisted last year. If inner panic increases, internal opposition can demand that IRL elect new board.