Martin Helme offended by Sirp
Culture paper published picture with four-letter word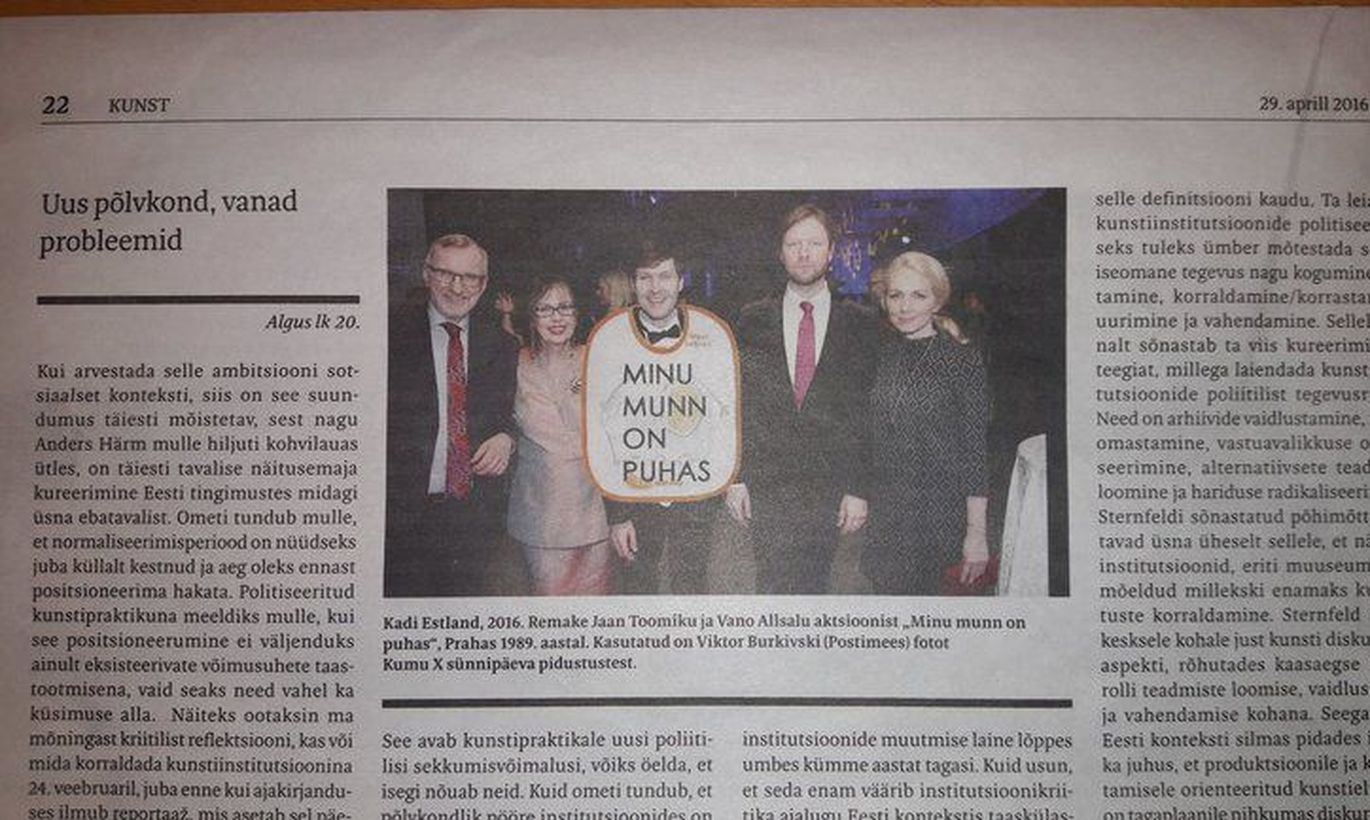 In social media, EKRE deputy chairman Martin Helme expressed indignation regarding a picture published by Sirp and went on to talk about the subject in Rigikogu big hall session. 
Mr Helme told Postimees he was going to talk it over with EKRE Riigikogu faction advisers to then decide whether to file a complaint to press council against Sirp.  
Mr Helme also expressed indignation regarding the picture in social media, stating he was «among the 99.998 percent of Estonian speakers who do not regularly read Sirp, firstly for its unbearable leftish content. Therefore, it was with some delay that I discovered the new level wherewith the «cultural paper» boasts. An example of hate speech perhaps?» write Mr Helme.
He noted that as an active politician he is reconciled to being criticism and even reviling, but by the publication of the picture mud is thrown at people who did nothing to deserve that. Also, Mr Helme deems the picture as a spiritless plagiarism of the artist's concept.
«Naturally, Sirp is a paper published by taxpayer money and published by SA Kultuurileht, the council of which is determined by culture minister. Among other things, the council is tasked with (statutes clause 2.3.4) granting editorial board the conditions to ensure intellectual content of magazines and (2.3.5) via editorial boards to guarantee quality of content. If the editor had no alarm bells ringing regarding the intellectual content and quality, as well as morals, editor-in-chief would have had to have bells ringing. But lo and behold, not happening. Were I the boss, I would fire them both, but I am not,» remarked Mr Helme.
Editor-in-chief at Sirp, Ott Karulin, answered that artists have liberty to express themselves.  
«Always, Sirp has illustrated articles with works by Estonian artists, and so in this case. At that, we go by the presumption that an artist has the liberty to express themselves, as it is the social role or art to react to processes in society,» said Mr Karulin.
Art-editor at Sirp Reet Varblane noted that as the article was a critical treatment of art institutions, the work by Kadi Estland with base photo shot at 10th anniversary of KuMu, poses the question of legitimising role of cultural institutions.   
«Meanwhile, the work by Ms Estland is a reference to action by Jaan Toomik and Vano Allsalu in Prague, in 1989. Back then, such hordes of people with placards around neck were spotted at larger gathering in Estonia that they became almost invisible. Artists adopted the visual while adding a so-called totally everyday message which now, 17 years later, has acquired a policy hue due to new conservatism rising up,» said Ms Varblane.
Yesterday afternoon, Mr Helme took the Sirp picture up in Riigikogu hall while presenting the proposal to cancel Registered Partnership Act. He noted that while there have been murmurings in Estonia about EKRE now on political arena turning discussions very sharp and aggressive, things actually are the other way round.
«I would point to a picture in Sirp two weeks ago where very obscenely I was personally caricatured, and next to that I would set the hate speech bill discussed at Riigikogu last week as urged by Soc Dems legal affairs committee chairman. They had also brought a leftist from Sweden who told us what hate speech was about, and repeatedly told us to pass a law to criminalise hate speech,» said Mr Helme.
In his assessment, the picture published in Sirp is hate speech as well. «If adopting soc dem gauges, which were discussed last week, then the Sirp picture is pure hate speech, purely against conservative world view or conservative politics. This is a classic leftish tactic,» he said.
According to Mr Helme, the means used by  «homo ideologists or tolerants» to achieve their goals are a textbook case. He said a specific person is tackled and «ruined».
«Let me recall what was done with Jaak Madison immediately after elections. This is the classical Alinsky tactics where a definite person is picked and pulverized in order to blow a hole in opposite camp ranks. This is what is used. So when we are talking about hate speech being stirred in Estonia, this is firstly practiced by homo ideologists, tolerant, as excellently helped along by Estonian left leaning media,» said Mr Helme.