Ansip: Reform Party cannot take all key positions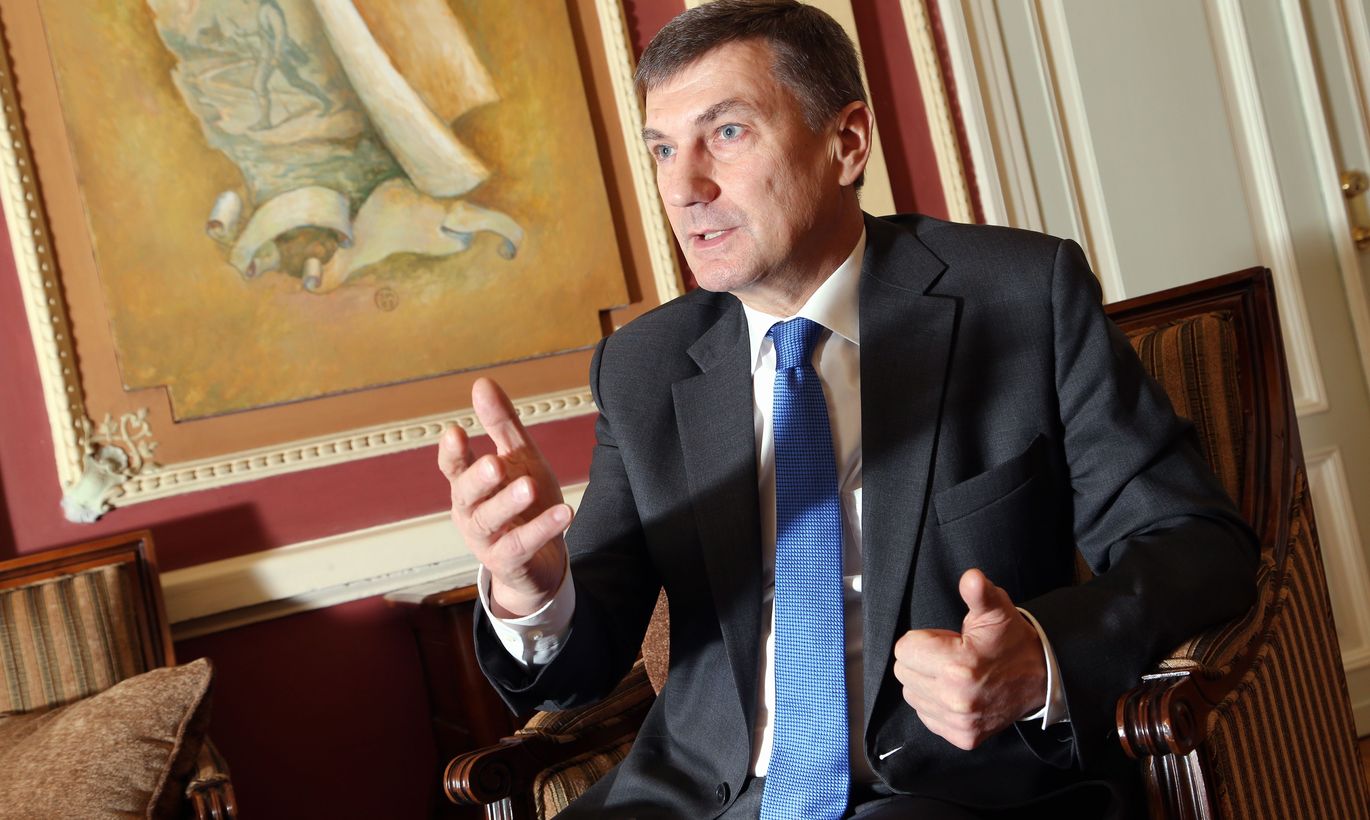 Let's forget the in-party howling, let's listen to all other parties and try to find the President right in the Riigikogu, dreams former prime minister and long-term Reform head, now vice president at European Commission Andrus Ansip.
-With presidential elections in view, Reform Party is jerking around two names – Marina Kaljurand, Siim Kallas. That tearing the party apart?
I have been following the current presidential elections debate. I think the pressure is applied in the wrong direction: Mr Kallas has risen up himself, Marina Kaljurand should speak out on whether she runs or not. But this is totally the wrong path. Some wish Reform should find out who is their candidate. This is replacement activity, should Reform really go about finding out who is their prettiest, strongest and wisest candidate. All parties should focus on finding the individual who would get support by 68 in the Riigikogu. This must not necessarily be some party's Number 1. Therefore, finding out the No 1 in the party is not constructive at all. By that, own positions get cemented and to go from there to negotiate with other parties, when they need to firmly defend their own candidate, is not too prudent.
-Your party is all about finding out its No 1, as if.
This is what does happen in life – voting and being voted for. I think Reform is in a situation right now where its choice alone is not enough and other parties must choose as well. They need to want to choose. And the role of others is much more vital that the inside-of-Reform selecting the «right candidate».
Overall, the political logic is that Reform has not too much reason to seek the presidential position.
-I just wanted to ask that, but you brought it up yourself.
Prime Minister is from Reform, European Commission vice president is from Reform – how many of these top spots should be handed to one party? But meanwhile the situation is more complicated than ten years ago when me and Reform proposed that Toomas Hendrik Ilves run for President, as back then we had no candidate in Reform as Mr Ilves. And by political logic the situation was precisely the same: Prime Minister was from Reform – this was me – and European Commission vice president was  Siim Kallas. I.e. for these considerations our board decided to propose to Mr Ilves who was not Reform member then nor is now nor will probably belong there in the future. In my opinion, we need a cross-party approach even now. Somebody should initiate the process to find out the individual who might gain 68 votes in Riigikogu.
I cannot name a name, but the initiative by Taavi Rõivas (yesterday when the prime minister said the parties should agree about the President in Riigikogu – T. K.) is welcome. Another matter how serious they will take that in the party, in other parties. But for the Riigikogu, this should be an issue of honour, to be cooperative enough to be able to agree about the President. I am of the opinion that the talks between the parties should be open.
-Do you sincerely believe 68 votes are possible in Riigikogu, or is this the fear of EKRE, which also made prime minister talk about that?  
Probably yes. Till today, I have yet to see a calculated approach. They are dealing with details, replacement activity.
-From what you are saying, I read rather direct criticism towards Reform, your own party.
In my opinion Reform has not tried to oppose two candidates in some measure related to our party and most popular among the people. I said that for me as prime minister the situation was easier because when we were electing the President, we had no candidate to offer comparable to Mr Ilves. But we have two now: Marina Kaljurand who actually does not belong to our party but whom we set up for foreign minister, and Siim Kallas who is honorary chairman of Reform. The situation is more difficult. If we'd find out our No 1 but let's presume hypothetically that yes you also found out the No 3 but we think No 4 or No 5 would be a rather fitting candidate, what do we say then? That it is not good? Unthinkable. We need a cross-party candidate. And such a candidate can only be found out when parties communicate with one another and this is a process that needs to be triggered as soon as possible.
A bit yes. Siim saying «I am ready» is good. Nothing there that should not fit with public of the party. If someone suggests his own self, it is nice, but hopefully those who legally set up a candidate do it in the good faith of that individual potentially getting the Riigikogu support. Not that we arrange a rooster fight or beauty pageant. The parties should try hard, the Riigikogu should try hard, to get the President elected in Riigikogu. This is the issue of the authority of the Riigikogu.
-Who do you think might be the new President?
I am definitely not the one to say that. I just wish that the parties would suggest a bunch of candidates to then really in good faith to start seeking for the individual who would gain the Riigikogu support. If this isn't even tried, this is surrender and not fitting for Riigikogu.