Reason behind Russian border provocations: something bad is coming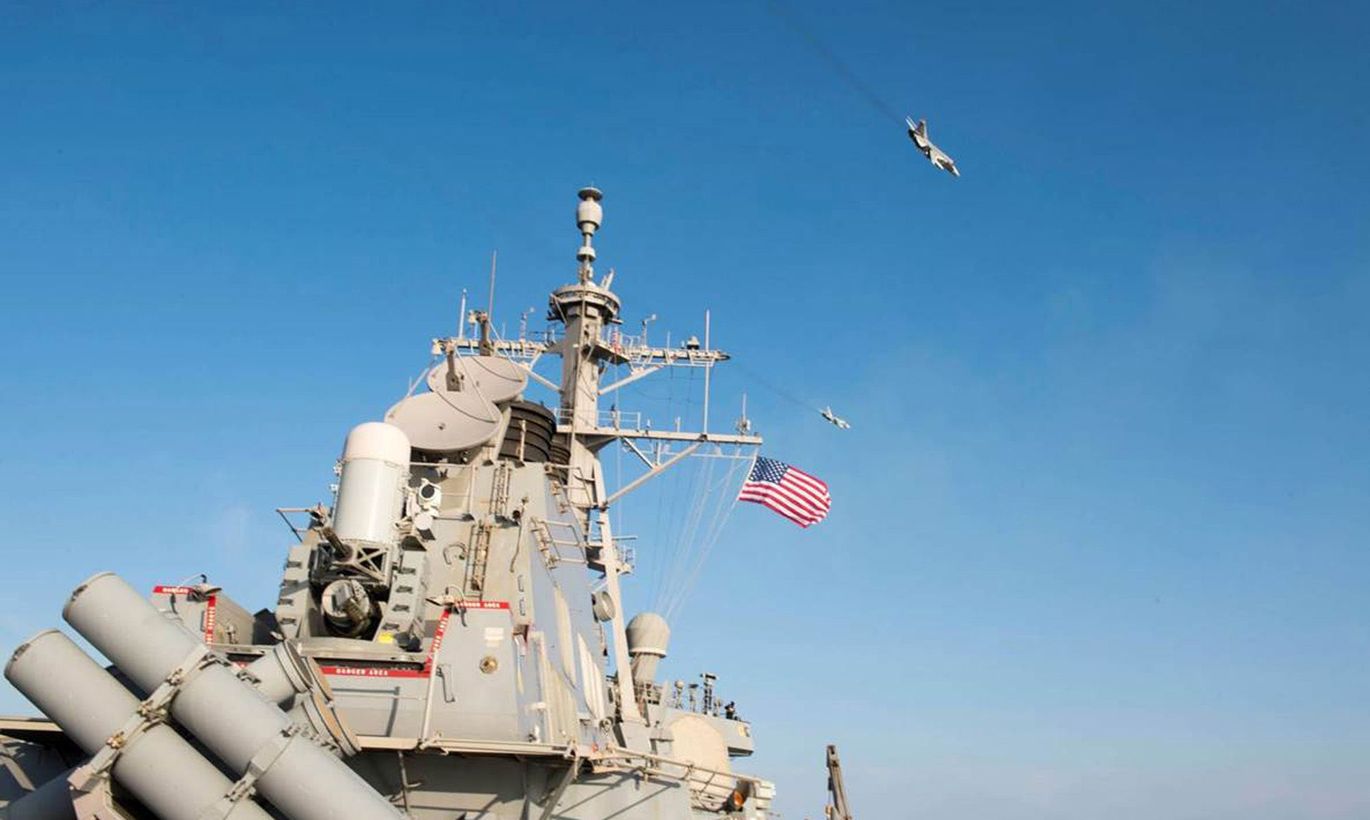 The upcoming season 6 of the insanely popular TV series Game of thrones has a catchy tag line – winter is coming. The menace of the obvious threat grows in the cold shadows, almost unchecked as everyone is involved in a bickering fight over the Iron throne.
Such is the nature of the growing Russian threat in real life. Over the past few years, ever since the Kremlin's little venture into Crimea and Eastern Ukraine, Baltic states have been sounding the alarm: the Russians are coming! It has inspired many articles, analytical studies, even BBC got involved with fictional documentary about the war in the Baltics.
Sure, there was a hard reaction as well: NATO, as usually led by the Americans have sent some reinforcements – troops, fighters, equipment. More has been promised. But skeptics remain unconvinced. «Where are those Russians? Have they come yet with their tanks, flags and t-shirts with Vladimir Putin on them?» –  they ridicule.
The onset of the Second Cold war, just like the first one has brought a lot of confusing messages, deception and smoke screens. It's not easy to separate signs of aggression from something, what is often described as traditional Russian sabre rattling. But some pieces of the puzzle are very close – under our very noses. Or to be more precise – above them.
Unexpected visitors on the beach
Few weeks ago 2nd department of Lithuanian military, the official counter-intelligence body gave a briefing for Lithuanian Parliamentary National Security and Defence Committee.
Reason was serious enough – just before 2nd department and Lithuanian State security department – main intelligence agency presented a joint report about the threats. The report noted that actual actions of infiltration by Russian special forces have been attempted on Lithuanian soil.
After hearing the secret part of the report, Head of National Security and Defence Committee Arturas Paulauskas was a bit careless, when he publicly suggested that Russian troopers could have landed on the Lithuanian coast during a military exercise.
The landing of Russian military unit during the exercises could have taken place near the Lithuanian sea resort Juodkrantė in the Curonian Spit, some time earlier than 2015.
Pressed by the media Prime Minister Algirdas Butkevičius implied that he knows about the incident, and assured that all services responded properly. However, he declined to comment for, covering behind the veil of classified information. President Dalia Grybauskaite even forbade to talk about the mysterious incident, and Mr Paulauskas has even backtracked, saying this week, that he only theorized about Russian special forces landing on calm Lithuanian beach.
This could have been a potential scandal: Russian troops on NATO soil? Parliamentarians required  explanations. Questions hit «it's classified» wall and only left room for speculations in the media.
It was theorized, that Russian combat divers from 561st  separate naval intelligence station, based close by, in Kaliningrad have landed on Lithuanian beach. Juodkrantė – a little fishing village on a narrow Curonian Spit is also home to both Lithuanian military and border guard radar stations. Knocking them out would render Lithuanian ability to see what's flying and sailing near the border.
And more importantly – taking this almost undefended narrow strip of land Russian could target strategically important to Lithuania port of Klaipėda, where NATO reinforcements would be coming. Another object of strategic importance is the huge LNG ship.   
Symbolically called «Independence», this ship has entered Klaipėda in 2014 and has already been involved in fictional incident. The latest Tom Clancy series book («Tom Clancy's Commander in chief») starts with radical «environmentalists» blowing up «Independence» – this is allegedly work of elite Russian combat divers.
Russian landing in Juodkrantė may as well be work of fiction, as some critics say. Others, like former Lithuanian defence minister Rasa Juknevičienė said, the information may have been provided by «the allies». This is how the second piece of the puzzle comes into play.
Interceptions indicate patterns
It has been speculated that «information provided by the allies» came from the Americans, who have serious intelligence assets in the region. This presence has been once again confirmed by a real incident over the Baltic sea last week.
United States have complained, that Russian fighter plane Su-27 came dangerously close to American reconnaissance aircraft, the RC-135U. Russian pilot allegedly barrel-rolled the American counterpart – a maneuver, that Pentagon described «unprofessional and provocative».
Two things are important in this incident: firstly, the fact, that US signal intelligence aircraft have been flying over the Baltics since 2014 show great American interest in what the Russians are about. RC-135s hunt for radar emissions, signals, that may indicate  Russian patterns, find weak spots in their elaborate air defence systems, such as S-400, based in Kaliningrad.
The Russians clearly aren't happy about the presence of American reconnaissance aircraft in the region and they are making their point very clearly – such incident of Su-27s closing dangerously close publicly have been reported at least three times over the last two years.
Secondly, aggressive Russian behavior in the air has also taken a steep raise over the same period of time. Even back in 2014 NATO fighters policing Baltic airspace were scrambled 68 times along Lithuania's borders. Latvia registered 150 «close incidents», cases where Russian aircraft were found approaching and observed for risky behavior. In 2015, aircraft of the Russian armed forces violated the Estonian airspace on three occasions. In 2014 the number of such incidents was eight.
Similar incidents have been reported near Finland, Norway, Sweden, even as far away as united Kingdom and Portugal, where Russian long range bombers flew as close as 12 nautical miles near the borders.
This week Lithuanian Border Guard Service declared that its officers visually spotted three Russian helicopters that possibly had crossed into Lithuanian territory, on Tuesday, 12th April.  
Old soviet made Lithuanian military radar P-18 was only 10 kilometers away, but it allegedly did not register any violation of the Lithuanian airspace. This information may as well be part of deception – we don't necessarily say what we actually see. However a day before an identical pattern has been spotted on the Polish border with Kaliningrad – again, three helicopters flying near the border and crossing it for a short period of time, before turning home. Few months ago similar incident happened on Estonian-Russian border.
Last week Russian bomber aircraft Su-24 buzzed American ship USS Donald Cook in the international waters of the Baltic sea. Su-24s made several low level passes over the Americans, coming dangerously close – 9 meters from the guided missile destroyer.
Incident happened on 12th of April – exactly two years after Su-24s buzzed the same ship in similar manner in the Black sea. Back then Russian propaganda even made up a story, how 27 scared American sailors have resigned and requested psychiatric help, while USS Donald Cook radar systems were hit by Russian ECM weapon.
Rule of the jungle and the prelude to action
All of these incidents have an obvious connection: dangerous, provocative manoeuvrings do happen more often than before, they are even video documented, but they are also denied by Moscow. The purpose of such provocations may be well beyond showing off piloting skills and bragging about it in Russian media, how brave Russian pilots are. Far from it.
Indeed aircraft intercepts are nothing new – NATO jets do intercept Russian aircraft over the Baltic sea every week. But they do it in safe manner. Russians act more aggressively as if the whole Baltic sea belongs to them – in fact, such thinking in Moscow is very evident.
Increased NATO presence in the Baltic region irks Kremlin and these provocations are a way the Russians express their opinion. «Like an animal in the jungle, who feels his territory being threatened by another», – said Lithuanian pilot Algimantas Žentelis.
However reckless maneuvers also do serve Moscow as a way to test NATO defences – how well do anti-air systems, radars and personnel work, what are the reaction times of both NATO military and political elites. Even the society reaction does matter.
Some Lithuanian politicians do love to quote Estonian general Riho Terras, who famously bragged about the need to shoot the first little green men on the spot, whenever seen.
In reality though, it really depends. If Russian special forces have truly landed in Lithuania, it was important psychologically for themselves – they were in NATO, potentially hostile territory.
Illegally, possibly armed and hence could have been shot. But who takes the shot, when Russian aircraft potentially violates border? Turkish air force has done so last November only after numerous warnings and with hard proof at hand – after a brief disbelief of the fact and hysteria Russians have calmed down, thus silently admiring there was border violation after all.
Buzzing aircraft of ship may be not just potentially, but mortally dangerous as well – as number of incidents shown in the past. For example, Soviets have famously shot down two US reconnaissance aircraft over the Baltic and Black seas back in 1950s. Some crew members of shot down American RC-130 have been taken prisoners and sent to Vorkuta – infamous gulags, where thousands of people from the Baltic states have also been banished.
It would be hard to image Russian shooting down NATO aircraft today and sending crew to Siberia nowadays or vice versa. But with provocations like these the risk of collisions increase. While the  aggressive reconnaissance operations often do indicate even two dangerous things:  sharp increase shows interest to collect fresh information. It also may signal a prelude to invasion.