AirBaltic's controversial foreign investor owns «several offshore companies»
Ralf-Dieter Montag-Girmes talks to Postimees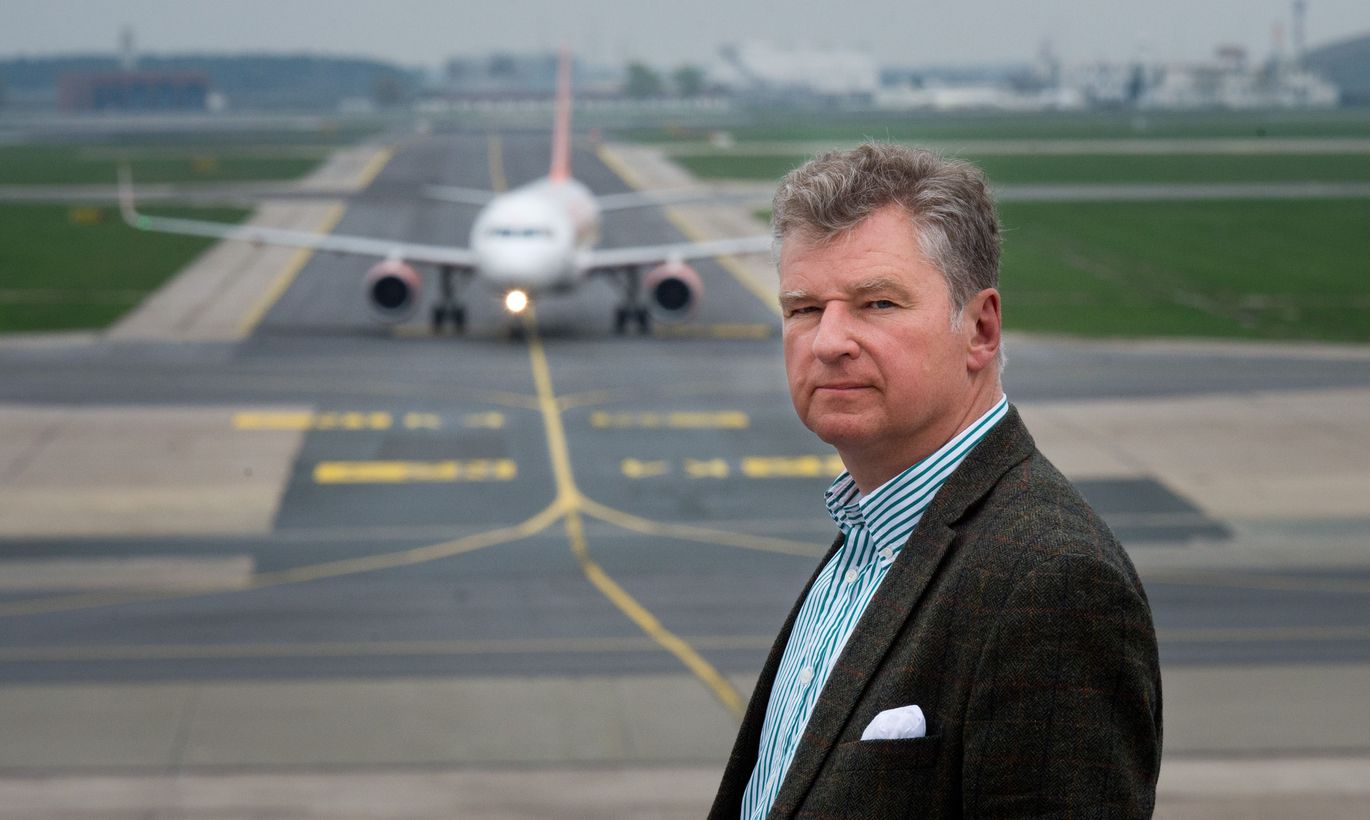 «No blood dripping from my hands. Not eating infants. I'm an absolutely normal person,» says Ralf-Dieter Montag-Girmes, a German who invested €52m in airBaltic in November 2015. Even so, in Latvia the man was regarded controversial enough for Prime Minister Laimdota Straujuma to sack transport minister Anrijs Matīss the day after investment decision was announced.
After that, it surfaced that Mr Montag-Girmes is doing business in Russia, among other things leasing out SuperJet passenger planes produced by Sukhoi, a subsidiary of the Russian military-industrial group United Aircraft Corporation. At the end of the year, airBaltic was considering to purchase these, but the investment contract signed this February features ban to use these by Latvian government.
Now, Mr Montag-Girmes again hit the limelight as user of Panama tax haven. Of Latvians, the leaked list included eateries chain Lido owner Gunārs Ķirsons and the Latvian oligarch and Mayor of Ventspils Aivars Lembergs.
-The Panama papers which leaked last week featured your name. Why do you use a tax haven?
It's very simple. The airplane leasing business does happen via offshore as in this way producers of airplanes as well as airlines can be presented an economically competitive offer, unhindered by the fact of taxation. For that, a tax-neutral region is picked where an airplane is registered and from where it is leased and which has an agreement to avoid double taxation with the country of the airplane's origin. Traditionally, these are Caribbean islands, mainly British Virgin Islands, Panama and Ireland. These are the main regions used by ship and plane leasing companies. And so this is what I do.
All my offshore companies, which are several, are outlined in the German tax declaration. All that I do is totally audited and transparent. Whether this is true regarding the other people and companies mentioned in the Panama papers, one must ask those concerned.
Sure, offshore is also used by people with other kinds of legal and illegal interests. Offshore countries come with a reputation index, if you will. The ones in Ireland and Bermuda are highly respectable, those on British Virgin Island and Panama are quite good. At the bottom of the list are countries like Nauru or Cayman Islands which are mainly used for money laundering. I would have nothing to do with these, but many people use them for their own purposes.
There is an easy way to get rid of tax havens – harmonizing the tax rules. The only reason I use tax haven is it allows me to avoid arbitrary taxation which affects the price of airplanes offered by me. When I make a profit, withdraw it and begin to use it in Germany, then at that moment the money is also taxed. Optimising taxes with help of tax havens is totally legal as long as you are transparent with it, and that I am.
-But it must be admitted, mustn't is, that airplanes being very expensive, use of tax havens saves you and the airline lots and lots of money.
There are two types of passengers. Those who want comfort and can pay for that. These make up about 10–15 percent. The rest only want a cheap ticket. And the airline begins to count the pennies. That's really true. Up to the point that: «How can I save a cent per passenger on each kilometre?» Because when one flies between Berlin and Riga, say, which is about 1,200 kilometres, and are able to save even a tenth of a cent per kilometre, the ticket is cheaper by $12. And for a budget carrier, a ticket cheaper by $12 is already an argument. Should someone then come and say you must pay 5–10 percent of the leasing rate for taxes, why would you want that? This paralyses competitiveness towards the likes of Ryanair. In aviation, this is the absolutely common practice. Even more so in shipping.
-Why did you decide to invest in airBaltic?
For purely opportunist reasons. I had the opportunity and I like the management of the company, which is key to the success of an airline. I like their business model and I hope it is a unique opportunity for a very profitable investment.
I have not considered holdings in other airlines as money is usually made with investments in other things. One usually makes money leasing out planes, buying and selling planes – any activity except operating an airline as such. And I do not plan to invest into any other airline. Now, I get lots of proposals, but the majority I read through and decline. Maybe one or two I look into more thoroughly. My main interest is sales and leasing of airplanes.
-So it was really only the management which became decisive?
AirBaltic is in a unique situation anyway. Five years ago, the airline was on the verge of bankruptcy. The then and current transport minister (Uldis Augulis – edit) worded state aid so it was not considered state aid. This was quite different from what you had happen with Estonian Air. Much of the restructuring has already been completed and I think with the current business plan and cost base, the airline is in a good condition.
Alas, the bankruptcy of Estonian Air is to the benefit of airBaltic, though a pity regarding to the Estonian taxpayer. That bankruptcy was among the reasons why I am investing, but not the main one.
-Were you expecting such a negative reaction when you were introduced as the new investor of airBaltic?
I was very much surprised. The Latvian political landscape seems to be very complex. Obviously, certain individuals are interested in banging the anti-Russia drum and for them this was convenient for reasons which have nothing to do with the investment. Whatever there is in my background which caused the prime minister to sack the transport minister, you must ask her personally.
-What about these Sukhoi Superjets which were considered to be bought, as mentioned in the media at end of last year? Was it a condition for the investment, whether airBaltic buys these or not?
AirBaltic had two processes underway. One was seeking a financial investor, the other was expanding the fleet. AirBaltic had already agreed about the purchase of Bombardier CS300, but they needed smaller planes as well. That procurement changed together with airBaltic's business plan, which was partly the result of Estonian Air's bankruptcy. In the end, airBaltic opted to focus on two plane types and buy more CS300 type planes as initially intended. I think this was the right decision.
Originally, Embraer, Sukhoi and Bombardier participated in the procurement. As an investor, I retain the right to check if my money is used in a profitable manner. I looked at the purchasing conditions of Bombardier and these were all okay and I also helped the airline to find the fitting structure to buy these. That's all. The investment into airBaltic is independent of my other projects. I offer several planes for lease or sale – in addition to Sukhoi such ones as Antonov and Bombardier.
-What is you link to Sukhoi planes?
I still offer these to some clients. In certain situations, it is a very fitting plane. AirBaltic decided they did not need a plane of that type as they altered their business plan and the logic of creating a flight network. But for some airlines Sukhoi Superjet fits very well and I will continue its offering and marketing.
-This is not your fist business in Latvia. In 2014, you founded in Latvia an airplane leasing company. Why?
I had a Belgian client who wanted Sukhoi planes and Latvia was among those who offered laws enabling these to be registered in Europe. The project is not dead but is, regrettably, frozen for various reasons. This was pure coincidence. I realise people have conspiracy theories saying I planned it all long in advance. True, I did meet airBaltic people at the Paris Air Show last summer. For me, investing in airBaltic was probably among my swiftest and most aggressive decisions. As a rule, arriving at a decision takes one-two years, not  6–9 months.
-Why are you mainly in the plane leasing business?
I make money and I understand this business. I like airplanes and technology and this is something that I like to do. I am happy to be in a situation where I can actually decide what I want to do, how to spend time and make money.
-In which countries do you have clients?
In Latin-America, Europe and Africa. These are the three regions where I currently hold negotiations. These are the regions where I have contacts. But I am a very small niche player and I am reaping the benefits of my contacts base, on the basis if which I get advice where I can offer either creative or flexible solutions. I do not compete on the level where Lufthansa orders the Airbus A320 planes. That is a far bigger game for companies which are better capitalised. I operate in a niche where I offer creative solutions for people who need them.
-What kind of creative solutions are these?
Depends on the client and his situation. If the situation is simple and standard, like selling a Volkswagen Golf to the local bank branch manager, I am not needed. I am needed when there are certain challenges or problems. For various reasons. And I do think this is also true with airBaltic. The entire investment had to be tailor-made so as to fit the specific situation.
Usually, it is not me finding the clients but the clients find me. In certain segments of the market I have a reputation to be creative and able to get things done. I get lots of requests for cooperation, some of which I take seriously – like airBaltic – but most I decline. I am not desperately searching for work; rather, I pick what and where to do.
-Do you have other business interests than airBaltic and leasing airplanes?
I have noteworthy investments on the German real estate market, mainly residential houses. I develop houses and rent them out. I do not build new houses; rather, I buy old houses, renovate them and rent out the apartments. The German housing market is heavily tilted towards rental. And I breed and train horses. I have ten horses, but I also take them in for training.
-What was your role as vice director of Russian privatisation centre in 1992–1994?
The institution was linked to the privatisation ministry as the people called it. The privatisation centre was used by Western lenders such as IMF and World Bank in order to direct monetary help to Russia to support economic reforms. They retained control over the money and it was being spent together with Russia.
-Critics claim that the sales of vouchers executed by Russia to privatise state enterprises was a failure as most promptly sold their thus enabling the creation of oligarchy. What do you think?
Distribution of vouchers to the people was among the first privatisation methods employed in Russia. Back then, it was highly controversial. Some people did very well with these, other did very poorly. People had a choice – either selling a voucher or trading for them at auctions. Those who sold them the very next day did not reap much benefit. Others swapped them for cars. The idea indeed was to educate people regarding market economy, and offer them options. Manu failed to see what the vouchers were for. But another thing rapidly begun to happen – larger holdings started to emerge. That was the hoped-for effect, as a key problem which Western lenders and Boris Yeltsin's government tried to solve was pushing the state enterprises into private hands.
Whether this was the best solution in that situation will remain a question to be asked for quite a while yet. Important to realise: people were afraid of the return of communism and did almost anything to avoid that. The «almost anything» meant they made lots of mistakes and there was much corruption. But one important think people tend to forget nowadays is that at the beginning of the 1990ies the likelihood of communism returning was rather high.
-Why do you still maintain such close relations with Russia?
I have worked in Russia since 1994, but I also work in many other countries. I work a lot in Ukraine, but I have worked a lot in Germany, Czech Republic, Poland, and Slovakia. I work all over Central Europe and am not particularly Russia-oriented. People like to cast me in that light, but it isn't so.
-You have also been linked with money taken out of Inkombank, in 1998. What was your role there?
During the Russian economic crisis of 1998, I was linked to many banks in Russia, including Inkombank. One of Inkombank shareholders and major depositors was my client. He wanted me to talk to the central bank to see if they would support the restructuring of Inkombank. Very wisely, the Russian central bank decided not to bail out any failed bank. At the time, Inkombank was the largest privately owned commercial bank in Russia and this particular shareholder thought it was a very vital bank and it needed to be bailed out. He did not take no for an answer. He paid me to talk to the central bank about bailing the bank out. I told him I would do it if he wanted me to, and I wanted to be pre-paid, but that I thought that our chances for success were the tiniest.  
Back then, several dozens of banks went bankrupt. Among the larger ones, there were only a few which I was not linked with whether as a shareholder, creditor or as requested by the government.  
-Having been closely connected with banking: what do you think of the European Central Bank money printing and other activity these part years?
We are participating in a very interesting macroeconomic experiment – nobody knows what will be happening. I think that in 2008 there were not many other options to stabilise the banking system. But, thereby the genie was let out of the bottle – a whole lot of money and liquidity. A few months back, the book came out by the former UK central banker Mervyn King, «The End of Alchemy», which is critical regarding how the banks were managed in 2008. In the book, he profoundly states that by increased money and liquidity, we pull tomorrow's consumption into today.
If you loan a lot of money because you want a house, a car, and a vacation, then the next ten years you cannot buy anything as you are paying the debts of today. The same will happen with the economy, especially in Europe. And, finally, you have this peculiar structural problem. The euro is very convenient but it requires responsibility from all participants. This means that certain Southern-European countries ought not to borrow so much and should collect taxes from the people who are able to pay them. People in Germany are saving money and use it to finance the consumption by Greeks. This is a vicious circle. The European Union needs a much more balanced economy than it currently has.  
Ralf-Dieter Montag-Girmes
Studied at Cologne languages institute and had his Master's from Oxford University. Having graduated, worked for five years in the military.  
Before going to Russia to serve as vice director of privatisation centre, worked at Boston Consulting Group.
In 1997, he became Fleming Banking Group investment banking head in Moscow.
In 1998, founded the company ARQ. In 2001–2006, sat on board various «difficult» banks. Currently, mainly involved in airplanes leasing.
In November 2015, he was published to be ready to invest €52m into the Latvian national airline airBaltic.