Polish shipyard goes too slow with our ferries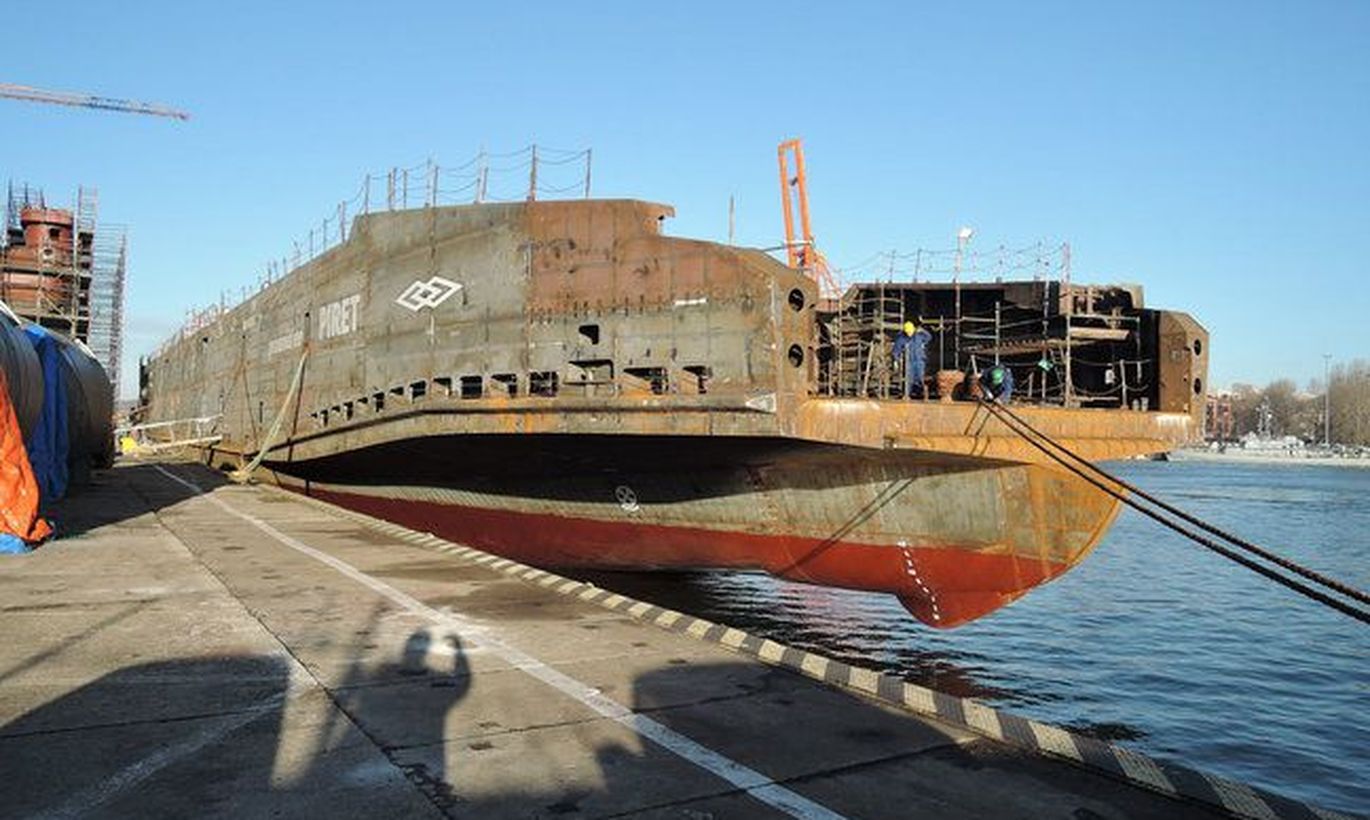 The ferryboats to sail mainland Estonia and Saaremaa, Hiiumaa route currently built at Remontowa Shipbulding in Poland might be late. Port of Tallinn management have contingency plans in place and are headed to inspect the situation on location this coming Wednesday. 
«While reports presented by the Polish shipyard show some lagging behind at certain stages, thus far they assure us deadline has not been postponed,» said Port of Tallinn subsidiary TS Laevad CEO Kaido Padar. «To manage the risks, we are into emergency plans to ensure the ferry traffic even is some of the vessels will not be completed in time or some other glitches occur.»
For ferries to sail to islands and back after October 1st, port management has five options prepared with view of chartering other firms' ferries for a month to half year.
At that, Port of Tallinn has not proposed for the current operator Saaremaa Laevakompanii to continue for a while if need be. TS Laevad has also rejected proposal by Saaremaa Laevakompanii that they apply the current ticket sales and onshore service as it is.    
Meanwhile, the talks of trouble ahead make life uneasy for staff at Vjatšeslav Leedo's shipping company. Namely, for its four ships TS Laevad will need eight crews plus the service staff on shore who will need to be ready for the job on October 1st. Until that, however, Saaremaa Laevakompanii needs to keep the connection going problem-free till the new operator takes over.
This January, TS Laevad and Saaremaa Laevakompanii signed a so-called peace treaty. The islanders promised to mainlanders in Tallinn, busy preparing their services, to not act to hinder them. TS Laevad, in turn, vowed to not actively recruit Saaremaa Laevakompanii staff.
Nevertheless, a month ago leaflets by TS Laevad appeared in the Laevakompanii ticket offices calling the staff to hop over. Thereby, tensions flared anew.
«The situation where we will need to choose sides may disturb the whole operation of ferryboat traffic because the current operator must do a nice work till the end while the new operator is trying to recruit our staff because they need them before their contract expires,» Postimees was told by a Saaremaa Laevakompanii worker asking for anonymity.
Allegedly, the recruitment woes have reached the very captains picked to captain the ferries. Of the eight captains hired by TS Laevad, four are working for Saaremaa Laevakompanii and the rest have worked for them earlier. We are told the captains and chief mechanics have been made a wage offer about 50 percent higher. While at Laevakompanii, the specialists make nearly €14 an hour, with TS Laevad the offer is at €20–€21 an hour said the source.
«Despite the generous offer, the captains picked out by TS Laevad intend to withdraw their candidacy having been angered by chief mechanics offer wages bigger than captains,» he continued. «This is an unprofessional move by TS Laevad as captain is god on board.»
Heads at Saaremaa Laevakompanii were worried about the new operator about to lure their current staff. «Good mariners will always land a job, and sooner or later the new operators will have to seek out the experienced guys anyway,» said Saaremaa Laevakompanii CEO Tõnis Rihvk.
He explained that sailing the islands to mainland route is complex above average as featuring many manoeuvres and berthing operations. «Like at the Kuivastu-Virtsu line they berth 32 times a day,» he said. «For a captain with little experience, this may spell knocks costing tens of thousands of euros – not all men can work under such conditions and it will be seen in practice.»
As for the ferries built for TS Laevad in Turkey, both vessels are slightly ahead of schedule and with economic conditions continually the usual, deviations are not to be feared.
Representatives of Polish shipyard declined to comment.
Tarvi-Carlos Tuulik, captain at Tallink
While ship building is planned long ahead, being late and later technical issues cannot be excluded. Let's be honest, we have had stuff like that happen – like subcontractor supplies being late, and work arrangements.
And none is exempt from force majeure – like at an Italian shipyard strong winds bended a crane while Superstar was built so the work was halted unto replacement cranes were found, able to lift the required 500 tonnes of weight.
The testing under government representatives and international classification supervisors is strict, but statistically technical glitches do appear while in regular service due to human errors or low defects in materials used.