Drunk driver to equal murderer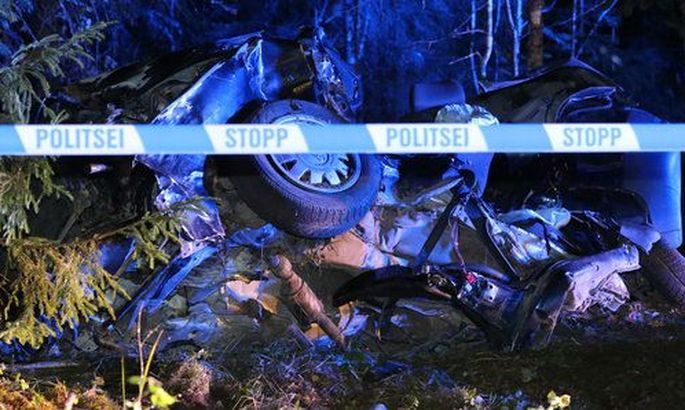 This summer looks gloomy to the hardened drunk drivers of Estonia. Come July, serial offenders will automatically undergo shock jail time. A death caused while behind the wheel heavily drunk will count as murder regarding years in prison. 
Just some of the clauses in a package meant to make traffic accidents in Estonia, too steadfast, drop again – in the hopes of justice minister Urmas Reinsalu (IRL) who today sends the amendment for agreements.
«Thus far, the penalties for criminally drunken drivers have essentially been conditional punishment or a fine. These have not yielded the hoped results – regarding recidivism, the behaviour of these individuals is altogether autistic!» explained Mr Reinsalu.
The minister said the toughening of the law is aimed at two main target groups: serial drunk drivers and the youth who commit their first traffic misdemeanour and need to be shown the path which is right.
While current law allows for imprisonment up to five years for drivers drunken to 1.5 pro mille causing serious injury or death, the proposal by Mr Reinsalu the limit would be set at 12 years. At the moment, such severity can only be shown with two or more people dead.  
«The amendment would mean that causing death while criminally drunk would equal murder, regarding the punishment,» specified Mr Reinsalu. None of our neighbouring states apply the principle. «But in the UK, for instance, the limit is 14 years.»
With serial drunken drivers, courts will no longer be able to allow softening the penalty. It will be mandatory to serve part of the conditional penalty as shock imprisonment – a couple of days to some weeks. As acknowledged by those compiling the bill, this would probably spell a marked rise in arrests in Estonia. Mr Reinsalu says shock imprisonment will be the last straw to call such people to order.
«As is stands, we have nearly 3,000 people behind the wheel criminally drunk, and close to a sixth of them will do that again during the next three years,» said the minister. «I'd hope that this will bring down the percentage by the most dangerous group, the recidivist drunk drivers.»
Meanwhile, the law will also be altered towards those caught drunk driving for the first time. Namely, having driven while 1.5 pro mille drunk, right to drive will be withdrawn for a minimum of three months, as added to the punishment prescribed by court. The same will apply to traffic offender with earlier punishment in force for criminally drunk driving.
If traffic culture stays the same, withdrawing the right to drive will touch estimated 600–700 drivers a year. As admitted by justice ministry, this will undoubtedly increase work load for courts as the sinners will probably be appealing to circuit and Supreme courts in hopes to get the licence back.
True: willing to cooperate, a driver may retain right to drive in court – provided he agrees to install an alcolock at own expense. This isn't peanuts as the current prices begin at €1,150 before installing.
Controversy is greater around justice ministerial plan to fine passengers of drunk drivers who are of age and in the vehicle intentionally. Regarding these, policemen would be entitled to initiate misdemeanour proceedings ending in a small fine up to 10 units. The ministry thinks this would primarily scare off the young people who endanger their lives by getting into drunk-driven vehicles.  
A Road Administration poll says 71 percent of respondents have prevented or tried to prevent drunken people from getting behind the wheel. Even so, over seven percent of inhabitants of Estonia aged 14 or beyond have been in vehicles driven by people intoxicated by alcohol or drugs, this past year.
«The logic is plain enough: in the hands of a drunken driver, a car is a deadly weapon. An individual who accepts that by being passenger will essentially play Russian roulette with the lives of himself, co-passengers and innocent third persons,» said Mr Reinsalu.
According to him, being passenger should be as deplored in the future as someone not notifying of a drunken guy waving a firearm.  
True, there may be a string of problematic situations with fining passengers. As an example of that, compilers of the proposals admit that the police should not fine family members in the vehicle or people who had no opportunity to do anything about the driver. The justice minister says the police would have a substantial right of discretion here.
University of Tartu law professor Jaan Ginter begs to be sceptical.
Firstly, says the professor, it is difficult to predict if the toughness of the punishment will deter a hardened drunk driver at all. Secondly, he is critical regarding the equalisation with murder.
«Essentially this still isn't indirect intent as a drunken driver is not thinking about murder not considers it possible. Meaning the punishments get out of proportion,» assessed the professor.
According to Mr Ginter, fining passengers could get exceedingly: «If that be a hitchhiker, she might not have able to judge whether the driver was drunken.»
Already, the amendment package by Mr Reinsalu has been approved by governmental traffic committee composed of ministers and law enforcement figures, as well as a traffic expert.  
«The public opinion is very strongly in favour of tough punishments. /.../ I would not predict resistance in Riigikogu,» said Mr Ginter.
Recent cases of drunken accidents
14th March 2016 – drunken man (63) hits bus stop in Tallinn, injuring seven including a child.
4th August 2015 – Audi A6 flung out of curve hitting a tree, killing two men (23) and two girls (15) on back seat.
16th May 2015 – a vehicle flunk to traffic island in Tallinn. 14 injured, including 3 kids.
3rd May 2014 – man (38) injures nine in his Honda as drives into ditch.
9th November 2013 – four young men perish in head-on collision in car with truck. A girl (159 hospitalised in critical condition.