Jaak Jõerüüt: listen to your heart!
Postimees picks leading opinion leader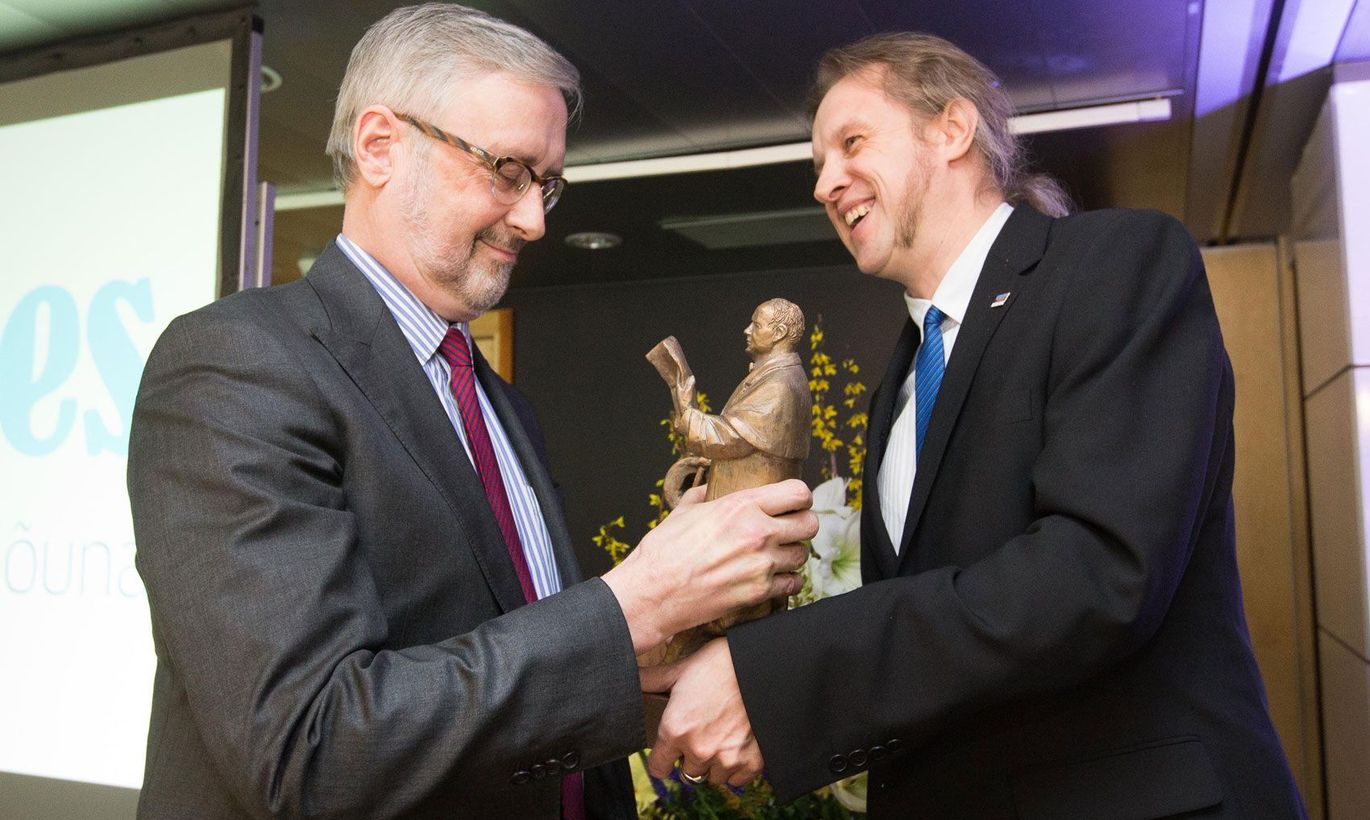 Titled Postimees Opinion Leader of the Year, writer and columnist Jaak Jõerüüt finds it vital for people to notice and appreciate Estonian analytical written word. 
-What are your feelings receiving the [Johann Voldemar] Jannsen statue?
«Surprise» is the first word. For one who writes, it is extremely important to learn that he is actually read.
-In a recent article, you write that problems in Estonia need to be honestly and openly discussed. What exactly would that mean?
As two speakers [at the award gala] did talk about, opening up about our fears, worries and troubles. One more by hinting, the other more scientifically.   Evelin Võigemast was very clear about certain issued. And that's good.
-What meaneth the word «opinion leader» to you?
Without any false embarrassment: it is one among many, a term which has been released, and it isn't up to me perhaps to criticize it. Like I just said when receiving the Jannsen statue: in the world of mind it isn't possible to precisely measure which essay is better than the other, it's more of the matter of feelings who happens to be picked. But it's positive that it is noticed that people are thinking and are writing.
At a recent meeting I had this highly important and not a positive experience that lots of young people do not remember: just recently, we had to fight back the space for the Estonian language on our territory. It was at the end of the 1980ies and was very tough. Writing in native tongue is something which could never be measured in gold, it will remain a value all by itself.
-Do you at times run into obstacles while writing, that you find yourself repeating same ideas or you anticipate the reaction?
I have repeated certain issues on purpose. Very many things never make it on paper, they remain in the portal and this is natural but it also means that in portals new things keep heaping up constantly. And at times it is beneficial to recall something you or some other analyst has noticed. Some things are vital to repeat.
-To which degree is the web media moved by sensationalism? Too much playing on confrontation?
Yes, sad but true. Media is a part of business, this dimension hits home. But if the host of the party be praised (the newspaper Postimees – edit), as I have earlier done in my column, then the removal of anonymous comments significantly raises the level of the discussion, whatever the critics may claim.
-How could a reader find his way amid the multiple opinions?
Technically it's easy. Seeing the opinions do not go anywhere. Always, one finds them over the Internet. Just keep scrolling!
But basically there's this universal advice. People might listen to the voice of their heart. Then they will realise what is important for them.
Ambassador and writer
Born in Tallinn on December 9th 1947
A graduate of Tallinn Polytechnic Institute
Formerly a journalist in various newspapers, and editor
Served as Estonian ambassador in Finland, Italy, Malta Cyprus, UN, Latvia and Sweden; defence minister in 2004–2005
Authored novels («Raisakullid/Vultures» I–IV etc), short stories, poetry, essays