Tartu brutes share tough childhood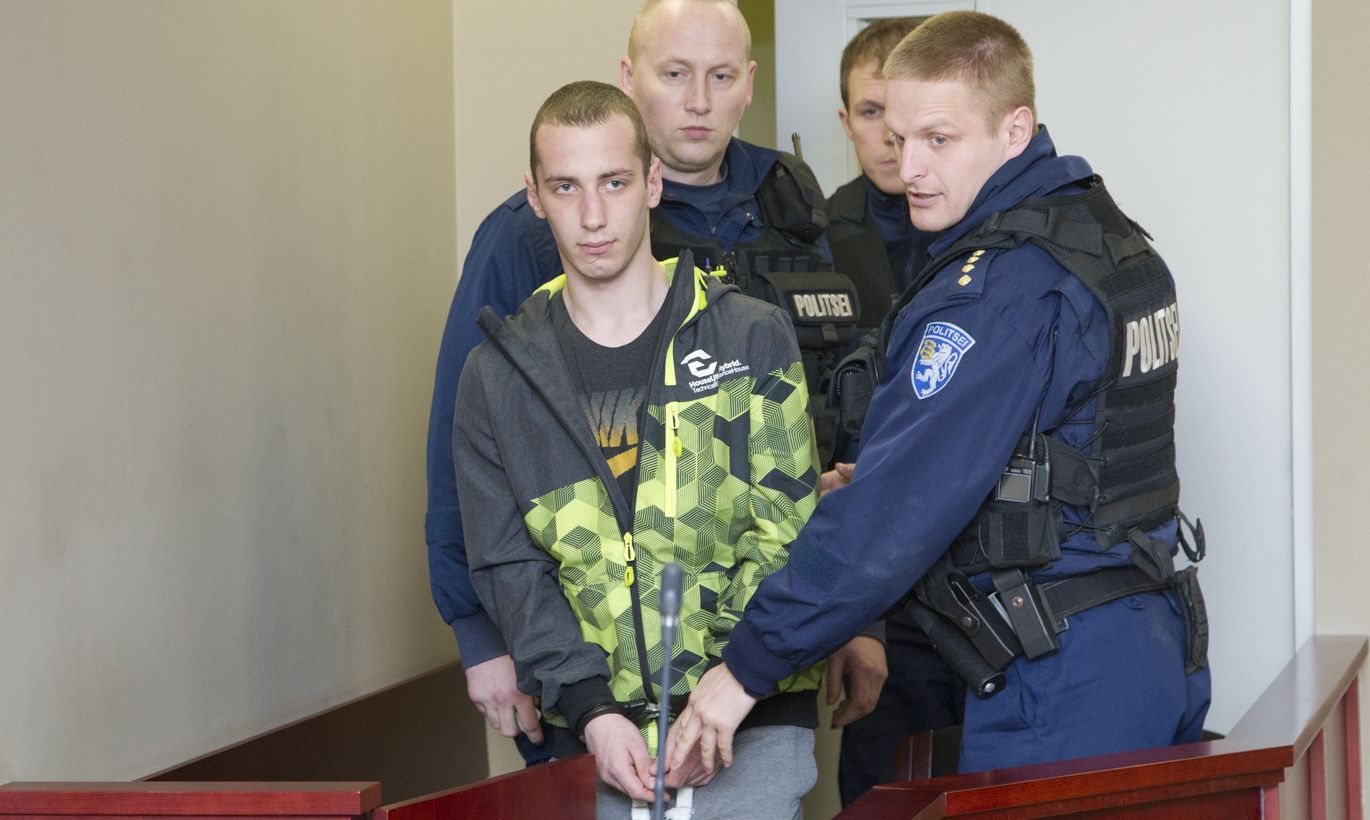 Serial criminals suspected in beating up a father as son of 3 watched on Friday night downtown Tartu were once as small but in a different setting. 
Now aged 23, Andrias Liivat grew up in the largest family at Jõgeva County. Back in 2004, the local paper Vooremaa did a story on the home with 11 kids and others added afterwards. The village life looked rosy.  Eldest daughter graduated cum laude from Pala School and went on to gymnasium. The mother said they were coping with everything. They had cows, chickens, rabbits, pigs. Growing potatoes and vegetables. A hardworking family, assured the neighbours.  
Then 11, Andrias was featured in the story as a kid interested in machines and the like. Always present when something was being fixed. A few years later, the nice facade totally crumbled. In 2006, the man of the house was convicted for raping a stepdaughter and was just released the last year but one. Earlier, the stepfather of Andrias had been criminally punished thrice, but that was in 1985 and 1991.
Talking to a person who knows the family well, Postimees was told that the life of Andrias may have been spoiled by the childhood. «The boy was born in our room – they were our neighbours and our apartments faced one another –, one night the mother of Andrias knocked on the door and said she was going to give birth,» said the woman. In a funny way, they continued to be neighbours even after that, as the woman moved from the flat to the village of Tagumaa – the house across from them was bought by the family of Andrias.
According to the former neighbour, the family then had no drunkards, baddies or thieves. Rather, they were working hard.  
«In the summers, the entire family went picking mushrooms and made some extra money,» she says. «At some point, problems emerged between the husband and the wife – the three first daughters were not by that man.»
Soon, a stepdaughter accused the man in rape though the neighbour still doubts that. Whatever the case, the jail time sentences was lengthy. By now, they say this very stepdaughter has been repeatedly at odds with the law herself.
As father went to prison, life went checkered for the Liivat family and the parish thought it better to place the minor kids someplace else, including children's homes – Andrias ended up at one in Pärnu. «The mother had her share of relationships,» says the former neighbour. Some children went under the care of grandmother from father's side, and the former neighbour says they have grown up to be good people. Indeed, most of the Liivat kids are coping well.
In 2008, a Tartu county judge gave permission to place the boy then 15 in Tapa specialised school. «Andrias Liivat went to study at Pärnu Kuninga St basic school /.../ for 6th grade simplified curriculum /.../ At school, Andrias was of unstable and unpredictable behaviour, emotionally and physically violent towards younger students. Psychiatrist has diagnosed Andrias with behavioural disorder not to be treated but altered thru upbringing,» wrote the judge. «Starting 4th semester of academic year 2007/2008 Andrias has not shown up at school, neither is he at the children's home. Allegedly, he is in the company of asocial people. Western police prefecture has punished Andrias for use of alcohol and stealing.»
Before being sent to children's home, the neighbour, her children and Andrias had become close. «The last time Andrias was here at Christmas, with his [unmarried] partner,» says the woman. «Brought us a candle and a card – he does lead a bad life but knows how to appreciate those who stood for him.»
The former neighbour thinks Andrias was not raised as he could have been. The first three kids, the mother had with one man, and the others after Andrias with the husband. «Andrias was born from a relationship with a third someone,» explains the former neighbour. «He never knew love. He's rather wild, the boy is. His childhood was hard – nothing easy there. Also, he might burn his own hand, cut is, do whatever. Often I saw him crying, though he tried to hide that – he must have been in pain, a human like all of us. As compared to the other children, Andrias was left for himself somewhat – at times, I felt he was neither needed by the mother nor the stepfather.»
When Andrias got beaten, the neighbour said he was beaten as an animal. «Guess he did resist the parents at times – when he was beaten, the more he laughed. Perhaps something went out of place at some point.»
As Andrias was sent to children's home, the former neighbour achieved an agreement that the boy could come to be at her place every weekend. «He was at this Pärnu children's home and it was prescribed that he could come to home village once a month, but we arranged that he could come every weekend. We paid for the coming.»
That went on for a year or so, but despite the money given Andrias begun to steal from behind the benefactors. «We discovered he was sniffing glue behind the woodshed,» said the woman. «he does have a tender side and kindness in him, and then the beast in him which I totally do not understand. The mistreatment I guess.»
The woman said the last time they talked to Andrias, they were saying he could pot for another kind of life. «He said he was doing all towards that end. He came with some kind of a car and we asked him if he had the licence to drive. I understood that he had not,» adds the former neighbour. «From that path, no turning back probably.»
The other beater Margus Laas, however, started down the criminal road at age of 14. Yesterday at court, Mr Laas said he never had a family. Earlier, the court has briefly described characterisation of the young man by prison.
«The crimes are facilitated by the inmate's negative attitudes towards society and representatives of power, lack of support by family, and inability to cope financially,» said the prison. «After being released, the inmate has no dwelling place. He also lacks a job and working experience. Those closest to him will not support him as he is released, his circle of acquaintances includes individuals with criminal background. The individual has committed crimes while drunk by alcohol. /.../ The individual is diagnosed with cannabis addiction; when at liberty, he regularly took amphetamine and has been on overdose. Crimes against property have been committed to satisfy the addiction. He has declined treatment.»
In court, the lawyer defending Mr Laas underlined his difficult childhood. Relationships have been severed with mother, brother and grandmother. Also, as evidenced in court materials, Margus Laas has problems adapting and keeping emotions under control. While in prison, he intentionally inflicted injuries on his body. What's more: «Risk of new crimes is related to low skills of problem solving and low self-esteem.»
Specialists say with Mr Laas the likelihood of repeated crimes was 82 percent.
The man Jaanus who got attacked says he rather feels sorry for the crooks.
«Had we been raised in such conditions, who knows what we would be like,» he said. «We've been granted to grow in good families and get a good education. Our life is different and much better – I am sorry these men have not been offered the same opportunities.»
Saddened, Jaanus thinks it is likely that the young criminals will never be any good anymore – rather the opposite. «We are just wasting our resources.» He said the state should think of a long term plan to keep such people from emerging – at any rate, it ought to begin from supporting childrearing at kindergarten, and free hobby education.  
Friday night, Jaanus intended to go buy batteries with his son soon to turn 4, and then to the city centre playground. That's all he remembers of the evening. By the beating, the few hours before it happened have been wiped off. «Even from the hospital, I only remember one moment,» he said.
Due to concussion and face injuries, Jaanus was hospitalised for three hours. «I'm being restored right now – I do tire easily and at times am challenged with balance,» he added.
No doubt the son will remember what happened, but perhaps there will be no lasting trauma.
«The psychologist said he is a boy who will make it,» said the father. «We'll visit the spot at some time and talk it over what happened – then, there will be no kickback with the spot and he will rewrite his memory. He's a good boy.»
Does Jaanus regret he upbraided the baddies who kicked down the trash can – seeing it ended badly?
«When someone does something wrong, we must say so,» he is convinced, nearly a week later. True, with hindsight wisdom, he would consider his son. «I'd see that he would not be right there close by.»