Top footballer dives into «life as usual»
Ingemar Teever bids adieu to professional sports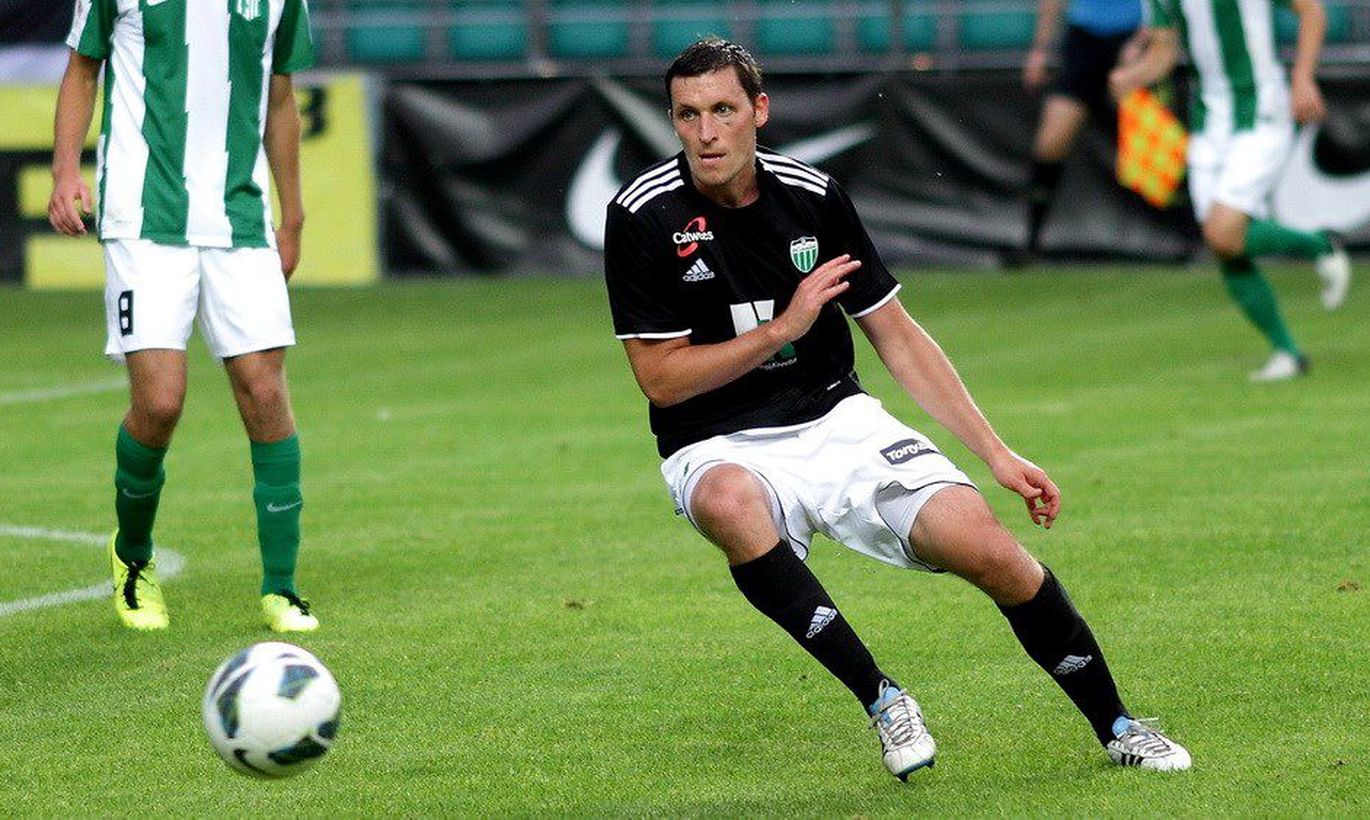 Twice  champion of Estonia, twice the top scorer of the season, picked best player of the entire championship last year, Ingemar Teever has hereby decided to go make a living outside of football. 
On top of that, he will take the time to play indoor football, and in summers on the beach. «Well I might as well confess it publicly now, that I have always played these at the side. They never knew at Levadia,» admits Mr Teever.
Yesterday, Postimees sat down with the man of 33, just recently a striker for FC Levadia, to glance back at the career in Estonia, abroad and as part of national team.  
Teever: «I had played in Estonia for a long while and a period came to its end at FC Levadia. They have high turnover of players there and I also had this door open to work at a friend's company (VarmaParntner). True, I did have  a best season, but was having difficulty to pull myself together for each game. I felt I got less back than I was putting into it. That led to me leaving.
I'm a bit disturbed that no offer eventually came from anywhere. I did my best season, but in Levadia the conditions would have gone down. I was thinking to myself, what else should I do to get better conditions. Perhaps, I scared everybody off with my talk of maybe quitting and they never dared to go offer anything.»
Teever: «I absolutely do not like to lose. With Levadia, the last season had a difficult start when we lost a lot of games. In Estonia, an even score is as good as defeat. When it goes bad, I am quiet and withdrawn – used to be uptight the entire weekend. On Monday, we were in for a yelling at the club, but I was not too bothered by that. On Wednesday, I got fresh in my mind again and was preparing for the new game. Therefore, I have never understood the players who leave the locker room all smiles having played bad.
Truth be told, would have been fun to have been the champions with Levadia last year as well i.e. taken three titles running; then it would have been nice to bang the door and say try and repeat this. But actually it's great to quit from where we were too.»
Teever: «I have always done other sports as well, playing hall and beach football, and tennis and basketball once a week. I know a professional sportsman is not supposed to do that, but then one can hurt a leg while jogging in the woods. I'm like if it happens it happens anyway. While playing in TVMK, the coach Sergei Ratnikov always said do some extra sports but don't get injured. Back then, I took Estonian championship bronze in indoor hockey, had a cool great time. At Kalju and Levadia, I never told anybody that I went to play. But all was well, why bellyache.»
The national team trembling
Teever: «Sure I dreamed about playing for Estonia when I was young. The first invitation was a huge surprise. Then TVMK club fellow Liivo Leetma called me and said a funny thing has happened a young star got in the team. Well I showed up as early as I could but Mart Poom and Andrei Stepanov were already there. So I shook their hands while my heart was beating like crazy. But it went well actually – I debuted against Canada and from a corner I even passed the ball to Andres Oper who then scored. The play-offs after that were very good for me.»
Teever: «From the good beginning in national team, I could have flown higher immediately when it comes to clubs. Had I tried a little harder, I might perhaps have had opportunities to even go to Russia and earn bigger money. But I was geared towards the West and went to Sweden. There, all begun well and before the season I scored 10 times in 12 games and the local papers were already writing all kinds of stories.
But the season was not too good of course – the club dropped to first league, and the next season into the second. The other period was in Germany, where I played in the fourth strongest league. Sounds scary but actually the level was very good and at times they had players there at a level that my jaw dropped open. All told, the foreign career was not satisfactory but at least I tried it out. Swedish championship league is string stuff. In football, it's all about minor details – as Tarmo Kink went to Hungary, to  Györi ETO, I was invited as well but I damaged my knee playing indoor football. In the end, Jarmo Ahjupera got there instead of me.»
Teever: «I had this eight years of pause with the national team. Tarmo Rüütli never invited me, ever. During his time, I was also once the best scorer of Estonian league (in 2008, for Nõmme Kalju). They did invite men from Estonian clubs but it was a joke really, not even invited for friendlies.
Magnus Pehrsson is a tough guy – gave me a chance after eight years. The only regret is I never scored during this past period playing for Estonia. 30 games and five goals would have been normal numbers.»
Mr Teever leaves us with a story from his younger days to show how important the obligatory health check for footballers: «This is a very good decision. Back then I could not run longer distances at all – the coach thought I was smoking or drinking. I did neither. Then I half accidentally happened to see a doctor and the blood test showed I had haemoglobin at 70, while the normal in 140 and higher for sportsmen. I was hospitalised and was getting injections. My it was great to run, after I got out. I run like a lunatic.»
Born February 24th 1983
A forward
Club career: Nõmme Kalju, M.C. Tallinn, TVMK, Öster (Sweden), Nõmme Kalju, Pfullendorf (Germany), FC Levadia.
Estonian champion: 2005 (TVMK), 2013, 2014 (Levadia)
Champions league best striker: 2008, 2015
Champions league best player: 2015
Games played for Estonia: 30
Goals for Estonia: 4