NATO squeezed by Kaliningrad bottleneck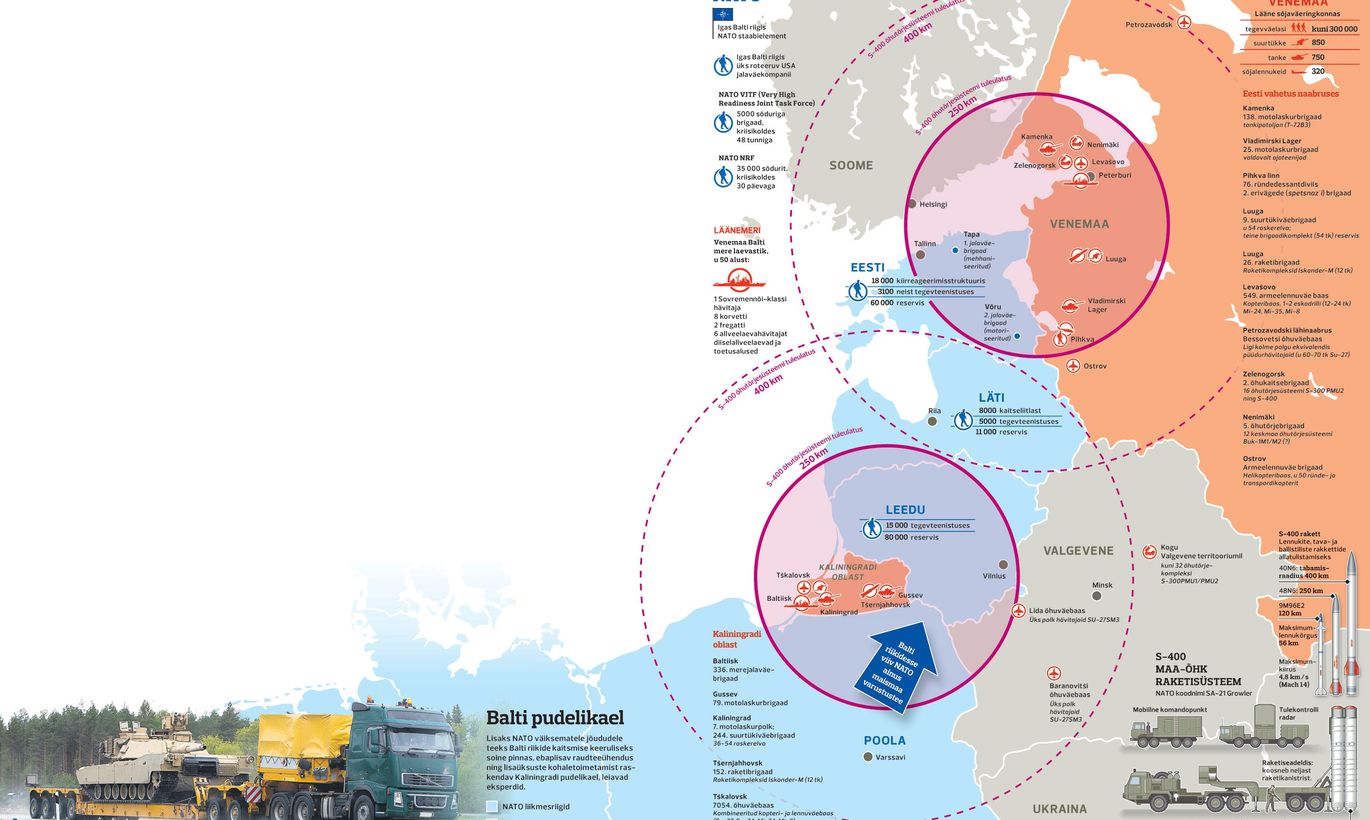 Predicting occupation of Tallinn and Riga in less than 60 hours, a RAND Corporation report does underestimate Estonian defence capacity but points out the cold hard facts of gaping holes in deterrence capability of the Baltics which they believe need to be fixed latest by NATO summit in Warsaw. 
An author of the RAND report, analyst David A. Schlapak yesterday told a public Riigikogu debate via video link that they had but one goal in mind: to learn what NATO ought to alter to prevent a tactical loss of Baltics to Russia.
«We do not think that Russia wants to occupy you. The issue simply is, what would happen if they did,» he explained.
According to description by Mr Schlapak, high US army officers and defence experts from summer 2014 to last spring nearly 20 times played thru the scenario of Russia attacking Estonia, Latvia and Lithuania. In the games, the defenders of Baltics were warned a week ahead, as in latest real life exercises it is in seven to ten days that Russia has managed to set 22 to 27 battalions in battle readiness.
The results are thought provoking. As shown by the games: irrespective of strategy, it never took the officers in charge of Russian forces over 60 hours to reach Tallinn and Riga, and in some games even to invade the capitals. Should that happen, RAND Corporation predicts long, costly and bloody battles in the cities.
As explained by Mr Schlapak: though on paper Russia's 22 manoeuvring battalions do not seem like mega superiority against the 12 in Baltics, the swift loss would come for two reasons.  
«Looking to see what serves as a boost in battle, every formation of Russia is heavily armoured. In our games, however, the Baltics had no a single tank. It is very complicated to fight like this,» described the analyst.
«The other factor is pure firepower. Russia is a leading nation globally with guns and missiles. How did the Russians manage the lightly mechanised infantry in Ukraine? The guns and missiles were highly effective.»
What's more: RAND found out that the NATO help forced from Poland and Germany would not make it here in time as they would have to pass through the narrow 110–150 kilometres wide Kaliningrad corridor between Russia and Belarus. The straightness of it plays into Russian hands who would have an easy time firing at the passage from both sides.
Mr Schlapak said a rapid occupation of Baltics would have NATO faced with three very bad options. The first is a bloody counter-attack to take back the occupied territories. As this would mean the destruction of long distance targets, including inland Russia, the result would be a broad war. The second option would be to threaten the aggressor with an unlikely nuclear hit; the third would be admitting defeat and a new cold war.
If the Baltics are left without help, in high likelihood the alliance will collapse.
But there is a solution. As calculated by RAND, Russian leadership would lose any appetite to occupy the Baltics it at least seven brigades were here threatening to withstand. Not all of these should be prepositioned; however, they should be in readiness to be here in a week. To maintain such deterrence would cost $2.7bn a year.
Having earlier played thru several scenarios of defending Estonia, Estonian National Defence College (KVÜÕA) head Colonel Martin Herem said the outcome of the outcome of the game depends on the choice of figures.
«According to the board and the figures chosen by RAND, I think that would be the outcome indeed. Bu in reality our figures are a bit different,» assessed Col Herem. «I claim we have data good enough to foresee the signs earlier than in a week.»
Though the directions of attack played thru by the US officers are indeed among the potential variants, the RAND report substantially underestimates Estonia's own defence capacity. They have failed to consider land defence capacity of Defence League, and the result of the mobilisation exercise Hedgehog last year.
«Adding it all up, in 48 hours we might easily put together out 1.5 divisions plus the Defence League units, and the picture would be different altogether,» said Col Herem.
As a significant shortcoming, said Col Herem, the think tank failed to consider the naval units on Baltic Sea, as well as that to control Baltic airspace it would not be enough for Russia to bomb local airfields, but they would also have to attack infrastructure outside the Baltics. While in the think tank analysis, the Kaliningrad enclave is Russia's trump card, it is also Russia's weakness as a separated area is easy to neutralise.
In his assessment, Riigikogu member and retired general Johannes Kert was much more outspoken: «If Defence League is having its summer festival and Defence Forces have been send home, indeed it might happen that in 60 hours we have the neighbour paying a visit.»
Ret Gen Kert says the report is relevant in pointing out that Estonia would need lots of prepositioned equipment. «We would need that like the US once equipped Denmark and Norway, so they would now repeat that in the Baltics.»
Truth be told, the RAND report is but the latest in a string of analyses admitting that for a superior opponent it would not be too difficult to lock the Baltics up. As an example of that, early last fall an US Army expert group did a three day travel through Germany, Poland and Latvia to see how hard it would be to rapidly bring allied equipment into the region.
It turned out that, in addition to the Kaliningrad corridor, transport of tanks weighing 60–70 tonnes would be complicated by the swampy terrain as well as lack of wagons strong enough on the railway. On top of that: as part of the strategic railway belongs to Russian enterprises, the trains in Baltics move along Russian track width.   
Another factor hindering helping us is the law. For instance: USA had to inform Germany a week in advance when it wanted to move military equipment through what once was Eastern Germany. Now, the allies – including Estonia – have altered the law substantially to speed up the transport of equipment.
Meanwhile, the eastern neighbour is rearming. On October 14th 2008, then Russian defence minister Anatoli Serdyukov disclosed a broad based reform plan of Russian armed forces. The main idea was giving up the mass army based on blanket mobilisation of reservists, replacing it with complete and battle-ready professional soldiers. The aim was to boost numbers of contractual soldiers and sergeants to 425,000 by 2017, at to 499,000 by 2020.
As assessed by international think tanks like Chatham House and IISS, even now Russia has up to  65,000 to 300,000 in Baltic Sea region. Adding to that the forceful update of armament, one must ask why.
«After Ukraine, Russia's next strategic target was Syria. Now, we need to ask what comes after Syria,» said Riigikogu national defence committee chairman Marko Mihkelson (IRL).
Riigikogu member and security expert Eerik-Niiles Kross (Reform) noted that the Putin administration may desire to turn the Baltics into a means to pressurise NATO to destabilise it or affect its decisions. «While the Russians entered Ukraine, they also began to flex muscles behind our borders. It would be very bad for us if Russia finds a need to use our relative weakness to keep NATO from taking certain decisions,» warned Mr Kross.
That leaves NATO with just one option: to increase military deterrence in Baltics and not hope in policy of neutrality.
«At the moment, we are running a race against time: can we take the deterrence to a level high enough before it is too late. According to the calculations of RAND, the sufficient deterrence is unexpectedly cheap – costing $2.7bn a year. Up to now, it was assumed to cost terribly much,» said Mr Kross.
Security adviser to President, Merle Maigre, said NATO defence ministers have realised the gravity of the situation and confirmed the need for boosting deterrence at a meeting in Brussels last week.  
«In principle the defence ministers decided to move onwards with deterrence. It is now up to the Warsaw summit to decide how this will look militarily,» said Ms Maigre.
The US administration has proposed to quadruple its army budget in Europe in 2017. According to what we now know, this would mean one rotating infantry brigade and a brigade's worth of tanks and armoured vehicles for Central and Eastern Europe.