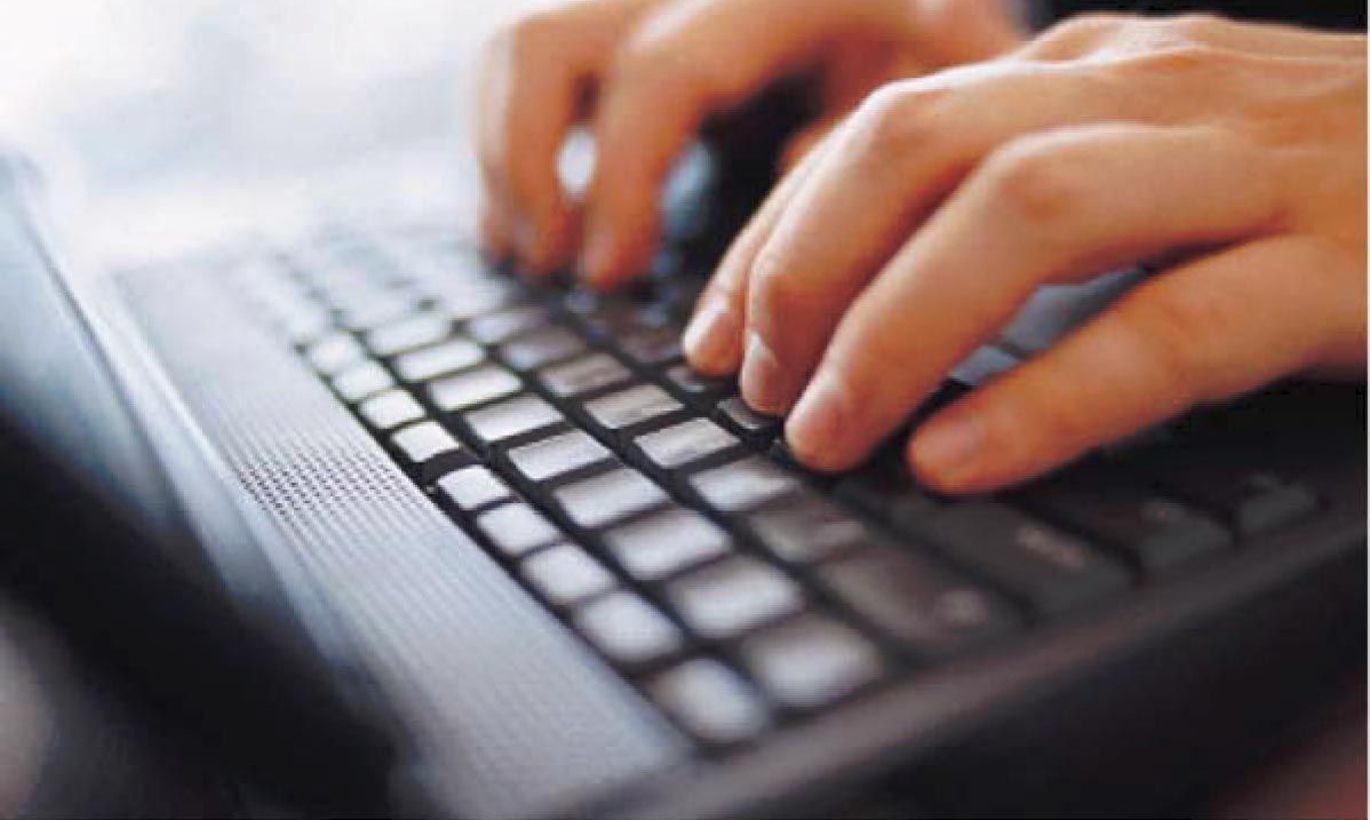 A bunch of people with racist mindsets are having an internet threat campaign ranging from Facebook entries to phone calls and messages. Whoever dares to speak out against xenophobia is a likely target. Underneath, find four stories.
Shall I stay in Estonia? The story of Ute
Ute Wohlrab (46) from Germany moved into Estonia in 1994 and has since been involved in raising and keeping a local Tori breed of horses. With all of her animals, she dwells in Valga County and speaks excellent Estonian. On top of that, as she jokingly puts it – she's a totally ordinary specimen of the white race.
At the moment, she is seriously considering leaving Estonia. Because of the ominous mood in the society, and cyber bullying which this week culminated in a gross photo montage insisting on zoophilia. The picture comes with the names of Ms    Wohlrab and an anti-racist activist from Tartu.
It's all out slander and like montages have been made by the user of politicians and other people. The photo seems to be placed in social media by an individual under name of Reigo Vali. In reality, the latter name is spelled Väli and we have to do with an individual earlier convicted in violence against a woman and who has taken a lot of time to harass people in the Internet.  
Ms Wohlrab she is a target because she is using Facebook to express the stand that we need a society more tolerant and that perhaps refugees might be received in Estonia. Obviously, she was found in the group «You have been noticed, racist».
«I stand out anyway as I say what I think and I am not afraid to say it, I have been brought up in a democratic country – is something disturbs me, it needs to be dealt with,» says the woman.
In Facebook groups, Ms Wohlrab speaks out a lot and is not embarrassed by the often ironic comments. «In the end, it is very frightening what is currently happening in the racist part of Estonian society. And how many of these are my personal acquaintances, of whom I would never have thought that.»
Her abuse begun at end of November last year. «I was surprised it had not happened before,» says the woman.
Since spring last year, it was pretty plain how people lined to helping refugees, fighting for human rights or simply writing anti-racist comments were getting hate mail. «I was joking that I was not tolerant enough perhaps,» she says. There being plenty of examples from lives of others.
«I do not exactly recall when it all begun – at some point I discovered I had these lots of hate mail in Facebook,» says Ms Wohlrab. These were from strangers and thus more hidden in her mailbox.
What kind of letters were they? Often, it was a message stating that as Ms Wohlrab is not against the refugees coming to Estonia, the sender wishes she'd get raped by them. The woman having horses, the letters include plenty of accusations in zoophilia. Also, the German woman gets letters asking who she came into Estonia after all, and occasionally she is being accused in the policy pursued by the German chancellor Angela Merkel.
Reigo has also called Ms Wohlrab repeatedly from a concealed number. When Ms Wohlrab who takes care of the horses daily and does physical work was seeking a new masseuse over Facebook, the man begun to make lewd suggestions.
Ms Wohlrab has addressed the police but the overall reply is: if there are no deeds, there is no punishment. By now, the woman has secured the services of a lawyer who has promised that those who just harass will not escape.
«This main person and others who take this phobic approach to the refugee topic need psychological help. They may get fined for what they do, but this will not solve the problem,» she says. «I have met a lot of the attitude that being a foreigner I have no right to speak out though I have lived here for 21 years and am actually rescuing the Estonian cultural heritage.»
Ms Wohlrab admits that after refugees begun to be distributed last spring, her daily life has become much more complicated. «As the climate here begun to deteriorate, I decided do what you will but I will not go along with this hate game,» she says. Worse than the outright harassment, she considers the unpleasant atmosphere.
Sure, Ms Wohlrab is very disturbed by the harassment. Above all, she is sad that once somebody gets going, several dozen hop on board. She will take her final decision – to stay in Estonia or not – in April as her husband, a diplomat, comes here. They will have a very long talk.
The day before yesterday, Ms Wohlrab obtained the contact information of a person who knows Reigo and yesterday, after talking to Postimees, she contacted that individual. The individual was not aware of what Reigo was doing but promised to talk to him. As a result of that, Reigo personally called Ms Wohlrab afterwards and promised to not bother her any more. The woman asked him to also leave other people alone. Reigo promised, however, to from now on only deal with real politicians. By the evening, Reigo Vali's Facebook account was gone. 
«How much real effect this had, I do not know. For a while perhaps he will shut up, but will probably find new victims soon. Alas, this is not just the problem with a single individual. There are many who went along with him. The problem is very big and it needs reaction, not silence,» says Ms Wohlrab. 
In the attitude towards foreigners seen over the past half year, however, Ms Wohlrab clearly sees that there are very many problems in the Estonian state and that behind the hatred in people there often lay fear and insecurity. Greater than the fear that what will happen when more different people will come, is the feeling that the state does not care enough about people.
The stories described here are but some single examples of people who have encountered such cyber harassment, neither are the harassers one, two or three. They are many more. Some are more consistent, others act only rarely. 
With Reigo, Postimees failed to get a contact.
Punished for knitting a cap. The story of Silja
Silja Erg (27), a biologist dwelling in Tartu, reacted to the arson at Vao centre by posting a Facebook call to knit caps and socks for the refugees in Estonia – so that in the midst of all the unfriendliness, there would be some warm welcome.
She begun by posting the call in a group of inhabitants of Elva, the towns where she was born. «Do not succumb to the fear mongering by EKRE, take people as people and help,» she wrote.
Soon, her post reached the closed commune «EKRE Friends Club», which has over 3,300 members, the lion's share of whom are not related to the abuse that followed. Even so, a bunch of people from the group came to talk to Ms Erg. «Compared to Reigo, they all talked normal,» she recalls.
Regarding the knitting of the caps, Reigo as then member of the commune showered Ms Erg with many an obscenity. The main topic was the favourite of like abusers: you want the refugees to come and rape you. The cyber abusers are not threatening with rape for the most part, just promising that this will be for the refugees to execute.
«I was communicating with him, wanting to see what else he would say,» says Ms Erg, who has collected a large amount of the conversations.
«When I saw there would be the march with torches in Tartu against mass immigration, I thought this was lunacy: there are too many against refugees without a reason as it is, and now an event like this?» she said. Ms Erg also got engaged with organising anti-racism events and joined lots of related groups in Facebook. This in turn aggravated Reigo and other writers. The texts turned increasingly obscene. Like: «Silja will you show a teat?», «Shall we go to the toilet together?» and the like. As Ms Erg was no longer replying, he tried under false names, and at times shared about the woman in various Facebook groups.
As Ms Erg was no longer communicating with Reigo, threats followed. The content of these remained vague.
«I never lost any sleep, it did not feel serious,» said Ms Erg. She blocked the account of Reigo and sent the information to police. It was two months since the initial letters were posted. The police also didn't consider the man a real threat.
For a while there was silence. Now lately, however, Ms Erg commented an EKRE torch march related post, whereat Reigo again activated. As an example of that, to a picture of Ms Erg found in Internet, Reigo added a fake quote: «If needed, ready to share my body and soul to comfort the Muslim men who have suffered so much. It is the duty of every woman in Estonia to provide intimate comfort to refugees who arrive! You be tolerant as well. Nazism has no place in Estonia!»
What was the worst was that some believed that. Ms Erg has seen posts where men and women express hopes she would be raped to death. Also, lots of writers were added. Reigo commented that he was satisfied that so many believed and shared the text which he calls an «Art project».
Even the «EKRE Friends Club», from where Reigo was ousted a while ago, featured some who believed as the man's posts are making it there via others. To refute the lies, Mr Erg wrote a public letter to the group explaining what actually happened.
For the woman, what worries her most is this: what will be the effect of Reigo and other such people on those who will believe, and how many will follow them, and what will the created atmosphere be like? «In their heads, they believe no one will say anything against them. This is sick. They should not think that the ones bullied will not date to resist,» said Ms Erg.
Personal data before 10,000 people. The story of Maris
The freelancing journalist Maris Hellrand (45) has spoken out on a more tolerant society in opinion pages and TV. Not too often, lately. 
«Well it is related to bullying. Makes one feel very vulnerable. Don't want to thrown myself into their teeth any more,» she admitted.
Ms Hellrand had gotten hate mail before, but after the Estonian TV «Vabariigi kodanikud» (Citizens of the Republic) xenophobia programme in October something unheard of happened. An anonymous SMS was sent to her, with threats. As Ms Hellrand had recourse to police, the latter found out it was from Reigo.
A day later, the man called the police back. «He wanted to provoke the policeman and also used the opportunity to tell the whole story again,» said Ms Hellrand.
To the version he presented, he was asked no further questions. Reigo recorder the phone call and uploaded it on YouTube with Ms Hellrand's contacts attached as acquired from an acquaintance, to then be shared by lots of so-called anti-refugee groups.
It took Ms Hellrand several weeks before the video with her personal data was removed. By them 10,000 people had listened. «That was frightening, in the beginning I was thinking at bight if there would be a stone thrown in the window or not. It was unpleasant and keeps me back and one no longer dares to speak out,» she recalls.
That was not the end of the harassment. On New Year's Eve, Ms Hellrand was among those who got a hate message from Reigo.
«Reigo sees himself as a persecuted dissenter. Even in the recorder call, he was referring to KGB-style restrictions which he thinks are happening,» said the woman. «From mid-October, I haven't publicly spoken out in Estonian media, so by New Year it had been 2.5 months from there.»
Threat letters during live broadcast. The story of Kelly
For Kelly Grossthal (36), an expert at Estonian Human Rights Centre, the several months serial harassment began after, on October 30th last year in Estonian TV programme «Ringvaade» she presented a study in Afrophobia in Estonia.
«The same night I got a total of eight Facebook messages, some of these during the programme,» recalls Ms Grossthal. In most of these, people wanted to explain to her that by raising a topic like that, doors are opened in Estonia for the back people. Soon, the letters went from insulting to disturbing.
«In quite many there was written that they hoped the black would rape me, my colleagues of my family. In several letters there was the idea that «hopefully the refugees who come will not be raping normal Estonian people but those like you. ».»
All who write to Ms Grossthal did so under real names. For the most part, they were Estonia men in their 30ies and 40ies. Some are working in Finland, but one was a ship guard under arrest in India.
Some of the writers are very active in anti-refugee groups. One tried to broaden the circle of the harassers, posting a call in «EKRE Friends Club» at Facebook for others to write to Ms Grossthal as well to affect her.
During a brief period of time, Ms Grossthal got messages almost daily. «In the end, I was called from a concealed number and wished I would be buried,» recalls the woman who then addressed the police. On New Year's Eve, the call was followed by a SMS expressing hopes that «ISIS comes and rapes your whole family».
Police and prosecutor's office saw no basis to launch a criminal case, wherefore the one who called was never identified.
As observed by Ms Grossthal, the harasser's hatred has now shifted to others. «He well knows the limits. Even boating that nothing can be done to him.»