Tough times descending upon deadbeat parents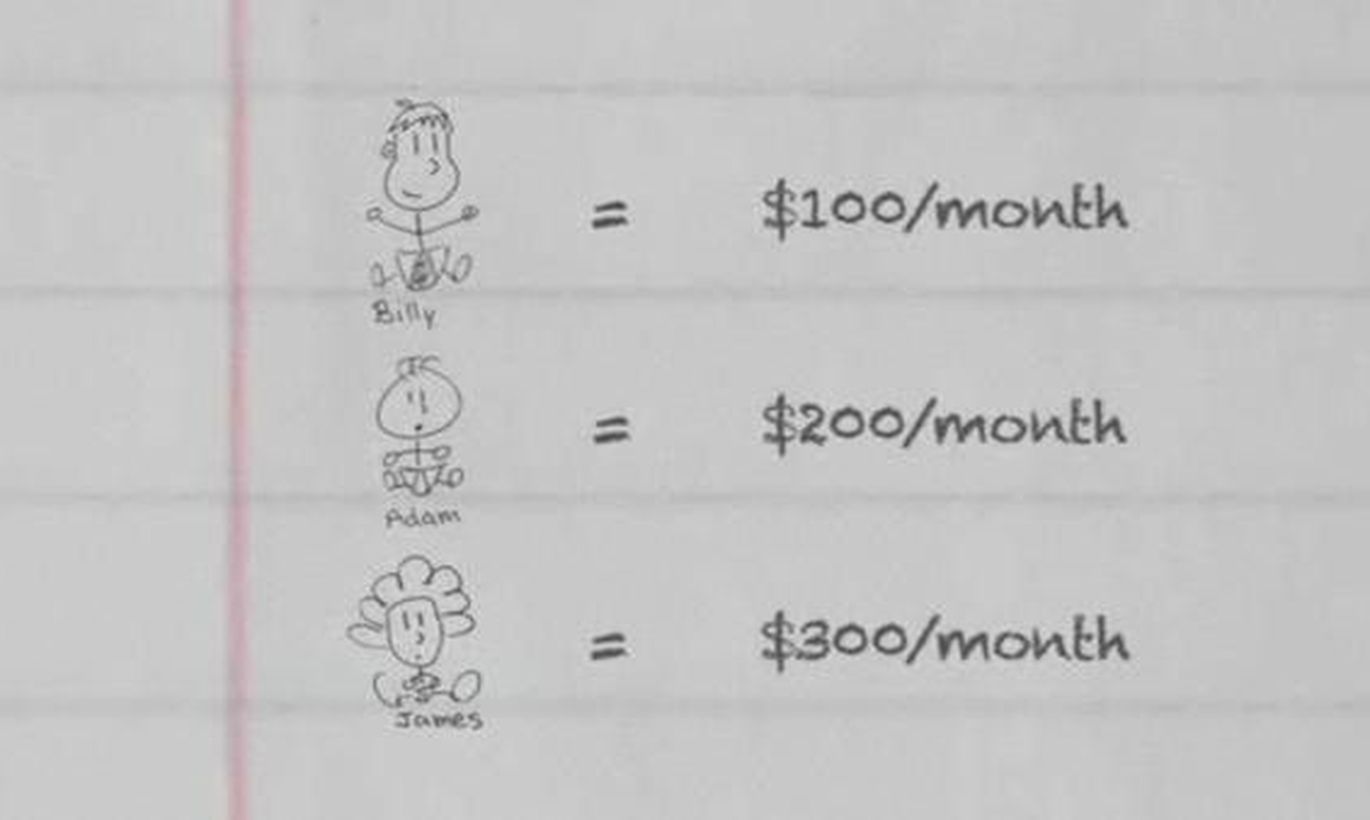 When March comes around, Estonian law turns to be among the severest in Europe towards those avoiding payment of child support. The state hopes for a success story while bailiffs are skeptical. Hardened debtors threaten to leave the country if the pressure rises, there to then dwell as alimony refugees. 
Andre (36) is an Estonian guy the way they come. Living in Harju County, quietly working at his job, well respected in his specialty. Someplace in Estonia he has two kids in their early teens. They haven't met for six years. The relations are messed up beyond repair.
It all begun when Andre teamed up with the mother of the kids to buy a house. The ugly separation was followed by a court case which was worse.  
While Andre offered the woman a compensation, she turned it down. «It was passed by the court as I absolutely do not like courts and I just ignored it,» explains the man.
Now, in the bailiffs baddies list, there's this huge alimony debt of over €15,000 written after the name of Andro. «Yeah, I might begin to pay that bit by bit, but then I will not see my children. Why do I pay money just for some obligation's sake?»
It's been years since the bailiff last got anything from Andro's account. The man will not disclose his methods, wisely. There have to be the daily agreements, one must have friends, watch out.
Andre isn't alone, far from is – Estonia having 8,043 deadbeat parents. Some of these are beginning to pay up, while every year sees close to 1,400 fresh files opened. Summing up all alimony debt, we arrive at the kids missing €14.5m.
Justice ministry is in battle array. Currently underway is a six month period when a whopping three law packages enter into force to make live tough for the avoiders.
Since last October, bailiffs need to bother the debtors more often – every two months, preferably face to face. Also, at least once a year a bailiff must search their real estate and residence to find stuff to arrest. This January, it became easier to send the deadbeats to jail.
Come March, it gets worse. Having missed payments for a minimum of two months, a warning is posted by bailiff that in case of non-payment the court may take his driving licence, hunting permit, and a string of other rights. On condition that the one caring for the child agrees.
«There's about 2,000 debtors out of whom we get nothing and they are the target group. With luck, 1,500 would have driving rights suspended,» said
Jekaterina Agu, and advisor at justice ministry. «We cannot predict if they will all begin to pay then. Cannot be excluded that they will simply keep on driving without the licence and heap up fines.»
As admitted by Ms Agu, this will make Estonian alimony avoider law among the severest in Europe. As a measure, suspension of right to drive is only in use in Czech Republic and Slovakia.  
«In these nations the experience is that such people have actually been made to pay and to communicate with bailiff,» says Ms Agu.
The scheming with money will also be hopefully restricted. Since March, a bailiff may arrest payments for the debtor made by third person if the sums exceed the monthly minimum not subject to arrest.
For instance: is another makes car leasing or loan payments for a debtor, a bailiff can remove the money from the bank. Thus the child gets the money while the payer will be indebted towards the bank.
By the outlook, Andre is not intimidated. «Rather, this spawns spite. As for me, all these bailiffs and stuff may as well …» he says, opting to leave the sentence unfinished. «If they get to twisting my arms here in Estonia, I will simply leave.»
Ms Agu says the ministry has considered the risk. Therefore, the court has a major right of discretion before removing the driving licence, and if the debtor makes the initial payment within 30 days or agrees upon a schedule, he keeps the licence.
A bailiff in Jõhvi, Ida-Viru County, Kristel Maalman says the amendment has already created a stir among the parents waiting for their money.
«Some are already saying send the notice. I'm telling them well let's wait until the law enters into force... The interest is not massive, but it's there,» she says.
Ms Maalman has 500 alimony debtors «under her». About half of these are penniless, the others might yield something. Meanwhile, it is problematic for the bailiff to find them.
«Sometimes people go without a residence in Estonia for ten years. As they go to work in Finland, immediately they get a residence and I send them a letter. Who don't Estonian state require a registered residence?» she wonders.
At that, Ms Maalman does not believe the removal of driver's licence would prove a panacea.
«I'd like to see how it works. Some surely will begin to pay, but I would not exclude others getting even further detached from society.»
That especially when a bailiff will be permitted to arrest money paid by third persons. As explained by Ms Maalman: the child does indeed have priority rights to get the money, but the stressing thereof may not make live impossible for the debtor in the long run. If the latter loses his job and home, where will he get the money for payments in times to come?
A mother of a child aged two months, Kaire is among the thousands hunting after the missing money. The father left the family ere the baby was born. As at today, the claim isn't too big amounting to some €500 but the mother has already taught herself to be an expert in the field. For her, it's a matter of principle: if the father will not support the kid in its childhood, why would the child support him in old age?  
«Alas, as far as I know, the bailiff's hands are tied,» says Kaire.
«The father earns his money unofficially, at times illegally. He uses cash, makes transfers from bank branches, with direct payments. Most of his assets he asks that those closest to him lease or own it – for instance, the car is leased by a relative, etc.»
As for the removal of driving licence, the man drives without it anyway. Nevertheless, the woman approves of the law amendments and thinks these will be enough for starters.
«And time will tell what else to do. It must be observed that the officials will not be overloaded with the work. And even in the debtor, overmuch pressure may backfire,» she says understandingly.
Child support debtor «would be ashamed to be left without the licence»
Threatened with removal of right to drive would make the moneyed avoiders pay all right, believes Meelis, an alimony debtor and entrepreneur (name known to Postimees).
-How much do you owe and why?
The claim is €4,400 and on one child. It got amassed a few years ago – I was paying as I was able but still the debt happened. Perhaps, the motivation was a bit weak too. In 2015, I paid everything diligently, and am planning to do the same this year.
-How is pressure by bailiff felt?
The bailiff does everything that the law allows to do. I am paying half of a minimal wage but what does the bailiff care. So what that I have another child too and have paid normally last year – still doesn't care. I have holdings in some companies, these are all on sale now and will be on auction within days. Well the child's mother is applying quite a pressure too.  
Not peaceful here, it's been the courts and all of that. I can see the child if I drive the 200 kilometres there and back afterwards. But it costs quite a lot.
The mother isn't stupid and understands there isn't anything extra to be gained. Rather, we might go to court and ask the sum to be diminished. But I am not the ugly and mean kind, to do that. Perhaps I'd consider it should a third child be born.
-What do you think of the option to take your driving licence soon, should the mother agree?
I have no doubts that the bailiff will be around soon, to take some licences from me. But when they take the holdings, take the licences – where do I then take the money? What will keep me from getting in some deeper hope yet?
I do believe that those who could pay and do not, they would pay then. Otherwise, people would be laughing, seeing they have the money but are forced to use a chauffeur – like a clown! I believe it will take effect after a while.
The three steps of state pressure
1. Since October 1st 2015
Bailiff obligated to communicate every two months, minimum. Once a year, bailiff needs to search home and real estate to snatch stuff to arrest.
2. Since January 1st 2016
«Intentional avoider» jail option enacted.
3. Starting March 1st 2016
Intentional avoiders may have these suspended: driver's licence, hunting permit, weapons permit and permit to purchase a weapon, recreational craft driving licence, and fishing card.
Arrest options for payment by third persons.
State may decline Enterprise Estonia support for launching a business, and private forest owner benefits.
In the portal eesti.ee, all (like employer or new unmarried partner) will be able, using ID code and date of birth of an individual, to find out if alimony procedures are underway and what is the sum.