Skating Away on the Thin Ice of the New Day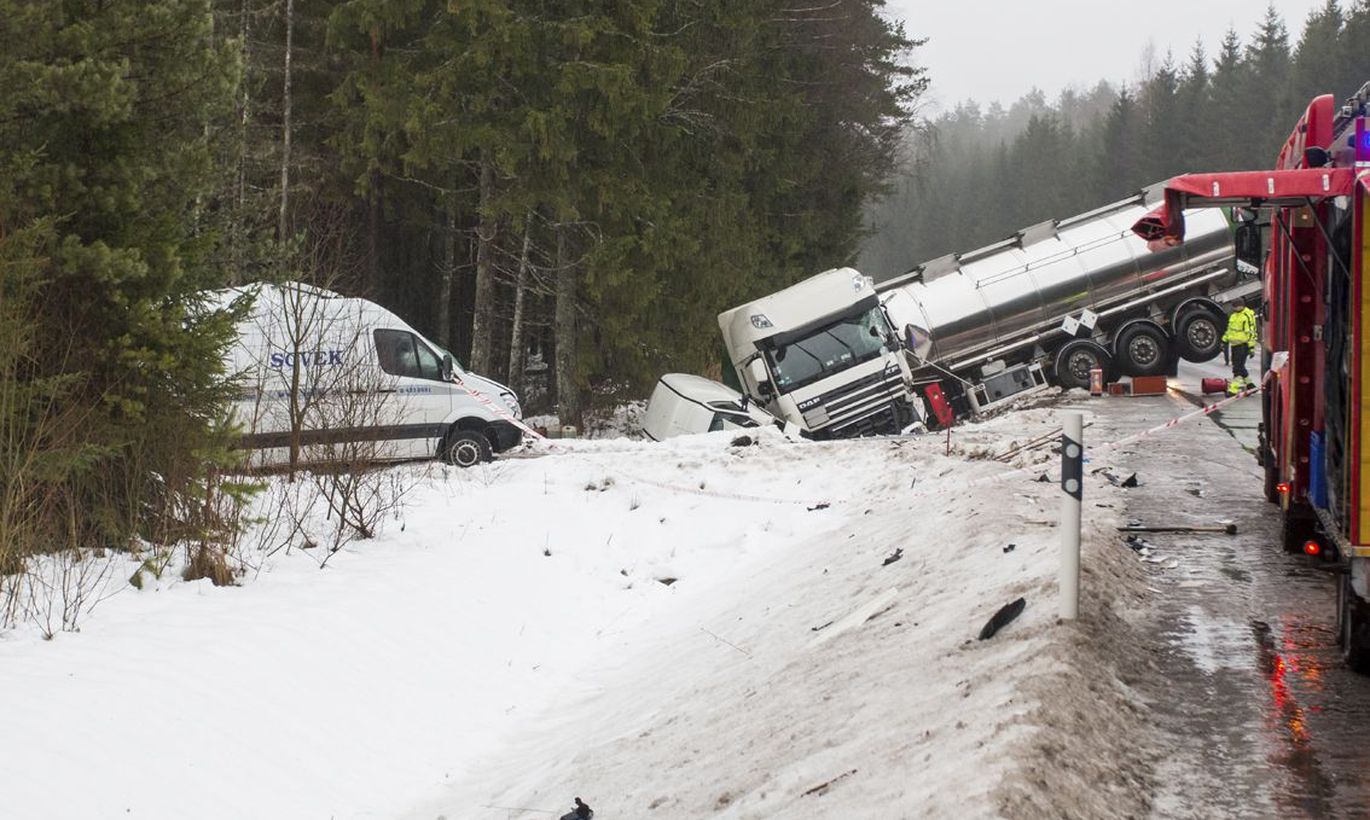 Yesterday morning slipperiness ended in dozen-some traffic accidents in Pärnu County, Western Estonia. The worst was in Kärsu Village, Saarde Parish with seven cars driving off the road and into one another in a short span of time. Among others, a police Škoda got a bump from a truck. 
All those involved wondered at the remarkable slipperiness at Kärsu, in the woods. The ice on the road being like glass, water on it made things worse.
Thankfully, people were not much hurt while two were taken to Pärnu hospital for a check.
It all got triggered at 7:36 in the morning by a Scania truck with Polish number plate ditched scattering empty gas cylinders all over the place. Rescuers appeared to see about pollution. An hour later, other accidents followed with one-two minute intervals.
At the Polish truck, a DAF truck and Mercedes-Benz van collided and left the asphalt, taking along a VW standing at the road side. The latter's driver had just gotten out. Good for him, as the truck squeezed the car bad.
Soon after, another DAF truck lost control and had its trailer throw a police Škoda off the road. The trucker told Pärnu Postimees he saw the car and its blinkers from a few hundred metres but pulling the vehicle to a stop was outright impossible.
Soon after that, a Seat car hit a truck. The driver was amazed at how the ice so suddenly replaced asphalt.
Another «chain reaction» happened in Saarde Parish. A driver of a Nissan was busy helping a Dacia back onto the road when hit by a Volvo. Then, the Volvo struck a Scania truck trailer. To avoid a collision, a Citroën drove off the road. Again: thankfully, no injuries.
On top of what has been described, Pärnu County featured injuries-free accidents all over.
NB! While the slipperiness is being dealt with, all are cautioned to watch out and go slow in Western Estonia.