The perfect Estonian épée timing
January 25, 2016, 11:32 AM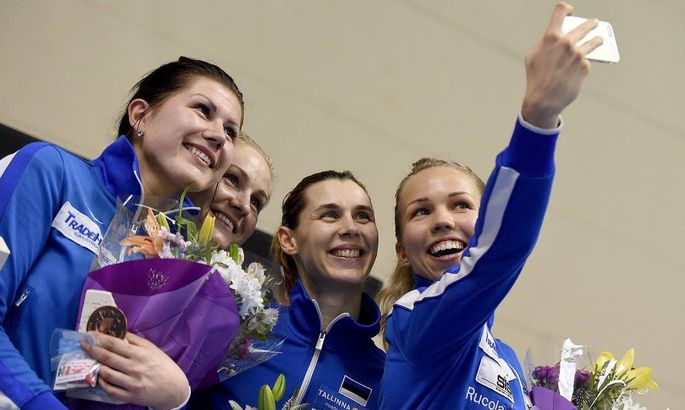 In was an ideal day for Estonia's female épée team in Barcelona yesterday. Standing on top of the pedestal after an emotional Wold Cup stage, a ticket to Rio Olympics edged a step closer. 
For Irina Embrich, the anchor, and head coach Kaido Kaaberma, the chief you was that the perfect day happened just when they needed it the most in light of the approaching Olympics, entry to which will be decided at Barcelona and Buenos Aires World Cup stages. And Tam Estonia was yet to kick into a decent gear.
«I braced myself for these last stages as vital. It would have been difficult to leave it all up to the very last one. The day dawned: we believed in each other and fought till the end,» said Ms Embrich.
With Julia Beljajeva, Erika Kirpu and Kristina Kuusk, they fenced better than the absolute world tops Romania and Russia, as well as close rivals France and South Korea.
Beating Romania in quarter finals by 16:11 and Russia in finals with 26:22 were impressive, having fallen behind initially yet keeping cool and pulling ahead at decisive moments.
Thereat, in the finals Estonia started out by falling behind by a whopping 1:10. «It was rat6her utopian for a moment. Then it felt like Russia calmed down and Beljajeva caught up and then into a lead,» recalls Mr Kaaberma, beaming.
Calculations show that in Olympic ratings, Estonia rose from 8th to 4th. The final ranking will be established in Buenos Aires, in mid-February. To get to the Olympics, all Estonia needs to do is place 10th in Argentina.
Women's Wold Cup, Barcelona
Team event: 1. Estonia, 2. Russia, 3. South Korea, 4. China, 5. Sweden, 6. Italy.
Individual event: 1. Mara Navarria (Italy) ... 8. Irina Embrich, 9. Julia Beljajeva, 11. Kristina Kuusk, 40. Katrina Lehis, 42. Erika Kirpu, 99. Nelli Paju.