Oh to be embraced by Estonia ...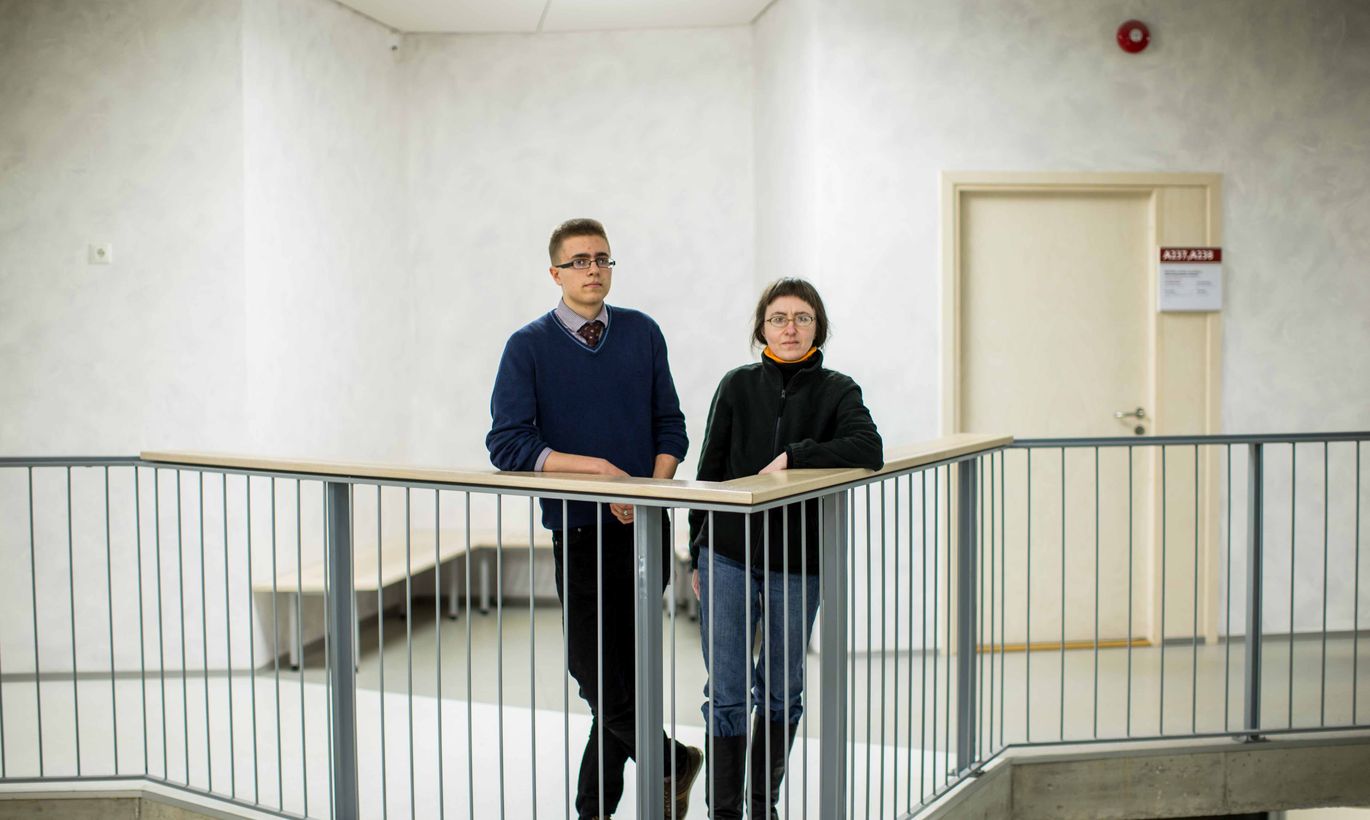 Six years ago a single mother from Moscow left Russia for good, in hopes to live happily in Estonia with her son. The young man is hardworking and talented, and a local through and through. And yet, despite all of their efforts, neither is officially Estonian yet. 
Carrying a simple backpack, Fedor then ten years of age stepped out the train in Tallinn. Not knowing where to go. Luckily, he wasn't alone, Mother being at his side. But all she had was another backpack, and a couple of thousand euros in her pocket. This was all they had in this world, grabbed along from Russia.  
The mother had her mind made up for them to live in Estonia. With the native Russia it was over. Because she liked it not at all what was going on. The mindless hurray-patriotism, and the orthodox nationalism. A combination she goes as far as to call fascism.
From the railway station, they headed to a hostel, and from there soon on to Õismäe where they rented a room.
Now, six years later, the boy Fedor Stomahhin has developed into an all out Estonian. Not only is his language crystal clear, accent free, but he thinks in Estonian as well. And studies at grade 11 at Tallinn Secondary Science School, and successfully so. Having participated at several pan-Estonian  academic contests, in astronomy he up and won. Once he graduates, he is ready to serve in Estonian Defence Forces.
But here we have a little problem. The 16 years old Mr Stomahhin, as his mother Tatjana, lack Estonian citizenship. This, by the way, is one reason Mr l Stomahhin could not represent Estonia at international academic contests. But it isn't that they do not want the citizenship.
Tatjana, having recently defended her Master's at Tallinn University in with thesis called «Kurjuse banaalsus ja moraalne pimedus: isikliku vastutuse küsimus» (Banality and Moral Darkness of Evil: the Personal Responsibility Issue) has toiled hard to get the citizenship for years – we are not talking about the needed exams only, which she has passed with excellence –, having suffered poverty, hunger and even humiliation. Last summer but bone, she even sent a three-page letter of request to get the citizenship to the President of Estonia. To no avail. The reply received from interior ministry essentially said wait for four years more until the time set by law arrives.
In this regard, the future of Fedor is brighter. In a year and a half, as he turns 18, he may waive his Russian citizenship – which he will not hesitate to do as he does not want it – and apply for the Estonian one instead.
The Moscow born Fedor talks fast, frighteningly fast at times, and comes across as strikingly mature. He is stirred with subjects which usually stir those twice his age. He admits to having been a liberal but, lately, having seen the triumph of political correctness in Europe and the socio-cultural conflicts stirred by the lefties, as he puts it, he has turned to the right. He supports the Free Party.  
Regarding Russia, he says it triggers negative connections such as the orthodoxy cult and a desire to level people into a grey mass. In no way does he justify Russia's invasion into Ukraine, and calls the annexation of Crimea illegal. He is of the opinion that Estonia needs to restore armed border guard.
No doubt, the views of Fedor have been heavily shaped by his mother Tatjana, a fragile 44-old who admits she has raised her only child for Estonia and as an Estonian since he was small. In Moscow, he had the little Fedor in the Sunday school at Estonian Embassy, so the boy would learn to know the language and the culture. There at the Embassy, she went to learn Estonian herself, as assisted by «The Wikman Boys» by Jaan Kross. And there, in the spring of 2009, she heard of the opportunity to study at Estonian Academy of Arts.
Soon, a couple of months later, they took their backpacks and boarded the Tallinn-bound train.
«I want to protect my child from Russia,» says Tatjana, who worked in Moscow as an interpreter, to explain the change. «Russia is a totalitarian state.»
But she was not ready for the unexpected hardships she would be entangled in, once in Estonia.
Three years ago after Tatjana had shifted from Academy of Arts to Tallinn University, she was taken to the police station. Reason? In Estonia, she had worked without a work permit. That was because she had a student's residence permit. With that, working is not allowed in Estonia.  
But she needed to work real bad. How else could they live with the son. Not to mention paying for the studies. That was a thousand euros a semester, plus almost a thousand euros for health insurance a year. And she had no relatives in Russia to rely upon.
Tatjana admits that in the early years in Estonia she had to often suffer hunger. Thus she decided to do translation works by contracts – Tatjana knows 11 foreign languages – and give private lessons. And it helped that, occasionally, somebody bought a painting by her from exhibitions that she at times managed to set up. But they were constantly lacking.
«It was terrible and humiliating,» recalls Tatjana. She does say it was life and death. «Thank God, I have a child for whom to live.»
Thank goodness, at least Fedor was doing well in Estonia. He started by studying in a Russian school but left it in two short weeks. Firstly, says Fedor, he sensed strong Russia-mindedness among the students and teachers, and secondly the new schoolmates envied him for his superior command of Estonian. To polish his Estonian, he had independently laboured in the summer as they arrived in Tallinn.
He went to an Estonian school and got Estonian friends. Also, he went into karate earning a blue belt, and attended animal lovers classes with the zoologist Aleksei Turovski. «A good kid, talented and hardworking,» says the latter. «And solid. I have great faith in him as a person, and as a future scientist.»
But the law does not consider such stuff as the desperate financial situation of a mother, and the outstanding academic results and interests of the son. The police informed Tatjana that even occasional work is prohibited without the work permit, and wanted to fine her. Tatjana says the only reason she was not fined was she had not an euro on her bank account. But the police warned her that working without permit may prove fatal the next time she goes to ask for her residence permit prolonged.
Two years ago, the situation eased a bit for Stomahhins in Estonia. Thanks to law amendments, foreigners who had obtained an higher education here were finally allowed also to work. Tatjana found work at energy discovery centre in Tallinn, as guide in the planetarium. She loves astronomy, and is able to speak various languages instructing the groups of visitors. Also, this fall she again enrolled in the university to study Estonian as second language, and Estonian culture.  
But the Estonian citizenship which she has so ardently desired for six long years will still be out of her reach for a few years more. The law says waiting time is at least eight years. «Terrible,» she says. «This is the biggest problem, not getting the citizenship.»
Hearing her, it is obvious that she is tired of the red tape, the long wait, and the troubles of life.
Nevertheless, she has not given up neither intents to take a hike as thousands of Estonians who are disappointed in Estonia for whatever reason. Despite it all, she likes Estonia. Better than Finland, for instance, where she lived for nine months during the last decade. As in Estonia people still dare to say what they actually think.     
Above all, however, Tatjana wishes that her son would get the Estonian citizenship at first opportunity – in 1.5 years, that is. Because that, believes Tatjana, is the only option to protect Fedor in the future from the totalitarian Russia.
Ruth Annus, citizenship and migration policy head at interior ministry
Through the ages, Estonian citizenship policy has been guided by expecting people, in order to be awarded the citizenship, to be blended in with the Estonian society, share the common values and honour the Estonian state. In addition to the command of the Estonian language, this will be boosted by a consistent stay of at least eight years in Estonia, as has been required for over 20 years. Estonian citizenship grants an individual the right to shape the Estonian state even on the political level via voting rights and the state must responsibly impose the conditions which create the premises for such individuals obtaining the citizenship as have developed a close relationship in Estonia with the state and the society.
It is commendable in every way that Tatjana and her son value the opportunity to live in Estonia, desire to invest in our society and wish to become Estonian citizens. Meanwhile, people's self-realisation and opportunities to invest in the development of Estonian society do not depend on having the citizenship, but all inhabitants of Estonia have equal opportunities.
When an individual has dwelt in Estonia for a minimum of eight years and has developed the conviction that she wishes to be loyal to the Estonian state and be tied to be permanently connected to Estonian state, waiving the former citizenship, she is welcome to be a citizen of Estonia.