IRL's Tsahkna: Fatherland forever
New chairman invokes first half of Pro Patria and Res Publica Union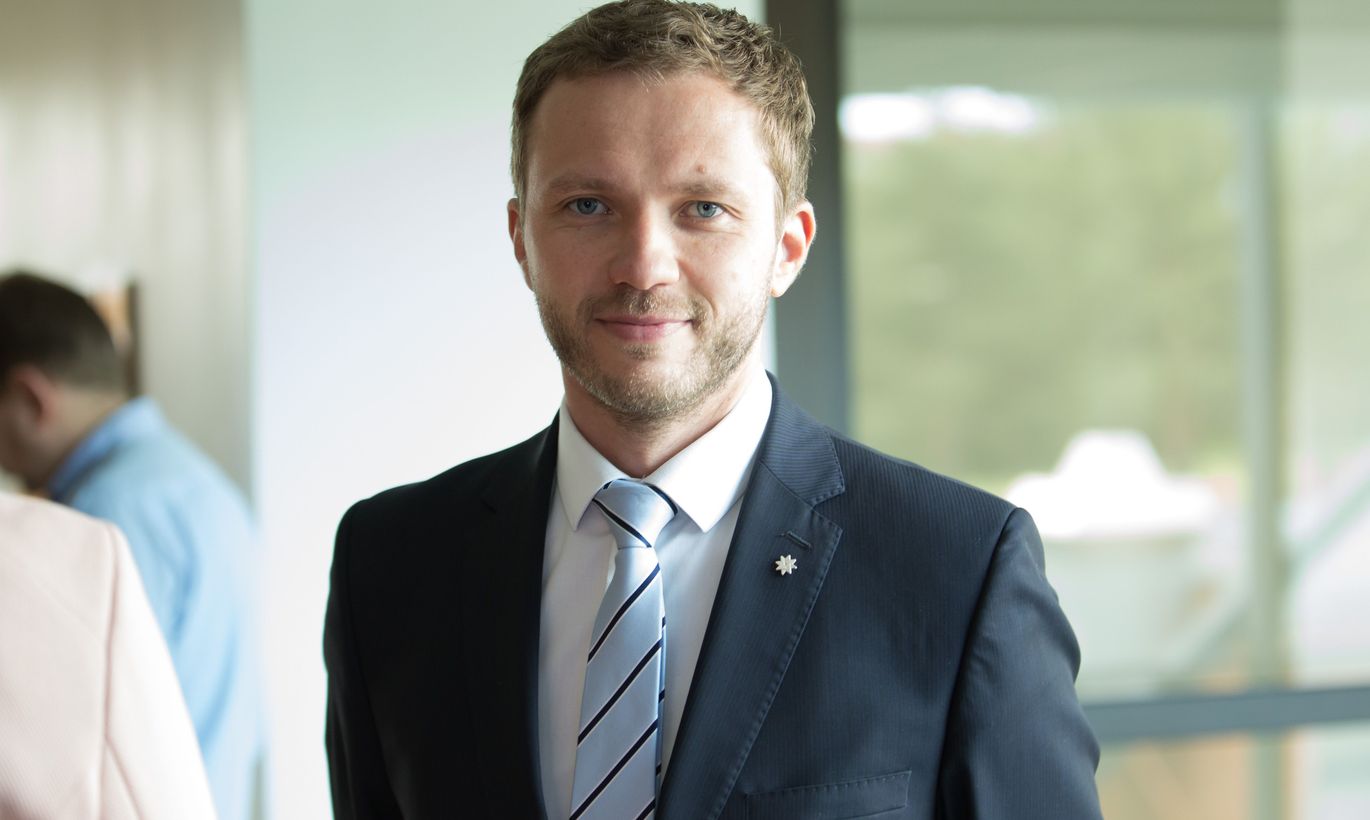 The fresh head of IRL, Margus Tsahkna thinks this past year featured an overdose of political games. He was especially annoyed by the testing of options for creation of new government under cover of opening the coalition treaty in summer. 
- How are you looking back to the year soon behind us, rather tough and confusing?
Haven't had a year this tough for a long while, looks like. It's important to think, in this moment, where are we headed. The financial crisis has been forgotten, as is the debt crisis in Greece. While these problems haven't gone anywhere.
On top of that, the issue of European solidarity has assumed dimensions altogether different. I.e. will Europe withstand these changes. Looking at statements even by Angela Merkel, recently, regarding the refugees of war, these have altered a lot since summer. Estonia is yet to receive a refugee within the new agreement, but there's the fear. The fear which paralyses the society.
My worry is that we'd not close up. Small nations tend to take positions of defence, but faith in oneself and self-confidence will be keywords for next year. As well as courage, open nationalism.
- Whipping up fear is a hint at EKRE, but we have to admit that in our midst fear exists.
It does, and it is totally substantiated. When in spring Jean-Claude Juncker announced that Estonia is to receive 1,064 refugees and if it doesn't then we will vote, impose and send the refugees, this was very wrong communication by the European Commission. After that, there was reason for fear and disbelief as we have a whole generation of people who remember when people were taken away without asking us, and hundreds of thousands were brought in. The reaction of the people is totally adequate.
Now, we will have to think about who then are Estonians, who are our people in the longer perspective. Because the refugee crisis isn't over, see. This is a long-term process and will very clearly alter Europe. For me, the most important issue is: what will Estonian nation-state be like in 30 years? These decisions will have to be taken today. We are well aware of our demographic indicators, our exodus. We are lacking people. Here's the rub: on the one hand, we are against massive immigration, but this cannot be blind, anger whipped up on fears. For me, Carl Tuulik (a black Estonian whose nationality Kristiina Ojuland failed to define in ETV programme «Vabariigi kodanikud» – edit) an Estonian boy who lives in Hiiumaa and we could as well quit arguing about that. That in the city of Tartu stones are thrown at students of other colour should absolutely not be our path. This is the opposite path, the path of closing up.
This year, two definitions were set forth: one offered by Edgar Savisaar who for the first time stated honestly and plainly what he considers «the third Estonia». An Estonia which needs to be built from scratch. In reality, this is Vladimir Putin's small closed satellite state. And secondly: it is attempted to compare Isamaa (Pro Patria) and IRL (Pro Patria and Res Publica Union) with EKRE. Beholding our history, our content, our perspective, we are two parties with totally differing directions.
- Are you as passionate as fighting against [Estonia] closing up as fighting for openness with registered partnership act?  
At board level, IRL decided that our Riigikogu deputies will vote according to conscience. In these issues, all need to have freedom of opinion, free vote. True, being on Riigikogu payroll includes they have to decide something. And there are plenty of those who exit the hall while the decision is being made. But that's also a decision.
- A decision or sneaking away?
A decision, still. A decision to not vote. I'd not even say it is about same sex partnership, but the bill has caused very much confrontation. A confrontation for me too unintelligible. With this topic, EKRE came into Riigikogu, it was their agenda to be against registered partnership act. IRL is neither against nor for. I personally find that marriage is an institution which in our cultural space this far is between a man and a woman but we do have same sex people partnering which also need regulation. These people have concrete problems needing to be solved. The confusion is great, I will admit.
- An unreasonably large and disproportionate issue which has also turned into a governmental bargaining object?
Putting it plainly: there have been too many political games this year. The elections were in March but the election campaign continues. A constant campaign state of mind. An unease. Punching like crazy.
When in summer, as demanded by Soc Dems, there was the so-called opening of coalition treaty, under its cover what actually happened was assembling a new government. This was real activity to which IRL said a clear «no». IRL said very clearly in summer that we will not let Edgar Savisaar into power. And that not for personal characteristics but the opposite world view and stands. What they planned was a turn to the left. And it is not the issue whether it is a turn to the right or left, but could you imagine what kind of a government we would presently be having? This would surely be no pro-Estonia government.
- In all sincerity, I cannot imagine how three party leaders – you, Taavi Rõivas and Jevgeni Ossinovski – sit around the same table. Such betrayal just a few months after the government was fit together ...
We must work. And this government hasn't done anything great yet, actually. The year was mainly spent on political games, but it is good that we still have a pro-Estonia government and Mr Savisaar did not come to power. It is one thing what is behind the political curtains. As these summertime dealings were extremely aggressive you know. IRL's people were the only ones who did not go Poska House or Hundisilma (where Mr Savisaar lives – edit).
- Who started? The soc dems and Mr Ossinovski, or did Reform make a move as well?
It was not Reform to my knowledge. Thinking of all the corruption scandals this year, then that Edgar Savisaar is constantly blaming IRL for everything is actually a compliment to us. Our party definitely lacks the desire or capability to manage all Estonia's law enforcement bodies. Mr Savisaar has resigned from Estonian legal system, from Estonian future.
- Does this present government have courage and strength for great things?
If real challenges be tackled instead of political games, then yes. A tough administrative reform is waiting. And governmental plans say the bill should be in the government as early as February. This is a very clear place for this government to show if it is capable for reforms or not. To constantly follow the ratings and calculate which would be a popular decision and which wouldn't, is not right. At the moment, there are no elections at immediately at the door and the current government needs to take tough, radical decisions.
As is also the state reform. We need to realise that the public sector cannot simply be an employer, but as good and effective a servant of our people as possible. With our working-age population constantly shrinking, obviously the public sector needs to tighten up as well.
- You say no need to watch the ratings, but with IRL it is difficult not to watch them. Is your message failing to reach the nation, or is the nation unwilling to hear the message?
Fatherland (in the meaning of Pro Patria i.e. Isamaa – edit) has a plan and we will word its new face with 30 years perspective at the beginning of 2016. In its main choices, the fatherland of today looks like Pro Patria, you see. But that's no longer enough. Our party needs to contribute to a larger, longer-term narrative as springing verily of what we see our nation to be like in 30, or be it in 50 years. Do we still exist as a nation state. This is the real issue. And this issue may not be built on fear, but the issue just needs to be dealt with. Like the refugee crisis.
- IRL and Reform are getting along well, suspiciously so. Why is Reform happy to support Juhan Parts as candidate for European Court of Auditors?
But Juhan Parts is indeed an excellent candidate! And this issue is also overblown. Beholding the competence of Juhan Parts, no one has suggested his equal. Political ill will aside, we have here a n individual who has personally built up a contemporary national audit system and possesses a background, experience needed in Europe. To lay all the sins of the world on Mr Parts is obviously and exaggeration. This is ill will for some other reasons.
- Why the ill will by Jevgeni Ossinovski? You are working in the same building, in social ministry. How do you two get along?
We both do our work. I definitely do not have any broader political games. What matters to me is for the government to be able to operate. That we be able to take the big, really vital decisions.
- Are the Soc Dems wish to split the government?
Difficult to answer. This you need to as the soc dems. But whatever was happening in summer was clearly towards that. In a time when we need to be busy boosting Estonia's security! We need to see that in the Europe in its totally new situation to ensure our development, and this for Estonia means lots of hard work and daring decisions. Political combining will take us nowhere. Whatever we have today is taken too much for granted and this is troubling. Playing in a sandbox we may miss the right moments, a politically instable situation may be created where we opt for other directions.
- As IRL head, have you made it or failed?
Well I haven't led it yet! Me being elected was not planned long ahead, this was a decision by an emergency general assembly. All the time thus far has been to prepare the plan which we will present at the beginning of the new year. This will be the topic of open nationalism which has been talked about but has lacked a dimension of reality.
Actually, IRL has done better this year than it looks outwardly. I find no fault with the party. Sure, there are lots of people who would see Pro Patria go. Pro Patria will not go. It is up to us to word what will be happening. This must be shown and confirmed by action. This period has been hard, mistakes have surely been made. Whether I will make it or not as party chairman ... 2017 has local elections and that will be the first clear line to reveal where we are at. We have worked a lot and for IRL the new year will be decisive.