Estonia's input into global climate: adieu, oil shale energy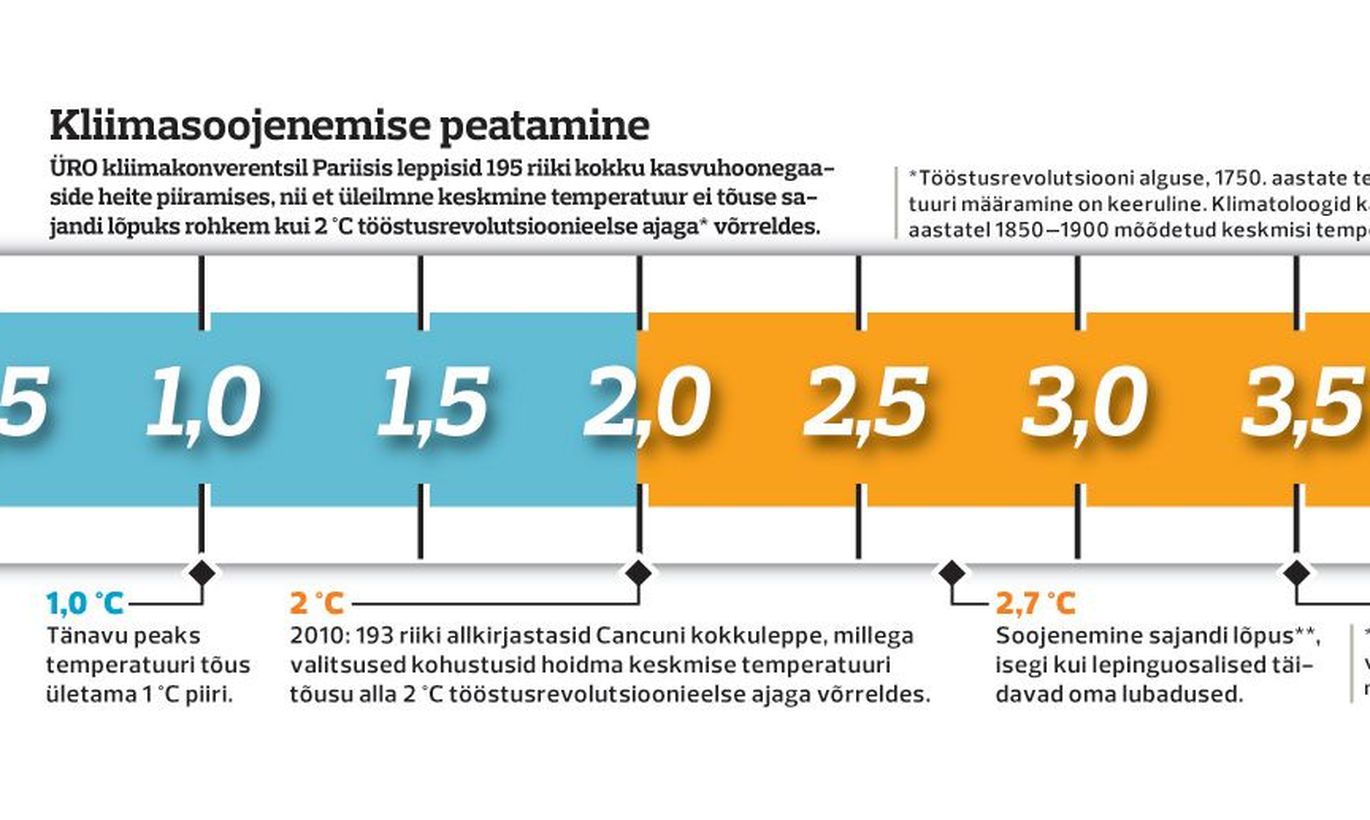 This past Saturday, 195 nations agreed about a historic accord to halt global warming. Though the result should be seen as late as at change of century, for Estonia the painful decisions are not far in coming. 
Broadly, the accord rests on three principles.
The world aims at keeping global warming below two degrees by end of century as compared to pre industrial revolution era and try to limit itself to 1.5 degrees.
For that, states need to cut greenhouse emissions. «At earlier climate conferences, it has often happened that they stated a general goal and who should cut how much. That often led to stalemate. In Paris, the situation was altogether different: every nation put forth its own obligations and these were confirmed,» said environmental ministry vice chancellor Meelis Münt.
Secondly, the burden was spread from developed nations to also include the developing nations like China and India.
The roles to reach the goal were agreed – meeting at conferences every five years for updates of direction. At that, the new ambitions may not be below the former. Though forcefully pushed, the EU proposal to include legally binding cuts to nations were left out.
While the rules were agreed, signatures will only follow in New York, at end of April. After that, the treaty will only enter into force if ratified by a minimum of 55 parties who total 55 percent of global greenhouse gas emissions.
The effect of the treaty should surface after decades. «Carbon neutrality should be achieved in second half of the century,» said Mr Münt.
Funny, but Estonia has no obligations in the climate accord as yet. In the name of Estonia, it was EU representative Luxembourg which gave consent, as based on last year EU summit decision for the union to cut CO2-emmissions by 40 percent by 2030. How many tonnes will be for Estonia to cut, will be decided next year.
As the inner EU distribution will be based on 2005, Estonia is in for a tough ride. Namely: back then our emissions stood at 18.4 million tonnes while by 2013 the figure stood at 21.7 million tonnes of CO2. Naturally, lion's share of that comes from oil shale being burned in power stations. Pursuant to what was agreed, Estonia should limit emissions growth till 2020, after which the volume needs to stay below 2005 level.
«Paris surely sent a strong signal regarding CO2-emissions pricing. After 2030, in EU the price will definitely rise. The trend can already be seen, but I think our enterprises need to strongly consider the price to be,» advised Mr Münt.
In other words: though even in 15 years from now Estonian soil will abound with oil shale, the use of it would push costs so high due to the pollution that it will make no sense to burn it. For instance: the EU has calculated that a tonne of CO2-emissions currently costing €8 will be ten times dearer in 2050. «I think it will definitely be €50 a tome or more and this will have a significant impact on fossil fuels sector,» predicted Mr Münt.
He said the consumer would probably notice no significant change in the price before 2030 as the state has applied preventive measures. As an example of that, for some time the Estonian industry has a buffer of free-of-charge emissions quota. As the cuts obligation is tied to the wealth of a nation, Estonia's are smaller than these of Western Europe.
«It ain't too bad up to 2030,» said Mr Münt. Even after that there'd be no need for gloom as the switch from oil shale to renewable energy will not necessarily spell price rise.
Renewable Energy Association head Rene Tammist said that energy policy by now developed by Estonian state has outdated after Paris.
«Estonia needs a thought-through strategy of exiting oil shale which takes into consideration the socio-economic situation in Ida-Viru County and alleviates the decline of its oil shale sector,» said Mr Tammist. A «Renewable Energy 100 Plan» drawn up a couple of years ago prescribes the creation of 10,000 new jobs, a considerable share of which would befall Ida-Virumaa.
Estonian Fund for Nature chief Silvia Lotman noted that the climate accord fell short in ambition and concreteness, but nevertheless the result is cause to rejoice.
«For many nations the climate change is costly and major powers are interested in keeping the costs low. Therefore, investments into reorganisation of energy sector are to their benefit,» she explained.