Infighting bites into Centre Party popularity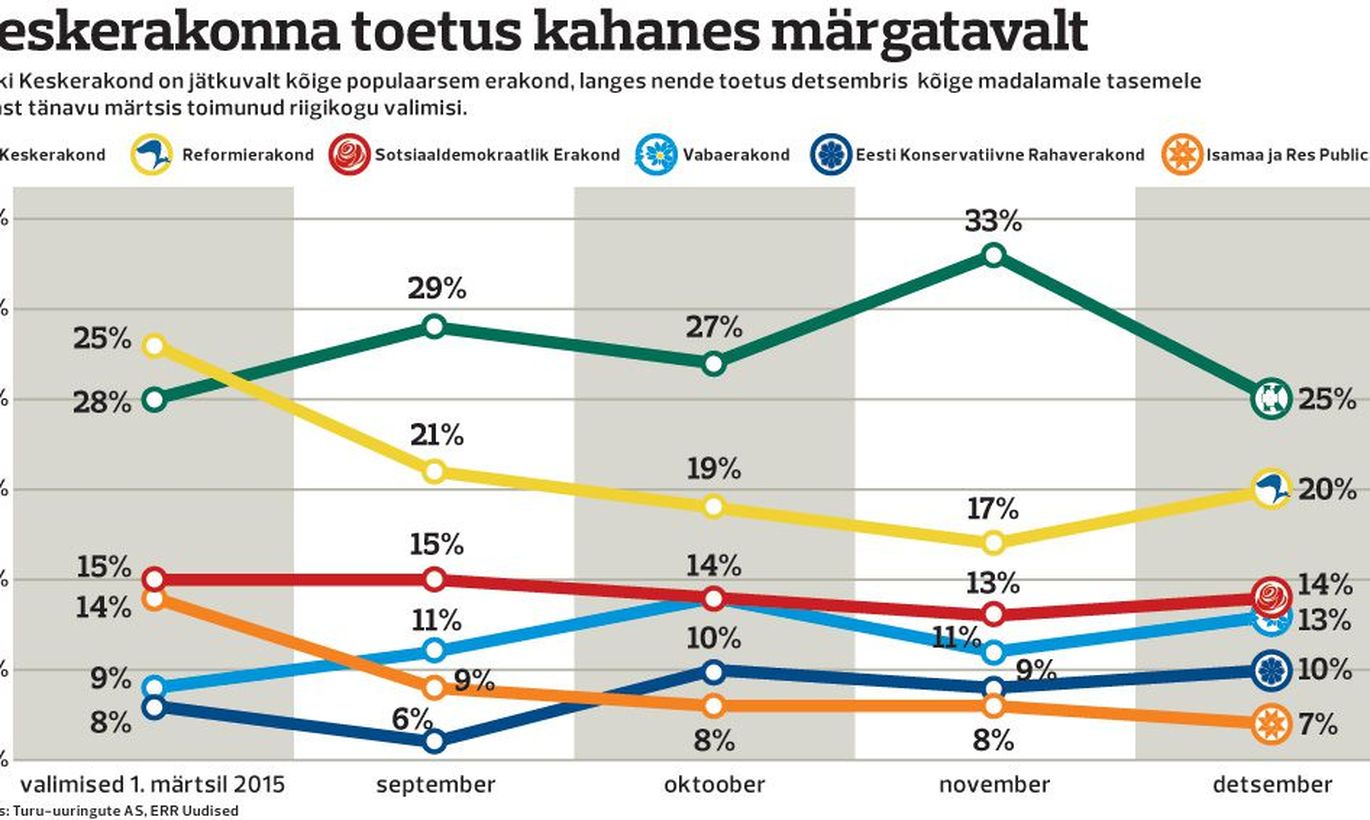 While still the top popular party in the land, during this past month Centre has seen its ratings drop by a whopping eight percent as shown by Turu-uuringute AS poll ordered by Public Broadcasting (ERR).
As things stand, Centre leads with 25 percent trailed by Reform (20 percent). Soc Dems come third at 14 percent and the Free with 13 percent. EKRE (10) comes next, and then IRL (7).  
Kadri Simson, Centre faction head at Riigikogu, says the poll reflects disappointment at how it went at Centre Party congress and the way the party rejected differing opinions within it.  
Ms Simson added that «before the elections Estonian people had high hopes and believed that Centre Party could be alternative to the current governmental policy.»
Vice chairman of the party Jaanus Karilaid begs to differ, claiming the poll result is as expected and not at all tragic. He said for majority of competitors, a quarter of electorate support is but dream.
«Firstly, the definite drop of media attention after congress surely played a role,» Mr Karilaid told BNS. «Also, the eight percent [drop] includes such as expected a different result from the congress – whoever were lined up against Edgar Savisaar have not gotten over it yet.»
Mr Karilaid underlined the party has drawn its conclusions from the congress and the preceding campaigning: «I have already confirmed that the work is underway in order to carry out positive changes.»
Among the parties in parliament, IRL has also experienced a decline in popularity. Vice chairman Marko Mihkelson says competition has toughened and the drop is partly due to single earlier miscalculations still felt.
«Meanwhile IRL has got such a thick cultural layer that the temporary fall in ratings will surely be reversed,» Mr Mihkelson said with conviction, adding that these past months several vital changes have been carried out at party management. «We have a clear understanding of how to move on and increase our popularity.»
Also, he thinks EKRE and the Free are yet to face their moments of truth. «For the moment, they have the advantage of being in the opposition but this definitely isn't sufficient to hope for long-tem success. The ratings reveal the gaps between parties are small and today's situation may surely not be the same in the fall of 2017 for local elections,» thinks Mr Mihkelson.