The random use of EU money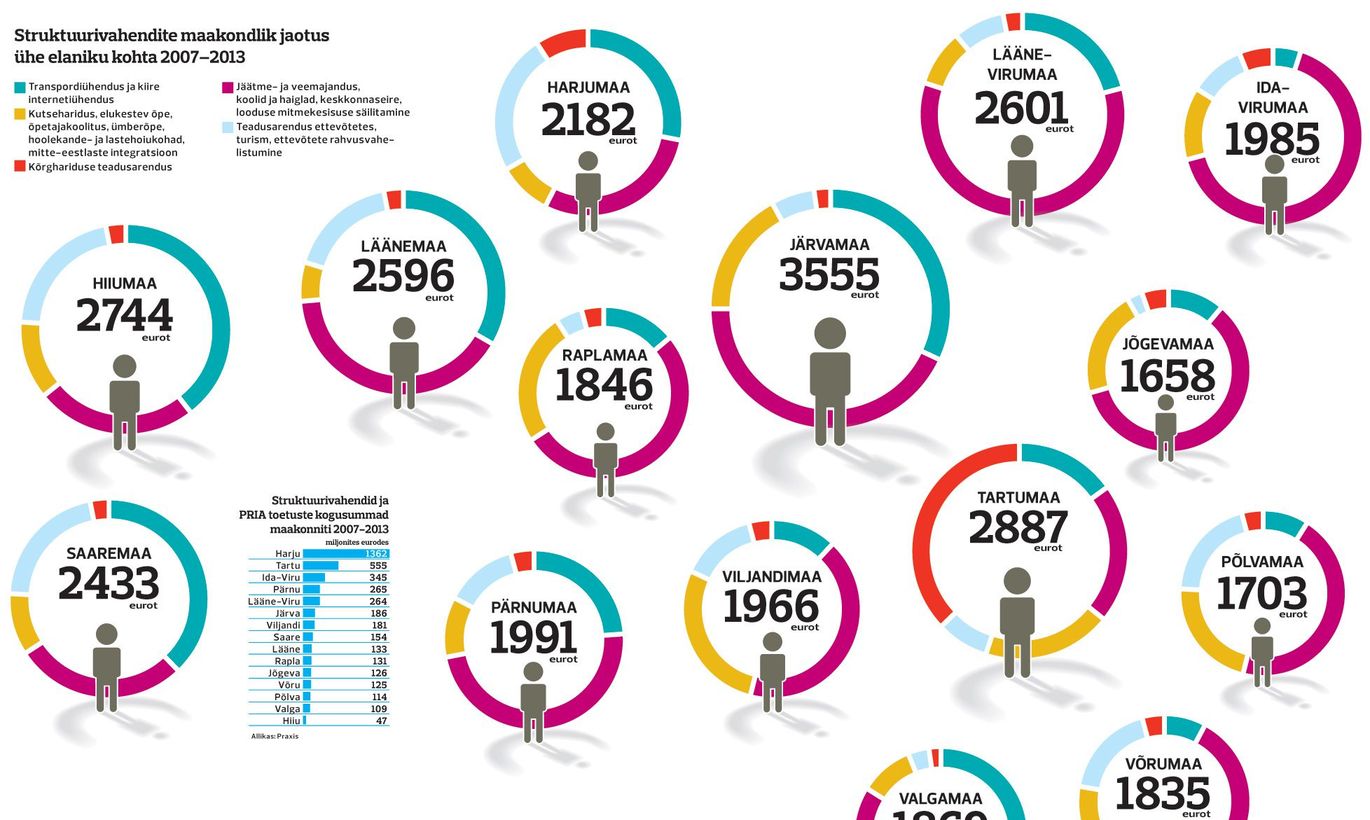 Over these past seven years, Estonia's parishes and towns have received €4bn of European Union funding while equality of counties remains elusive.
«After these seven years life is better in all counties but the differences between them haven't been diminished,» said think-tank Praxis programme manager Katrin Pihor to comment the fresh analysis named «Effect of European structural measures on regional development in 2007–2013».
«In Harju County, people still live better than in places like Põlva or Võru Counties. Though the regional development is aimed at diminishing the percentage of Harju County in gross domestic product and in population, this has not happened,» she added.
As admitted by researchers of Praxis and Centar, they failed to detect statistical links between regional development and the money given into the region.
«Nevertheless, they still think in the counties that EU support has a favourable effect. They especially esteem the projects which have helped improve the living environment. With own money the local governments could not have managed that near-term,» said Ms Pihor, adding that too little attention has still been paid to the future and to develop growth options including new jobs.
The investments have been most successful in waste and water management: regarding these, the counties say these things are now accomplished and all it takes from now is maintenance of the infrastructure.
Things are otherwise with schools and kindergartens where lots of money was injected but the local leaders say only a fraction of the needs was covered. Local leaders confessed to researchers the school money was not used too prudently.
«They admitted they could not agree which schools would remain in the county and which would be probably closed down,» said author of the analysis referring to difficulties in county-level planning.
«Strategic development of counties is very weak. County governors do have the responsibility to deal with developing the county, but it remains unclear how and with which levers,» observed Ms Pihor. «Often, it is the parishes and towns who decide where to invest, without considering the needs of the county as a whole-»
Also, Ms Pihor said they noticed that money was being used according to offer and not the need.
«Of this, a good illustration is the industrial parks which could be developed to boost regional competitiveness. As any town or parish was able to ask for the money, all neighbours could end up having their own parks. For instance, there was this success story in Viljandi Parish of Viljandi County (formerly Viiratsi) where all lots were sold out. As a result of that, enterprises moved out of the city of Viljandi city leaving behind empty industrial buildings and all told the county failed to see the business boom and jobs growth expected,» said Ms Pihor.
Classic examples of a lack of the big regional picture are swimming pools and stadiums. «In Viljandi County, a well-known example is swimming pool in the neighbouring parishes of Karksi and Abja-Paluoja: one built it for EU money, the other for its own. Meanwhile, in the city of Viljandi where potential visitors would be most numerous till this day there is no public swimming pool,» said Ms Pihor.
The analysts now advise creation of conditions enforcing regional cooperation. Ms Pihor thinks this should relate to «responsibilities of county governors or local government unions. Thereafter, the coordinated plans drawn should be tied to use of EU funding.»