Postimees in China: Huawei says will be world's largest within a year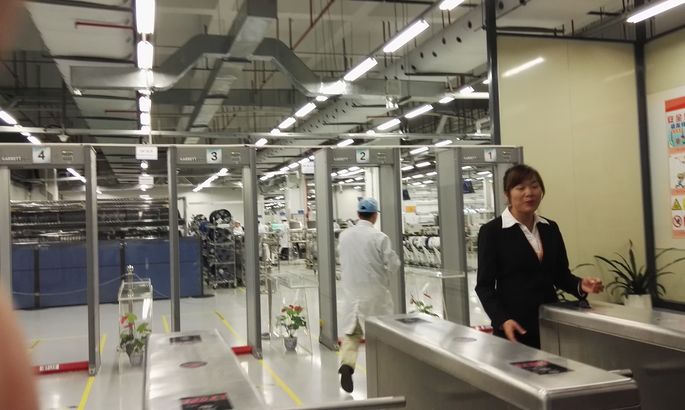 The latest data says Chinese tech giant Huawei is third largest mobile maker on the planet. Not content with that, the ambition is top spot within the year ahead. 
With statements of this sort, Huawei leaves an impression of remarkable openness among the technology companies. And the openness isn't in words only – a journalist from Postimees at the other end of the world is allowed entry into the otherwise rather covert Dongguan plants. He is permitted to sneak a peek into telephone testing incubator in Shenzhen. He is able to talk to the lowest level assembly line folks. Feels like the Chinese have found the key to the door of a western mind.
«The formula of our success id end user activity – if he buys our product. The product is the key to all business. The products is what we need to invest in every day, every month, and every year,» said Huawei mobile phone production president Kevin Ho, during a conversation in Shanghai last Thursday. «Secondly, of course, what is important are our distributors, mediators – only with them will we win. Thirdly, of course, is marketing – the budget of which we have doubled year-on-year.»
It is thus logical that for the very marketing the small group of European journalists has been invited to Huawei's plants, offices, test labs, where the guests can literally crawl into the dens where the telephones are tested against snow, ice, dust and dropping and radiation and probably a couple of dozen indicators more. And believe you me – never will a journalist fail to grasp a chance like that.
Occasionally, the devices and solutions are mysterious up until having used magic fluids to create something very much like the human head by physical consistency, thus allowing the testing of what will be the effect on it of mobile communication waves. Iron hands cast phones to the floor – full force and corner first. The phones are frozen, thrown into water, twisted and turned,  tested in closed rooms with networks of all mobile operators in the world.
But there are the plants and buildings of the deeply confidential kind – like the Dongguan plants –, where my pockets must be emptied of any recording gadgets, a plastic cap and cloak donned, and safety gates passed.
Only then do our eyes behold that the talk of robots employed in mobile plants are no media noise, and that it is for the large part not humans anymore who make the phones. With luck, the latter may act as extra supervisors.
We see a robot drawing some kinds of micro schemes in chip sets with amazing accuracy; another presses a SIM card pocket into the phone body; a third performs hundreds and thousands of clicks on all buttons and functions of all devices to test these. And we see floors full of people – engineers, developers, testers –, who think it all up and make it work together.
For our minds, the plants are vast. Neither in Shenzhen nor in Dongguan are they content with giant buildings at street sides. Rather, these are enormous closed territories which span for square kilometres and have streets in them.
After every two-hour working cycle, the employees have ten minutes to rest. Some heat to the resting area to chat, but most rush like crazy out the security gates to the year to use their personal phone for messaging on Weibo. In China, the communication apps like Facebook, Twitter, WhatsApp are only accessible via VPNs offering false IP-addresses, in wifi networks at Sheraton and Grand Mercure hotels meant for foreign tourists.
Sure: there are the questions which are answered rather vaguely. A factory worker's wages are competitive. In addition to Huawei itself, another supplier is producing the phones. But one doesn't need to know it all. Even so, one feels led to think that there must be something there that allows Huawei to sell top telephones with equal technical features at prices lower than competitors.
And then there are the goals which are far from secret.
«Our goal for the year is to produce a hundred million smartphones. In half year we made 48 million and I am convinced we will fulfil the plan,» the Huawei mobiles making president Kevin Ho kicks off the conversation. There are more numbers to come: last year's turnover from mobile sales was $8.5bn. For this year, the goal is up naturally and is set at $13bn.  
With its 15 percent market share, this year Huawei rose to be the first in China; globally, they are third with nearly nine percent. Talking about Europe: in Italy, for instance, their market share is at 12 percent, and 13 percent in Spain. Now, however, they are talking about a global market share of 35 percent next year – that would be the undisputed leader.  
Of the company's product sales, the Chinese market is nearly 70 percent right now, and the rest of the world 30. To grasp the size of the domestic Chinese market: on the Singles Day celebrated on November 11th, when lots of gifts are given and web stores offer huge discounts, in mere 24 hours about a million phones were sold, and 1st place seized by a 1.2 billion yuan turnover at the local Alibaba web shop.
Also, the Huawei trademark has not dome bad at all. In a year, they have rose among the top hundred valuable brands in the world – currently, the company ranks 88th.  
«We are growing our market share and for that we have plenty of room,» says Hu, plain and definite. «We are seeing that people really want to purchase new products and brands, and it is not only iPhone and Samsung that are falling, but the other old producers are falling as well.»
After over a decade on the communication infrastructure producing market, Huawei stands as the global leader. «Now, it is our goal to also reach that position with mobile phones production; to achieve that, expects from us he latest technology and the best materials and design,» promised Hu.
The company admits they have had the most difficulty entering the US market. Now, they have joined forces with another tech giant Google, resulting in co-produced telephone Nexus 6P which was launched lately and in which Huawei has great hopes. User feedback to its camera, design, and system has been excellent and now the company is promising to invest heavily in marketing to then take the phone to the American market under their own brand.  
To gain market share, Huawei has employed varying strategies on different continents. In Europe, they are banking most on direct sales of mid class phones, In America, they focus on cooperation with Google and mobile operators to sell their phones in their packages. In China, they have high hopes in sell loads of cheap phones named Honor.
With the background of a maker of cheap telephones mainly, Huawei has now turned towards top and mid level phones – the latest examples being Huawei P8 launched at the beginning of this year, and Mate S which recently reached Estonia. The company hopes that this year the top telephones will amount to about 30 percent of the sales, mid level to 40, and the cheap to 30.
Regarding operational systems, Huawei has remained faithful to Android. Indeed, two years ago they offered two technologically totally decent W1 and W2 telephones working with Windows Phone platform, but the user feedback wasn't too positive and the production was discontinued rather soon. Now, they are wait-and-see with the Windows 10 platform and monitor the market situation.
Feels like Huawei is taking no chances and to mitigate risks they are not suing chip sets by same makers on all phones – using processors like their own HiSiliconi Kirin, Qualcomm's Snapdragon, and those made by others. Their approach to adopting any updates like curves, waterproofness and cordless charging is very careful and rather conservative.  
Obviously, in tech there's no breakthrough within one nation and with its resources. Thus, the Huawei software is partially produced in India; electronics components in Japan; processors and operational systems in USA, and Europe hosts innovation centres. Last year, the company spent a whopping $1.2bn on research and development, with 70 percent of staff employed in that.
As a result of all that, Huawei's mobile sales performed a 63 percent year-on-year leap in 3rd quarter to 27.4 million smartphones – in all probability, the record number among all major mobile makers.
Sure, Huawei isn't limited to making phones alone. They are also producing tablets, modems, as well as smart watches and sports watches. Responsible for the production of the list, president Yang Zhirong has both wrists equipped with smart devices – the right one has TalkBand B2 to make calls, the left carries a usual smart watch.
«We are very positive regarding the outlook of smart watches and hope to sell 15 million wrist devices globally next year. In the longer perspective, we are sure that wrist devices will for all become just as usual as the mobiles are right now,» says Yang.
Huawei representative in the Baltics Jack Zhu says their mobile phones market share in Estonia was a bit under five percent last year; now it has more than doubled. Huawei data show they sold over 15 000 smartphones in Estonia last year.
The journalist's travel costs to China were covered by Huawei.