Prime Minister threatened: revenge is not in words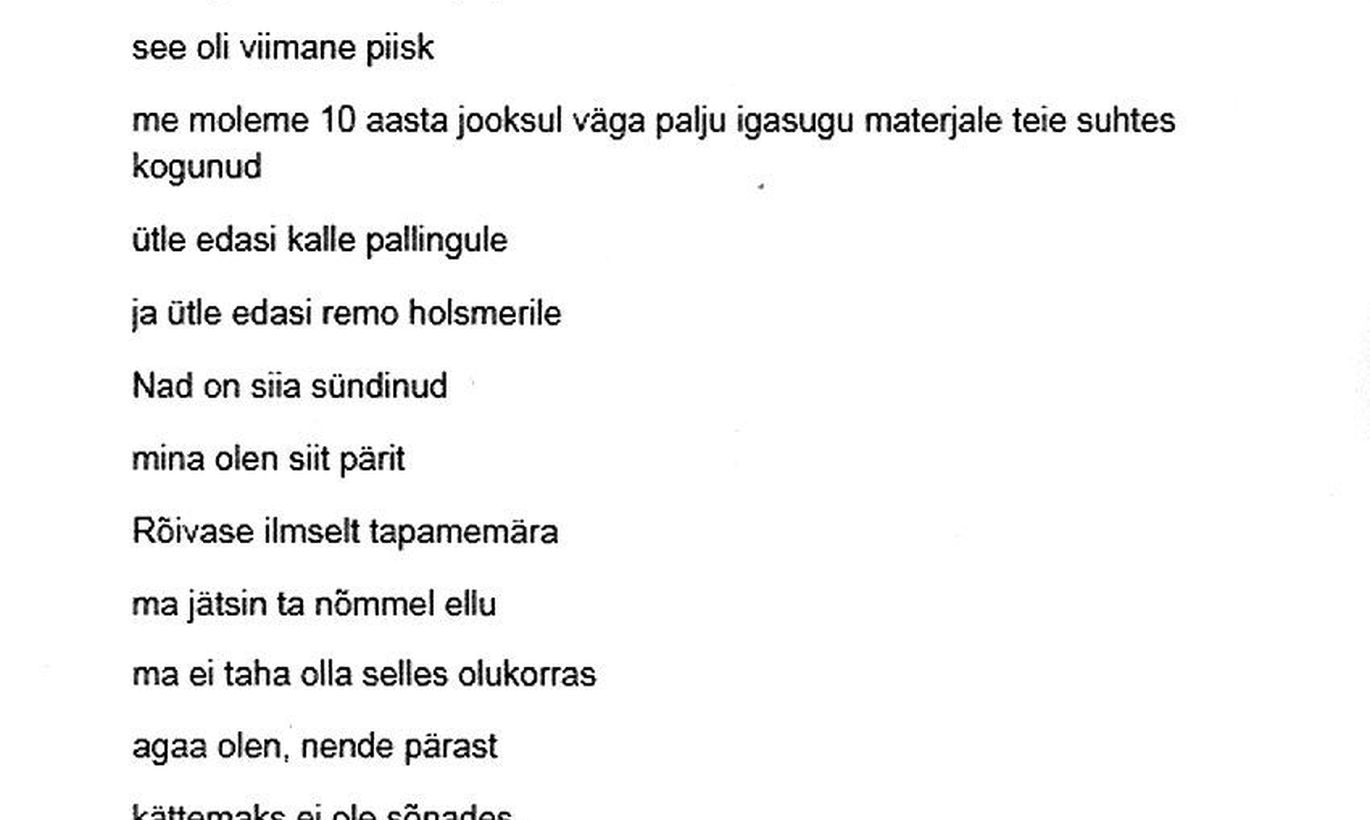 Recently prohibited from departing from his residence, in the Bronze Night of 2007 Martin Kattai (31) was among the angry young men who as IRL members were mentally «ganging up» against Russians with youth organisations in other political parties.
Times have changed, new foes have emerged. Exiting IRL four years ago, Mr Kattai has lately been active at EKRE-organised demonstrations.  
The October 14th anti refugee-reception meeting was yet to begin as Mr Kattai was already hauled into a police bus nearby, at about 11 o'clock. From there, he greeted his Facebook friends: «Didn't like [my] face. For an hour, jailed in this bus. Dammit, first they take freedom of speech, now that of demonstration. What's next? I'm waiting for explanation, and for documents,» wrote Mr Kattai and announced after 4 pm of having been released. «On top of that, I got a 12 hour ban from being at Toompea or in immediate vicinity to the prime minister or people close to him.»
By mid-October, police had a sufficient amount of references and hints to keep Mr Kattai, emotionally stirred up, under control on the day of the demonstration.
On September 6th Prime Minister Taavi Rõivas (Reform) and thousands of tolerance lovers attended a related concert on Freedom Square, Tallinn. Already there, Mr Kattai caught the security eye in immediate vicinity of Mr Rõivas, hand in pocket.
A few days after that, on September 8th, Mr Kattai wrote Reform secretary-general Martin Kukk a Facebook letter which couldn't help but be noticed. «We will stop when refugees will not arrive in Estonia /.../ Will probably kill Rõivas. I spared his life in Nõmme. I don't want to be in this situation, but I am. Revenge is not in words. Martin Kukk, I'm leaving you out of the circle of targets for now. Greetings to Reform Party police, we will kill you all,» went the threats.
Publicly, Mr Kattai continued like Facebook declarations even after on October 14th police had banned him from approaching Mr Rõivas: «You may scrap that patrol from in front of Rõivas' house. I assure you there are none among us who would attack women or children (unlike our opponents). Meanwhile let me add we cannot ensure safety of Taavi Rõivas and his politruks. One more thing – to the newspaper Postimees: leave tonight's refugee related anger stirring article unpublished. We shall overcome one day!»
In the second half of October, Mr Kattai was detained and a criminal case initiated. «Threatening to kill another person cannot be acceptable and to such action law enforcement will react. There were obvious signs of danger in the man's behaviour as his declarations contained direct threats towards a high state official as well as references to specific steps he had taken to survey the one threatened,» said state prosecutor Steven-Hristo Evestus in charge of the proceeding.
Mr Kattai has been interrogated as suspect, preventively he is under ban to leave his residence. The investigation is being conducted under the clause prescribing five years of imprisonment for act of violence directed towards President, President of the Riigikogu, Prime Minister, Chief Justice of the Supreme Court, Chancellor of Justice, Auditor General, or Commander of Defence Forces (as well a family members of listed individuals).
EKRE has taken Mr Kattai under its wings. On October 28th, at Riigikogu, they issued inquiry to interior minister Hanno Pevkur (Reform) asking: «Doesn't the minister think that he is participating in creation of an atmosphere of fear, and suppressing civil society as enforcement bodies under his ministry are performing searches and other arbitrary action against citizens voicing criticism towards the government's migration policy?»
In its query, EKRE is also defending Reimo Sillamaa who has created a Facebook page Against Refugees (Pagulaste vastu) and whose residence Paide police searched on September 25th.
Riigikogu speaker Eiki Nestor (Soc Dems) said he had the authority to call his colleagues to understanding that their colourful utterances have real consequences. «These utterances may stir up even tougher utterances, and not only that – but actions. Good people of Estonia, smile more, and try to understand and not to condemn,» said Mr Nestor.
Postimees succeeded not in contacting Mr Kattai yesterday. His activities are investigated by central criminal police as supervised by office of prosecutor general.