Järvi-san, a conductor warmly welcome in Japan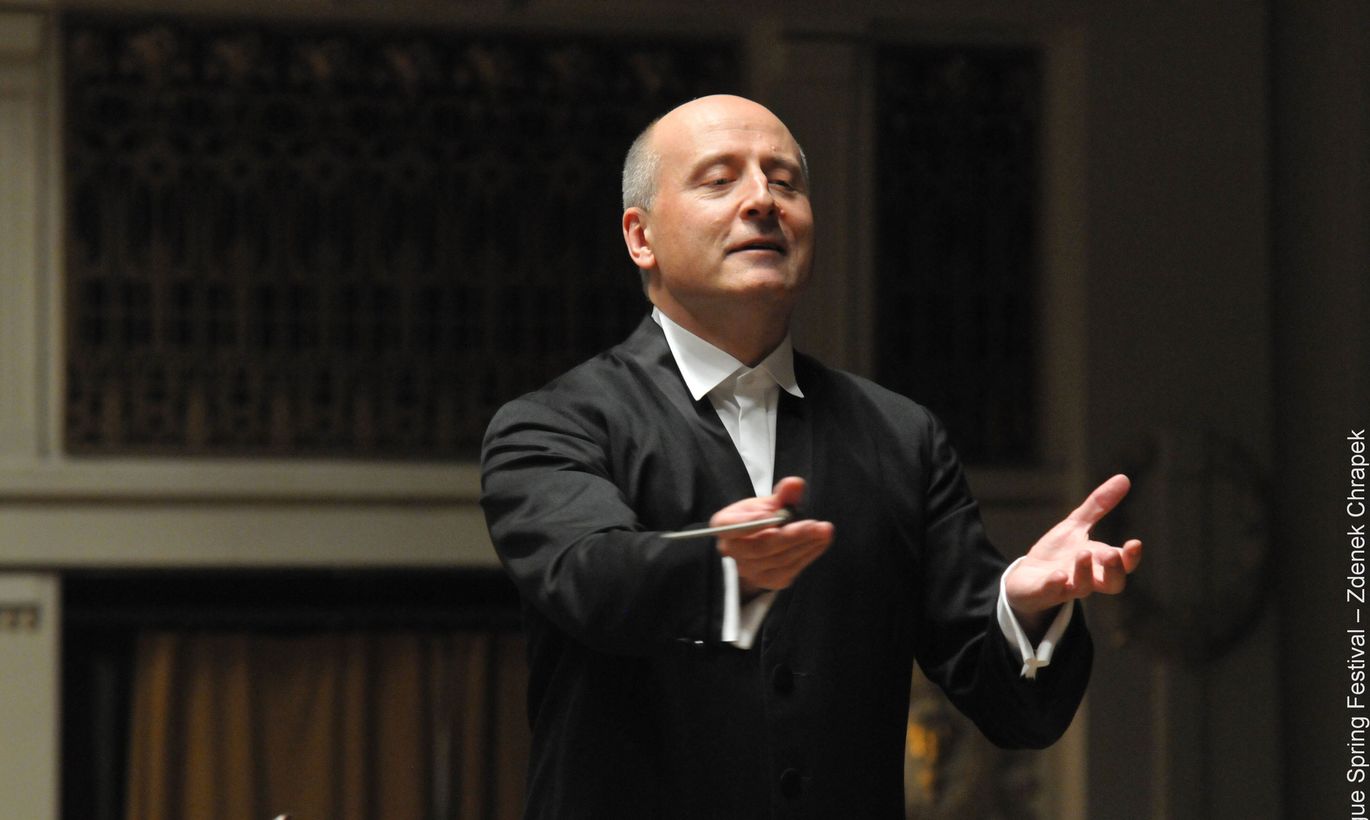 «I fear you have no hope. All are uptight for the recording, and in two days the orchestra is off for the next concert,» NHK artist's manager Kaori Takagi is gently but firmly letting me know that the trip to the edge of the world may have been for nothing. I'm telling Kaori-san I just cannot go back home to Estonia without a story with Mr Järvi. The lady looks sorry but says it is out of her powers... Mr Järvi must have still been all sweat in his tail coat as Sony recording company staff and NHK managers «walled him up» backstage after the concert, banging the door in the face of all unrelated.
Half hour later, the door opens and lets us know they've at least let Mr Järvi change the shirt. All in black an ascetic – partiture clasped the only shiny stuff – he exits. «What now?» he gasps, beholding his American fans and an Estonian journalist somehow smuggled to the back of the stage.
«Do I have a day off tomorrow?» he asks an assistant visibly anxious by strangers in the room. «Tomorrow you have a day off, Järvi-san. For rest.» «Understand, tomorrow then!» The door closes behind Mr Järvi, to again open at 3 am.  Sony and Strauss had their way!
Indeed, the day after we find ourselves sitting with Mr Järvi in Tokyo's luxury hotel Ana InterContinental, in 35th floor lounge. Not for vanity's sake, but this is his «Japanese home». The waitress meeting me at the door knows at once who I'm seeking for: «Yes, of course, Järvi-san!» Järvi-san has a musical marathon of one and half days under his belt: orchestra rehearsal, concert, and the recording that went into the early hours.
The month-long series of opening concerts is just the externals of the work, while they are negotiating and settling all kinds of details to do with the work of the orchestra. The machinery for Mr Järvi to arrive as chief conductor at NHK was kicked into gear three years ago. The fact how very expected Järvi-san (for friends, Paavo-san) was in Japan, and the thoroughness applied to preparations, is not seen in concert houses alone – the entire Tokyo is filled with over-life-sized posters of the man, and of the concerts.
The latter are all sold out, and the first record was thrown on the market for opening concerts (six in Tokyo, on in Iwakis, four programmes). The volume was upped by Japanese premiere of the movie «Maestro», regarding the which the media had only good to say.  
From the first concerts Mr Järvi and the orchestra were a major success and the public was stirred till the last one at Suntory Hall which, due to the catchy programme and a remarkable performance by violin player Midori, proved a wonderful finale. Both of the last concerts were launched by Mr Järvi with Erkki-Sven Tüür's «Aditus».
As confirmed by polls among public, Mr Järvi won the hearts of the audience from the opening concert, and people were sincerely happy with him becoming the chief conductor at NHK. A music lover from Texas called Frank says he admires Mr Järvit from his days in Cincinnati, and by attending the concert he symbolically bows towards Estonia.  
A musician for own pleasure, Hidyoki knows Mr Järvi is from Estonia. He had a superb experience a couple of years ago, as the maestro was in Japan with his Paris orchestra. Piano teacher Shioko believes his opinion – that Mr Järvi is best choice for NHK – is shared by all music lovers in Japan.
However, it is like night and day – the attention paid to Mr Järvi as he first came to Japan twenty years ago, an unknown conductor, and the way he is now being treated as a top doer in the world and at helm of NHK.
«It was Tokyo's symphony orchestra that first dared to invite a conductor for them totally unknown. For some reason, the manager of the orchestra, who looked like a real old school samurai, believed I could turn out to be something …» Mr Järvi recalls, smiling. From there indeed it was triggered, Mr Järvi's close cooperation with Japanese orchestras. For him spelling months and months alone.  
«That was before Skype and Facebook. In small towns, there was nothing to do, not even anyone to go out to eat with. The only pastime were Japanese language TV, and books.» Mr Järvi admits: humanly speaking, it was tough. For a musician, it was invaluable.
Mr Järvi says that though unknown in Japan, he had the guts to include Estonian authors equally unknown over there at the time. Pärt, Sumera, Tüür. «I have always wanted Estonian composers included in my programmes, and while initially they doubted, now it is expected.»
Subdued public and diplomacy
While Tokyo features five professional orchestras,  the NHK trusted into the hands of Mr Järvi is considered the best not in Japan only, but in all of Asia. Thereat, the public at Suntory Hall is seen as the most demanding and into-it, such as passes subscriptions to concerts from generation to generation as family relics.
From near neighbours, the Japanese public is substantially different: in the hall, it's dead silent. No one chats, nor eats (!), being late is considered bad taste. But they're as subdued at expressing their emotions. Here, for instance, never has Mr Järvi encountered the «prolonged standing ovations» he is used to elsewhere in the world.
But he has gotten used to the way the Japanese are. «Even if they liked the concert a lot, they only talk about it between themselves. They are courteous, precise, and subdued in all that they do. They have standards of behaviour that they never fall short of. Over here and elsewhere in the world, people are very immediate and familiar, which is right in a way but also very tiresome.»
A topic in its own right in Japan is being a fan. Mr Järvi says this is a world rarity. «A Japanese fan – this is a profession! Increasingly, however, I bump into people from Estonia at the concerts.»
Mr Järvi says that the work in Japan is not too different from what he does in other places. What does radically differ, however, is how conductor and the musicians communicate. «Not that you can afford to be the opposite elsewhere, but in Japan one needs to be exceptionally diplomatic and polite with musicians. Musicians never ever smile, they are always serious and I cannot read in their faces if what I said hit home. But it does gets expressed in how they play.»
Responding to my question about «taming» the orchestra, Mr laughs and says I must mean the one in Paris. «I knew it to be an orchestra with «quite a complex soul life», but with the French it is otherwise: they either fall in love with you or they don't. I was lucky… In Japan, it is first and foremost a matter of respect; no-one needs to fall in love with the conductor, he needs to be respected, and believed in; if these things are in place, they will embrace you. In France, what matters rather is your personality, if you have charisma.»
Mr Järvi says it is the usual that a conductor at his final season at an orchestra (as is the case with him at Orchestre de Paris) will already take a place at the helm of the new one. «This is no treason, this has practical reasons to it: things are planned long in advance and while it may feel like the world has an abundance of conductors, the ones top orchestras of the world will want as main conductors can be counted on both hands' fingers. These few that are wanted are already drowning in work. As in my heart I had decided that I wanted to come to Japan, I told them a quick «yes». To my mind, Japan is currently the only spot on the globe where classical music is still being highly appreciated and seriously played. On the other hand, they have the same problems as in the West: the public is aging, and the ticket prices are high.»
Mr Järvi says any orchestra has aspects to be developed. «What I seek for an orchestra is second wind. That's what I do love, and I think that in music one needs not to be shy about one's emotions.»
What matters is what happens on stage
With NHK very well known in Asia, and their concerts broadcasted over TV and radio, it is not known in Europe and USA. Mr Järvi will undertake the first grand European tour in 2017, and who could imagine a better conductor for it to be a success with the mission.
In Europe, says Mr Järvi, people are often stuck in prejudices and think it is only Westerners who can rightly feel and interpret classical music. «Meanwhile, lots of leading orchestras have their concertmasters from Asia. Often in life I have taken these «slightly strange» decisions when it comes to orchestras, but I only take them when I detect a potential and the opportunity to build up something new. NHK has much of what the great orchestras of the world no longer have: a desire and a will to get even better than they currently are.»
Mr Järvi says there are two kinds of conductors: the builder types like himself, and such as just want to shine. «The latter give flashy concerts while giving nothing to the orchestra. But I want that as I leave a place what I leave behind is a work I am glad to look back to. The recordings are a part of that, and whoever will take the time to listen to these, be it even my own children or grandchildren, will understand the kind of a musician I was.» With NHK, Mr Järvi is tackling a three-part Strauss project, with Bartók and Stravinski pending.
The contract Mr Järvi has with NHK is for three years and the maestro says at the beginning one must be careful so as to avoid «overorganisation». The contract will be extended it everything works and both sides are happy, he says.
Asked if the contract also features the cold champagne after concert, Mr Järvi laughs and says this is done whether written or not. Another matter being who consumes it or not. Personally, he prefers cold beer and praises the assortment available in Japan. Meanwhile, Mr Järvi would acknowledge the level offered by Japanese to their artists – unlike anywhere in the world.
«But let me assure you, all thje luxury off the stage is not important for me. What is of primary importance is what happens on stage, that it would be top notch. I want to play the music well, to feel we share the understanding of it, and enjoy it. I am very thankful to be paid to do what I love so much. Musically, it is important for me to have the final say regarding the repertoire and the soloists. This grants me creative freedom.»
Home sweet home in Estonia
Admitting he happens to conduct in Estonia less often than he'd like to, this season Mr Järvi does feature two concerts on native soil: on March 10th and 12th, he conducts the Estonian National Symphony Orchestra, the ERSO, at series «City Lights. Prague». 
As I ask about him ever actually really moving to Estonia, the answer cometh quickly as a sniper bullet: «Absolutely!» Already, he has it figured out. «It's just the details, in which forest and precisely when, that I know not yet! (Laughs.) Should somebody give me some magic powers, for a moment, I'd make every young person in Estonia to have to be away from Estonia for a year at least, be in contact with some faraway culture,  to learn to see, to appreciate, and to love his homeland. To feel the insignificance of so many things that we daily trouble ourselves with – stuff that makes itself so vital when unable to view it from a distance. Often, love and understanding a born when far away. Whereas I used to feel I had time enough, now it seems to fly by at twice the speed and therefore I don't want to hang on to anything, rather to experience as much variety of things as at all possible. I will only keep what for me holds real value.»
Letting things go, inner peace and balance – Mr Järvi says this is not the Japanese effect on him. Rather, he has been after it for years. «Every day, I try to find time to not do anything but just focus on rest. Happiness is rather hard to define. But being happy right here, right now – I can say this is really true.» 
NHK SYMPHONY ORCHESTRA, JAPAN
The orchestra was launched on October 5th 1926 as New Symphony Orchestra, being the first professional symphony orchestra in Japan. Later, it's name was altered into Japanese symphony orchestra and from 1951, thanks to financial support from Japan Broadcasting Corporation (NHK),it became NHK.  
Gives concerts at halls of NHK, Suntory and Tokyo Opera City.
Beginning October 2015, maestro Paavo Järvi is chief conductor for upcoming three years. Mr Järvi is the orchestra's 21st chief conductor for its 89 years of activity. 
The author's trip to Japan was financed by Ministry of Culture.