Savisaar's greed to serve Centre a grilling?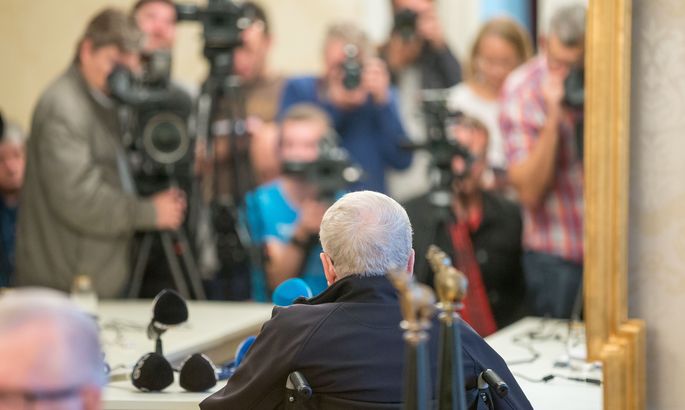 Suspicions say the suspended Tallinn mayor Edgar Savisaar asked money for the party and not himself alone. In high likelihood, therefore, Centre is set to enter suspects list. 
«While suspicion of the party is not a matter of days, it definitely cannot be excluded. Rather, it is probable,» several sources told Postimees this week. «This, however, will take a thorough analysis as it is one think to file a suspicion to a physical person, and another to a legal person.»
Publicly, prosecutor's office has never excluded extending suspicion to the party.
Yesterday's suspension from Tallinn mayor was not much of a surprise for Centre's chairman, as the option of having to spend some time in self defence must have seemed obvious – a suspicion is more serious than the routine media bickering.
«Mr Savisaar must be careful so the words by his lawyers and disciples will not be interpreted as obstruction of investigation,» a jurist told Postimees. 
Indeed: by threatening the state and its defence bodies in his party newspaper Kesknädal yesterday, and ridiculing the criminal case as such, Mr Savisaar is skating on very thin ice. «This may lead to his arrest, and Centre Party being filed a suspicion,» admitted a source. «Centre Party made a mistake, threatening the security police. This is beginning to go beyond the reasonable.»
In the city government, the mood was serene and the work continued. Actually, the apparatus had functioned smooth the entire time since Mayor was hospitalised in mid-March. «I called Edgar after the court announcement – his voice is still the same!» said a senior city official, thus describing the mood at the office: «Surely this is all to muddy the waters before Centre Party's jubilee congress, and to get rid of Mr Savisaar as mayor.»
Outwardly free from the obligation to manage the city, Mr Savisaar is currently busy considering all sorts of combinations. Truth be told, he's afraid to go to court, not knowing to which extent his doings have been recorded – what to deny, and where this would be futile. In criminal investigations, what matters are descriptions of the situations of how the bribes were asked for.
Displaying great confidence before the media last week, security police director-general Arnold Sinisalu mentioned, among other things, that Mr Savisaar had attempted to hide his activities from them – meaning, he has been well aware of the criminality of what he was about, and headed to the encounters with determination and intentionality.
While Team Savisaar has launched an all out media aggression, the security police is quietly busy doing its thing. If even one of the four episodes gets confirmed, the police have won. That'll be enough.
So the Centre party is wait-and-see, while both Kadri Simson and Jüri Ratas have got cornered by justifying Mr Savisaar instead of saying «we support our chairman while honouring the work of investigative bodies and will see about the result.»
A main question at the moment: might any of the suspected entrepreneurs break down?
The sober-minded part of Centre is expecting for prosecutor's office and security police to speed things up so they might have clarity. «Due to these suspicions, even our work at Riigikogu opposition is paralysed,» admitted a Centre cadre, while thinking ahead to party congress scheduled for November 29th.
«Who comes after Savisaar? Yana Toom it will surely not be, but could Kadri Simson keep the party together long-term? The Estonians, and Ms Toom, and Mr Stalnuhhin, Mr Kõlvart?» pondered Sven Mikser, a prominent soc dem with Centre background.  
Might Centre bring its faithful to the streets? Some in the party say it's an option, others would avoid the action. «What would it be for, and what against? Give us back Savisaar? Or: stop the criminal investigations for we love Savisaar?» mulled Mr Mikser. «They realise it's thin ice as if an incident occurs, some stall pushed over etc, it might get out of control,» he added.